Happy anniversary, CMU police
Open house celebrates department's 50th year of service to campus and community
It began with four individuals, one patrol car and a handful of mobile radios in the years after World War II.
Today, the Central Michigan University Police is a professional department of 35 employees, 32 student employees, 10 marked patrol vehicles, three Safe Rides vans, and some of the most advanced training and equipment in the state.
In celebration of its 50th anniversary, the CMU Police Department is hosting an open house from 3-6 p.m. Tuesday, Oct. 15, at its headquarters on East Campus Drive. Visitors will have the chance to flip through old police logs, view pictures from many decades, peek inside patrol vehicles and even step inside the MILO training simulator.
Here are a few of the moments in CMU PD history guests will learn more about:
Changing names and missions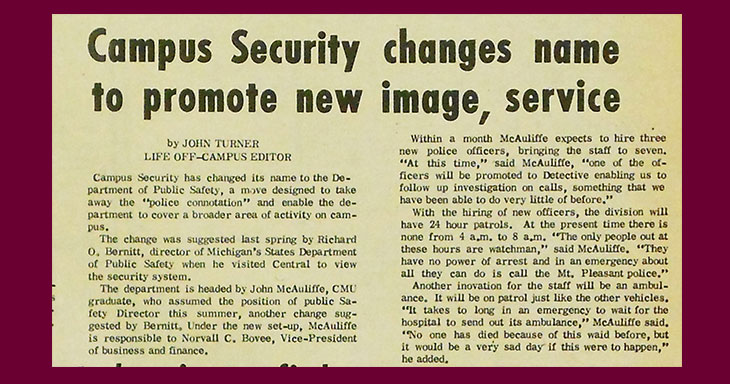 Following recommendations from Richard Bernitt, director of the Michigan State Department of Public Safety, on Aug. 18, 1969, CMU's campus security force is renamed the Department of Public Safety. The name change is intended to encompass all of the duties carried out by the department, which included policing, fire safety, parking services and operating the department's first ambulance.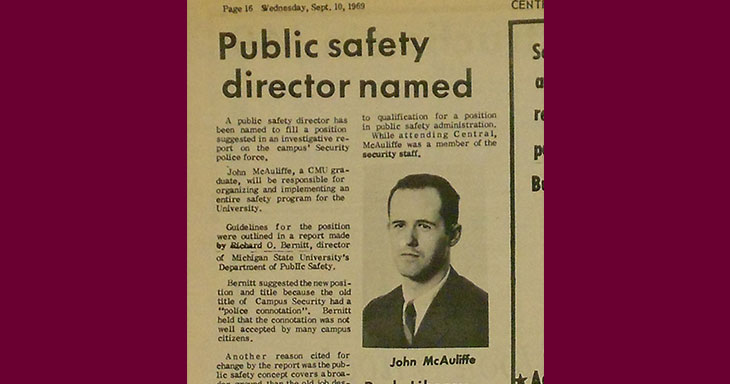 Alum John McAuliffe becomes the department's first director and announces plans to hire three new officers, which enables 24-hour police patrols for the first time. McAuliffe will serve until 1992.
A first for women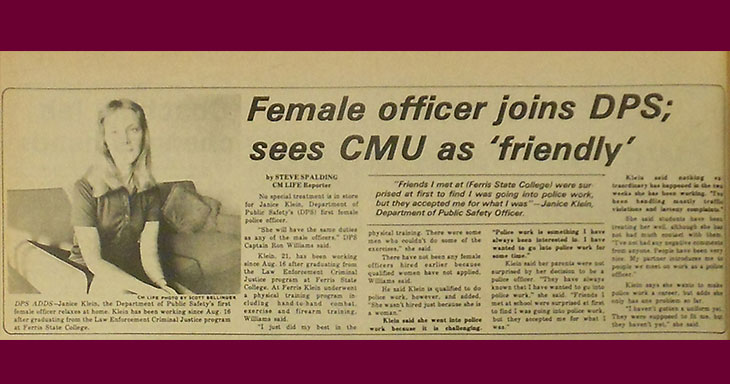 Janice Klein becomes CMU's first female police officer Aug. 16, 1976. The 21-year-old officer said her friends were surprised by her career choice, but her parents had always known she would pursue a job in police work. Officer Klein retired from the department in 2006 after 30 years of service to the university.
Motorcycle mobility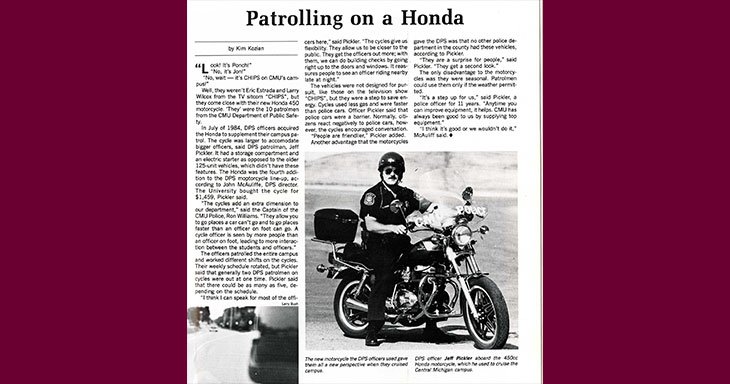 The university purchases a new Honda 450 in July 1984, the first department in the county to have a motorcycle. Police Capt. Ron Williams said the motorcycle allowed officers to go places cars could not reach faster than an officer could go on foot.
Students on patrol
The Department of Public Safety partners with students to establish an overnight foot patrol starting in fall 1985. Pairs of paid students walk the campus grounds between 8 p.m. and 2 a.m. on Friday and Saturday nights, equipped with flashlights and walkie-talkies to call for police help. In 2004, the program evolves into the Safe Rides service.
Rolling on people power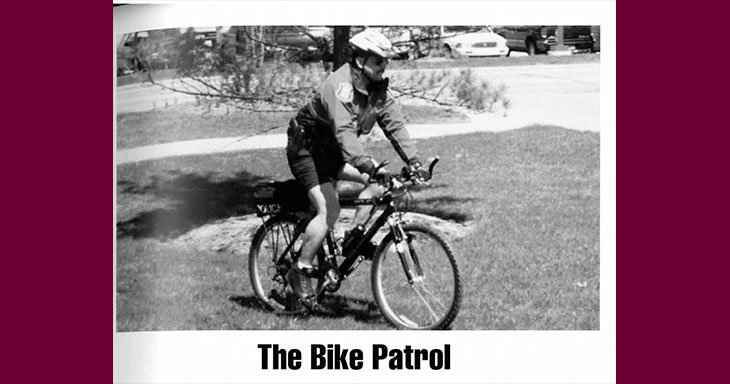 In spring 1997, CMU Police begin training for and implementing bike patrols. One officer, Tim Prout, also begins patrolling wearing in-line skates. Today, five officers are trained and certified as bicycle patrol officers.
A canine on campus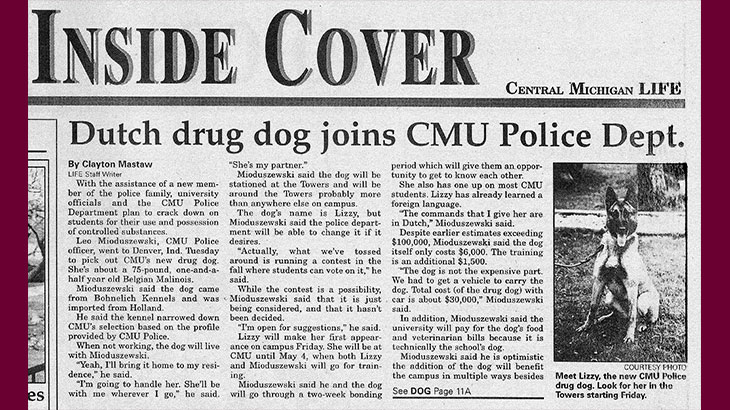 Lizzy, a Belgian Malinois, makes her debut May 4, 1998, at CMU. The drug-sniffing dog is trained to receive commands only in Dutch and is stationed with her partner, Officer Leo Mioduszewski, in the Towers.
State-of-the-art training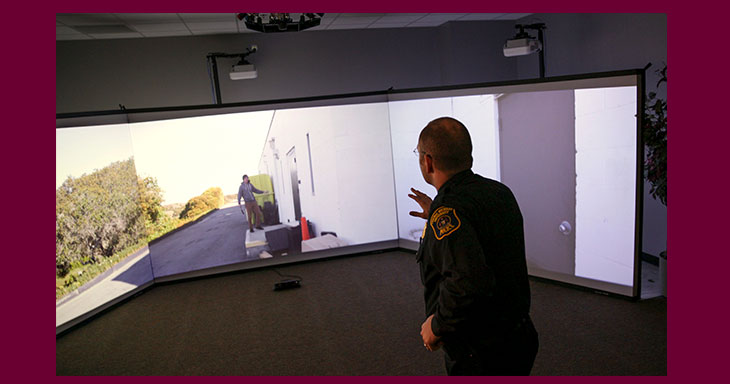 In spring 2017, the CMU PD installs a MILO Range 180 Theater system, a training simulator that uses audio and video to engage officers in real-life scenarios such as traffic stops, burglaries and active shooter situations. The department frequently makes the system available to other local police agencies.
Turn yourself in
The CMU Police Department invites everyone in the campus community to attend its open house from 3-6 p.m. Tuesday, Oct. 15, in the Combined Service Building.