Isaiah Oliver appointed to Central Michigan University Board of Trustees
Isaiah Oliver appointed to Central Michigan University Board of Trustees
​Gov. Gretchen Whitmer today appointed Isaiah M. Oliver, president and chief executive officer of the Community Foundation of Greater Flint, to the Central Michigan University Board of Trustees.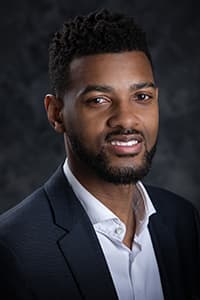 "It is my honor to welcome CMU Chippewa Isaiah Oliver as a trustee," President Bob Davies said. "His remarkable commitment to leadership and community reflect the values and mission of Central Michigan University. His perspectives in supporting, mentoring and upholding youth and his insights as an alumnus will enrich our board."
Oliver is a graduate of Flint Northwestern High School and earned his Bachelor of Applied Arts from CMU in 2007. He was an art: design/graphic design major with a minor in art history. He has been keynote speaker at Central's annual Dr. Martin Luther King Jr. brunch and a mentor for CMU's Pathways to Academic Student Success program, which helps low-income and first-generation college students.
He received Central's Alumni Service Recognition Award in 2018.
"It's an honor for me to serve as a Central Michigan University Trustee. I hope to continue the university's legacy of growth and excellence for current students and future generations," Oliver said. "In this economy, education is the most useful tool our state has for increasing statewide economic competitiveness and citizen level economic self-sufficiency."
He took the helm of the Community Foundation of Greater Flint in June 2017, becoming the organization's fifth chief executive and its first to be born and raised in Flint. Prior to that, he was vice president of community impact for the foundation. He also served five years on the Flint Community Schools Board of Education, including two as president. He served four years on the Hurley Medical Center Board of Managers and was associate administrator for workforce, community and grant development at Mott Community College.
"Mr. Oliver's background in education and mentoring, in community service through the nonprofit world, in grantmaking and fundraising will be invaluable to Central Michigan University," Board Chair Tricia Keith said. "I am thrilled to have him join the trustees and look forward to working beside him."
Oliver is a past president of the Flint Alumni Chapter of Alpha Phi Alpha Fraternity. He and his wife, Shay, live in Flint with their daughters, Zaiah Rene, Carrington Elyse and Chelyn Elizabeth.
CMU's eight trustees are appointed by Michigan's governor, as outlined in the state constitution.
Oliver replaces Joe Anderson, who stepped down from the board earlier this year. He will complete Anderson's term, which ends Dec. 31, 2024.