Match Day aligns with CMU mission
Seven in 10 medical students choose primary care for residency; 45 percent will serve in Michigan
Cheers, hugs and sighs of relief erupted Friday as students in the Class of 2019 from Central Michigan University's College of Medicine discovered where they "matched" into residency programs across the nation.
Seventy-one percent of the class matched specifically into primary care residencies, and 45 percent matched to programs in Michigan. Three of those students matched into military residencies, two in the Army and one in the Navy.
"To have such high percentages of our students match into Michigan residencies is evidence that we are staying true to our mission of preparing physicians to serve in rural and medically underserved regions of Michigan," said Dr. George Kikano, dean of the CMU College of Medicine.
Match Day is the conclusion of four days of emotional buildup at medical schools across the country, when graduates open sealed envelopes at noon EST to find out where they will do their residencies.
The matches are determined by a computerized mathematical algorithm used by the National Resident Matching Program to align the specialty and location requests of students with the preferences of program directors at U.S. teaching hospitals. The organization expects the 2019 match to be the largest ever, exceeding the more than 43,000 applicants who registered for the 2018 match and the more than 33,000 residency positions.
Making up those numbers are medical students right here at CMU. Among them at Match Day were Bradley Demijohn, of Saginaw, Michigan, and Jisselly McGregor, originally from the Dominican Republic, who both matched into their first choices for psychiatry: Demijohn at Pine Rest Christian Mental Health Services in Grand Rapids, Michigan, and McGregor at CMU's residency program in Saginaw.
While they share a similar course now in residency, their paths began very differently.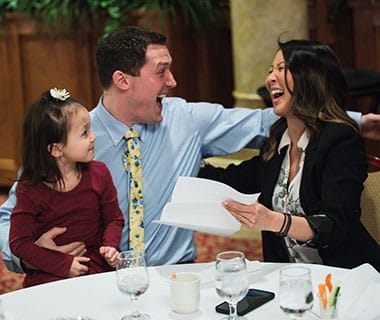 A young father's dream
Demijohn is a married father of two, with another on the way, and a first-generation college graduate.
When he was deciding on a college major, a youth minister at his church told him that he had a heart for nursing. Demijohn wasn't so sure when as a student he almost passed out while watching a classroom video of a cesarean section, but he persisted to graduation. Along the way, he decided to attend medical school. But where, he wondered?
His first job after graduation from nursing school was in the intensive care unit of Covenant HealthCare in Saginaw. He was working there as CMU's College of Medicine was building its Saginaw campus next door.
"As I was looking out a window at that, I felt in my heart that was where I wanted to go to school, and CMU gave me a chance."
He discovered that it was a huge challenge to take on medical school while being a young father. However, he hadn't discovered that upon entering CMU's medical school, he became part of a new family.
"There were times when I had a family emergency, and I had to duck and run," he said, "but my classmates covered for me, and the faculty were really supportive of me. They became extensions of my immediate family."
That feeling of closeness and family has influenced his decision to practice psychiatry.
"I feel that of all the areas of medicine, psychiatry is the most personal, similar to the close relationships I have felt with the patients I have worked with as a nurse."
"It's been an awesome adventure," he said at Match Day. "I've come a long way. This is the exclamation mark at the end."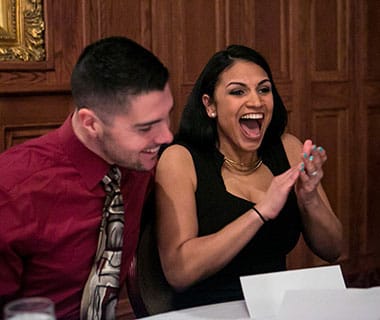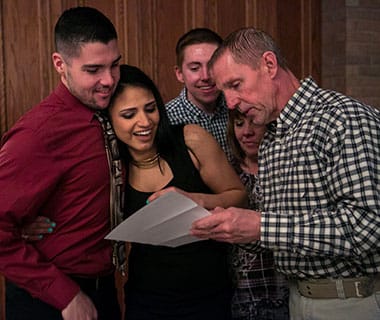 From a pretend doctor to a real one
McGregor loved to pretend to be a doctor. When she was 8, her grandmother gave her a medical book and at Christmas a plastic stethoscope. McGregor put the stethoscope into her "medical bag" of bandages and tape and took it to school.
"Whenever someone would fall or cut themselves, I would run and take care of them," she said. "Every little girl wants to be a little princess, but I wanted to be a doctor. I just couldn't wait to grow up."
But first, she had to overcome some hurdles. Her father, a surgeon, and her mother had separated when she was very young. She was raised by her grandmother and then moved to New York at age 14 to be with her mother when her grandmother became ill.
High school in Queens, New York, was exceedingly difficult, she said, because she was learning the English language at the same time. But she never lost sight of her goal of becoming a doctor, but she didn't know in what specialty.
It was her father's death from an opioid overdose when she was 16 that helped her decide on psychiatry.
She chose Central's medical school because I "felt a great sense of family" during her interview and identified with the mission of ministering to the underserved. She also liked the team-learning philosophy.
Her goal is to continue to practice in mid-Michigan "and be an inspiration to people from underserved and minority backgrounds. I want to make a difference."
According to her classmates, she already is making a difference in the community. They backed up their support by submitting a winning nomination of her to the Gold Humanism Honor Society, which is "dedicated to keeping health care human."
After Match Day, she said she is excited to be able to stay and work with the underserved population in the region.
"My grandmother is very proud of me, not just that I am going to be a physician, but that I will be helping people in need like we were in need in the Dominican Republic."
Dr. Mildred Willy, associate dean for student affairs, looked over the students at Match Day and mulled that it was the culmination of four hard years for the students.
"It is a very stressful yet gratifying time for them, but now they are taking the next step in developing as physicians. We are very proud of all of them."