NAACP honors CMU student
Involvement was turning point for organization's first Youth Activist of the Year
When Australyah Coleman stepped forward to lead Central Michigan University's student chapter of the NAACP, she didn't know it was a first step toward a national honor as the first NAACP Youth Activist of the Year.
But she soon found her voice.
In November 2018, Coleman helped plan and lead a rally where she, other students and CMU President Bob Davies spoke of healing and resolve after a racial incident on campus.
"I really need to do something," she remembers thinking. "That was the turning point."
Since then, the senior psychology major from Grand Rapids, Michigan, has kept busy driving diversity and inclusion on and off campus:
She was chosen to join the Presidential Title IX Advisory Board focused on training, education, support services, prevention, programming and resources to fight sexual misconduct at CMU.
She addressed the university Board of Trustees as a founding member of the Equity & Inclusion Task Force within CMU's Sarah R. Opperman Leadership Institute. Institute Director Dan Gaken said the task force has met for the past year and a half to help design programs that promote inclusive leadership and review existing programs, materials, and practices with equity, justice and inclusion in mind.
She is a member of the Mount Pleasant Area Diversity Group.
She was honored as Organizer of the Year by Region 3 of the NAACP Youth & College Division.
This summer, she will be the Leadership Institute's on-site coordinator for LeaderShape Institute, a four-day immersive leadership conference held in Albion, Michigan, the week after commencement in May.
And now, Coleman has been singled out for honor by the nation's oldest civil rights organization.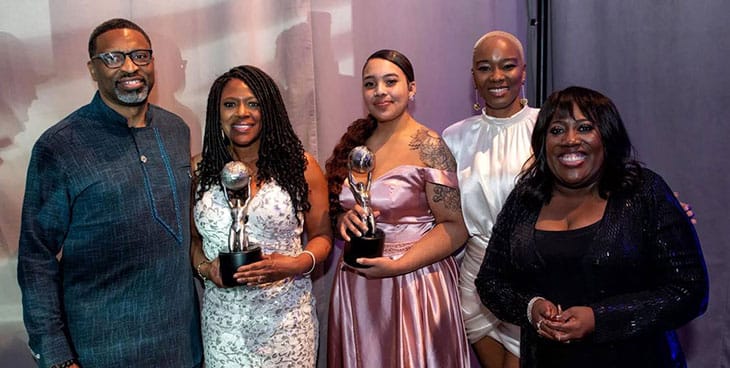 She received the Youth Activist Award Feb. 21 at the 51st NAACP Image Awards dinner in Pasadena, California. The following evening, she attended the Image Awards ceremony, broadcast on the BET network.
The Image Awards celebrate outstanding performances in film, television, music and literature. This year, the awards introduced two new categories: Youth Activist of the Year, which Coleman received, and Activist of the Year, awarded to Illinois NAACP leader Teresa Haley.
"Between the dinner and the awards show, it was really amazing to see the work others were doing," Coleman said. She walked the red carpet, encountered celebrities and learned about key moments in black history from attendees including a man who walked with Dr. Martin Luther King Jr. in the March on Washington in 1963. "The whole experience was kind of enlightening."
At the awards dinner, Coleman thanked her family and the CMU and Michigan NAACP chapters that nominated her for the honor. She said her acceptance speech flew by.
"I didn't realize how time moved so quickly when you're standing up in front of everyone under the bright lights."
"If I see an issue, I need to be the one to speak up about it to make the best of my experience in college." — Australyah Coleman, NAACP Youth Activist of the Year
Coleman said her decision to get involved at CMU — becoming NAACP chapter president her sophomore year — put her on the path to the award.
"If I wouldn't have joined the NAACP on campus, I wouldn't be in this situation," she said. "The NAACP gave me my foundation and pushed me to use my voice.
"If I see an issue, I need to be the one to speak up about it to make the best of my experience in college."
Coleman plans to graduate in December and wants to become a civil rights or family law attorney. She will take the Law School Admission Test this summer.
She shares credit for her latest honor.
"I'd just like to emphasize that even though the award only had my name on it, it's really a reflection of my chapter at CMU and the Michigan NAACP," she said. "It didn't come from just my hard work alone."