Physics alum's team earns prestigious international award
Lexus Design Award recognizes rainfall collector to provide clean drinking water in Kenya
With 20 million Kenyans — 40% of the population — relying on untreated sources such as ponds and rivers for drinking water, Central Michigan University alum and native Kenyan John Kamau knew he had to do something to help.Along with the team at BellTower, a Kenyan design studio he co-founded in 2014, Kamau developed an innovative clean-water collection and storage unit called Open Source Communities. The design was selected from more than 2,000 entries as the Grand Prix winner of the 2020 Lexus Design Award, marking the first time a team from Africa won.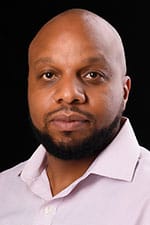 Each Open Source Community unit will be made of bamboo and recycled plastic, both less expensive than other materials, and costs $10,000. The 46-square-foot design features an adjustable roof for cooling and ventilation, as well as a slanted design to maximize rainwater collected. Kamau said a 30-minute downpour will provide approximately 2,600 gallons of water that can be stored in an underground tank until used.
"The immediate benefit is access to clean water, which results in reduced waterborne illness, such as cholera, and girls attending school because they will be spending less time searching for low-cost, clean drinking water or waiting to purchase from water vendors," he said.
Kamau said they are grateful to showcase their concept and develop it into an idea that has the potential to save lives.
"In winning the award, we hope institutions will see the benefits our design brings to communities and join us to design a better tomorrow," said Kamau, who graduated from CMU in 2008 with a master's degree in physics.
As the Open Source Communities concept expands, Kamau hopes it will inspire others to solve problems, reach people who need help and break the cycle of poverty. He credits his success to what he learned in graduate school at CMU.
"The professors at CMU, especially Dr. Alan Jackson, influenced my perseverance and zeal to accomplish any goal," he said. "Learning about and then using a multidisciplinary approach to problem solving for a project like this was invaluable."