Prof's volunteerism finds home
Interior design skills help create a homeless shelter that can make a difference
When you have a vital community mission, 5,000 square feet of worn-out space to improve and a slim budget for renovations, it helps to have a friend at Central Michigan University.
Ryan Griffus, executive director of Isabella County Restoration House, is finding that out as interior design faculty member Lauren Pillote-Wielenga helps ICRH prepare its new homeless day shelter to open in October near downtown Mount Pleasant.
"Faculty are part of the community, too," Pillote-Wielenga said, and the community can benefit from the expertise they offer.
"We want to help the community. We want to contribute," she said. "We're all in this together."
With help from her husband and some of her CMU students, Pillote-Wielenga is remaking the inside of 120 Pine St. The former Summit Clubhouse advocacy center for people with mental illness hadn't been updated since at least the 1990s.
"Lauren's involvement is yet another example of CMU's ongoing commitment to enriching our local community," said Griffus, a CMU alum. "Her expertise is impressive, but quite frankly her heart for helping others has been what's really impressed me the most."
Design over decoration
Before designing a space, Pillote-Wielenga needs to know how it will be used.
"Everyone thinks of design as being high-end, but it's really about impacting people's lives and improving social connection." — Lauren Pillote-Wielenga, faculty member
The Restoration House shelter will serve individuals and families of all ages, with computer workstations, a play area, a kitchen, social space and respite areas where people can decompress. Staff and volunteers also will need space to do their jobs.
Flexibility is key, partly because many shelter guests have post-traumatic stress disorder and physical disabilities.
"We don't want to create barriers, so to speak," she said.
Pillote-Wielenga divvied up the shelter's wide-open main space without walls or partitions, using furniture and a calming nature-inspired color palette to set apart zones for each purpose.
Hunting for bargains
She also did it on the cheap.
To cordon off a play zone for young children, Pillote-Wielenga lined up wooden bunkbed footboards like a fence. She found them at CMU's annual salvage auction.
"I got 70 of those footboards for $5," she said.
Looking around the shelter, she also pointed out $3 desks from the auction and a $100 set of kitchen cabinets from a garage sale.
The goal, she said, is to make the shelter comfortable and functional for now, then fundraise and do more improvements later.
Designing a better future
"Design is really about creating environments that support the human condition," Pillote-Wielenga said.
In the shelter, that means helping people connect to resources and other people in an inviting, low-stress setting.
"I think we've got a good foundation to create a space that promotes that feeling of safety and security while making sure staff and volunteers can do their job," she said. "The goal is to create those connections to the community, and ultimately to get them on their own and self-sufficient.
Through students' eyes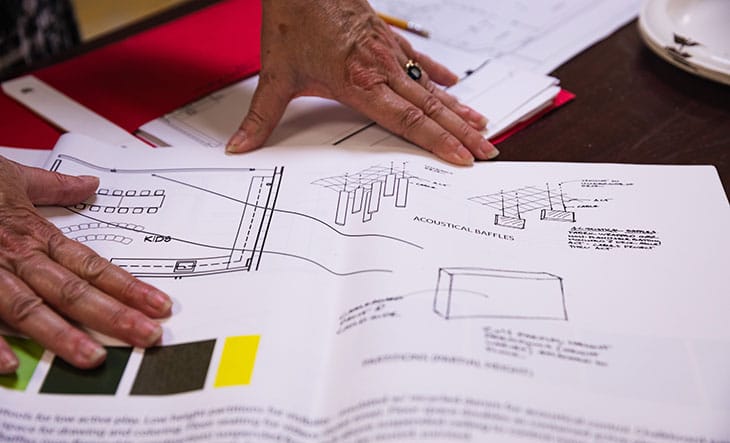 Pillote-Wielenga has one other goal: Make a difference for her students.
Some will help build interior features, such as acoustical baffles that absorb sound.
"We might go in and do a mural," she said, indicating a wall near the play area.
But even beyond providing hands-on career preparation, Pillote-Wielenga wants to show her students a wider view of the world and perhaps even motivate them to volunteer more.
"Everyone thinks of design as being high-end, but it's really about impacting people's lives and improving social connection," she said.
"It will start some of those conversations about awareness of homelessness. Most of us are just one major catastrophe away from it."
That resonates with Griffus, the Restoration House director.
"We've served CMU students on many occasions, and it goes to show that homelessness doesn't discriminate. It can happen to anyone at any stage of life," he said. "CMU has recognized this and taken a proactive approach in combatting the issue with the ICRH, and we couldn't be more grateful for the support."