Provost appoints EHS dean
Betty Kirby will continue to lead the college as she celebrates her 15th anniversary with CMU
Central Michigan University Executive Vice President/Provost Mary C. Schutten has named Elizabeth "Betty" Kirby dean of the College of Education and Human Services. Kirby's appointment was effective July 1, 2019.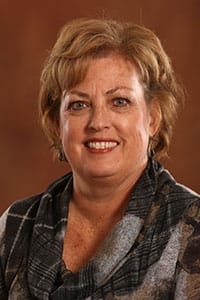 Kirby has been serving as interim dean since July 1, 2018, and previously served as acting dean in 2016-2017. She previously served as senior associate dean of the college and director of professional education.
This month marks Kirby's 15th anniversary with CMU. She joined CMU as a faculty member in the educational leadership department in 2004 and then served as chair of the department before being named associate dean of EHS in 2012 and senior associate dean/director of professional education in 2014.
Kirby earned her doctoral degree in education and master's degree in reading from CMU and also holds a bachelor's degree from Drake University. She is active in teacher education at the state level, including involvement with the Michigan Department of Education and the Michigan Association of Colleges for Teacher Education.
As dean, Kirby will continue to lead all operations of the College of Education and Human Services — which is composed of several academic departments and institutes — and provide leadership for all undergraduate, graduate and certificate programs within the college. She also will serve on the Council of Deans, Academic Senate and Academic Planning Council.