Provost names next EHS dean
Paula Lancaster will lead College of Education and Human Services after Dean Betty Kirby retires June 30
Central Michigan University Provost Mary C. Schutten has named Paula Lancaster the next dean of the College of Education and Human Services. Lancaster will replace Betty Kirby, who is retiring effective June 30.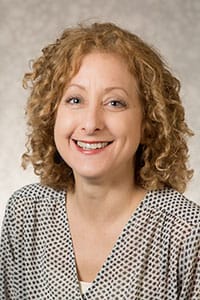 Lancaster comes to CMU from Grand Valley State University, where since 2015 she served as director of teacher education in GVSU's College of Education and inaugural chair of the university's department of teaching and learning.
As chair, Lancaster directed all curricula and programs, supervised and mentored faculty, oversaw strategic planning, and increased the number of hybrid and online course offerings for students. From 2008-15, she was inaugural chair of GVSU's special education, foundations and technology department within the College of Education. She also is a co-principal investigator for the W.K. Kellogg Foundation's Battle Creek Transformation Project.
"Dr. Lancaster is an excellent addition to our leadership team as CMU embarks on a strategic envisioning process," Schutten said. "Her strong background in strategic planning will serve her college and the university well."
Lancaster earned a doctorate in special education from the University of Kansas, a master's degree in education from Northern Illinois University and a bachelor's degree in special education from Western Illinois University.
She will provide leadership for all operations and programs within CEHS. She also will serve on the Council of Deans, Academic Senate and Academic Planning Council.
Jane Davison, acting dean of the College of Science and Engineering, chaired the 11-member dean search committee, assisted by search firm Storbeck/Pimentel & Associates.
Kirby was appointed dean July 1, 2019, after serving as interim dean since July 1, 2018. She was acting dean in 2016-17 and also served as senior associate dean of the college and director of professional education.