Saving the world with software
Business information systems student wins annual SAP competition
Sarah Miller is using software to uncover sustainability solutions. The junior and business information systems major from Livonia, Michigan, recently won first place in the annual SAP Social Hero Viz-a-thon competition.
The competition challenges participants to use SAP analytics software to gather data relevant to a United Nations sustainability goal. Participants use data to create charts and graphs and develop a blog post suggesting ways SAP could be used to achieve the goal.
SAP is an industry leader in enterprise resource planning software that integrates an organization's accounting, purchasing, production, human resources and other business functions. CMU and other universities use SAP to teach business processes.
Though familiar with SAP, Miller had no previous experience working specifically with SAP analytics software.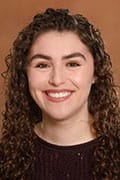 "I don't know if I'll work with SAP in my internship and future job, but the ability to quickly learn how to use a new platform will help me because of how quickly the tech industry changes," Miller said.
Miller's submission focused on the UN's health and well-being goal.
"I chose health and well-being because I feel like people should be able to grow old and watch their loved ones grow up," she said.
Miller collected data about life expectancy and gross domestic product in Singapore and found a correlation between the two. She used these findings to draft a blog post advising investment of money and technology.
Her submission suggests SAP make medical technology more readily available for hospitals and explains how investment positively impacts well-being. She said these actions will make countries wealthier and better suited to address medical issues, contributing to greater life expectancy.
Miller said faculty members Stephen Tracy, Vishal Shah and Paul Dunn provided essential guidance and support.
"I owe a lot of my success with this project to professors in the College of Business Administration. They held sessions outside of class to help me learn the software and improve my submission," Miller said.
Written by Anna Kendall, University Communications intern.