Sharing good news at CMU
Year's most-read stories include falling stars, new leaders and campus improvements
​Central Michigan University inspires great stories every day.
While not all make headlines, hundreds of stories of academic excellence, student success and exceptional leadership found their way to readers last year. More than 200,000 people read stories on the CMU News website, and thousands more followed great news on the university's Facebook, Twitter, Instagram and YouTube accounts.
Here's a look at some of the most-read stories from the past year:
Welcome, President Davies
Following George E. Ross' decision to step down as CMU's 14th president in July, the Board of Trustees on Aug. 3 appointed Bob Davies CMU's 15th president. President Davies jumped right into campus culture, wearing maroon and gold, attending events, and engaging with students on Twitter.
CMU made national news when geology faculty member Mona Sirbescu discovered one man's 22-pound doorstop was actually a meteorite. The meteorite is the sixth-largest recorded in Michigan and could be worth $100,000.
The story and its accompanying video were viewed more than 400,000 times and popped up in the headlines of many national news outlets.
CMU alumni put their stamp on the world
In June, CMU announced its 10 Within 10 awards, recognizing young graduates who carry CMU's mission, vision and values into their professions.
The 10 alumni honored in 2018 represented degrees in general management, human resources management, sports management and sport administration, biomedical and health sciences, information technology, history, anthropology, communications, entrepreneurship, and integrative public relations.
Preparing for kickoff
Just before exam week in December, students had a chance to hear from CMU's new head football coach. John McElwain, former Southeastern Conference Coach of the Year, said his focus will be developing his players academically and athletically.
"My wife and I relish the opportunity to come to a place with such great tradition and pride," McElwain said. "It was that rich tradition that really drew us to CMU, with legendary coaches like Roy Kramer and Herb Deromedi and championship teams. We want to continue that tradition and build on it."
Matches made in Michigan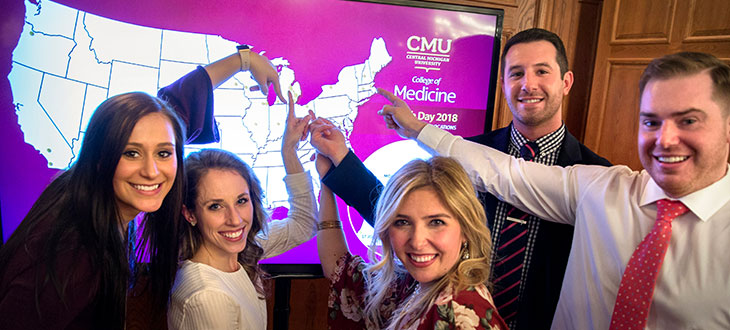 CMU's College of Medicine has a mission to improve access to high-quality health care in Michigan. In 2018, nearly 100 percent of the college's graduates matched with residency programs nationwide. More than 50 percent matched with programs in Michigan.
Groundbreaking news for health professions
In April, CMU broke ground on the new $26 million Center for Integrated Health Studies. The new building will bring together students from multiple academic programs to learn together — a best practice in health care education.
The new building should be move-in ready by fall of 2019, with the first classes in January 2020.
Exploring leadership on a guided safari
In August, nearly 2,000 incoming students participated in CMU's Leadership Safari, the first of many leadership development programs available to every student. From the welcome tunnel of high-fives to trust falls and dancing, the energetic program inspired participants and CMU News readers alike.
The program's popularity led to the creation of a new spring Safari program, designed to give students who first attend CMU in January the chance to jumpstart their leadership journey.
A new spot for selfies
Construction of a new pedestrian gateway arch began this summer on the south side of campus. The archway is a key part of CMU's Campus Identity Plan to improve wayfinding and walkability. Over the months it has become a new favorite for student photos.
The arch marks where Central Avenue, the main north-south route for campus walkers and cyclists, crosses Broomfield Road.
Marching Chips take the field — and top honors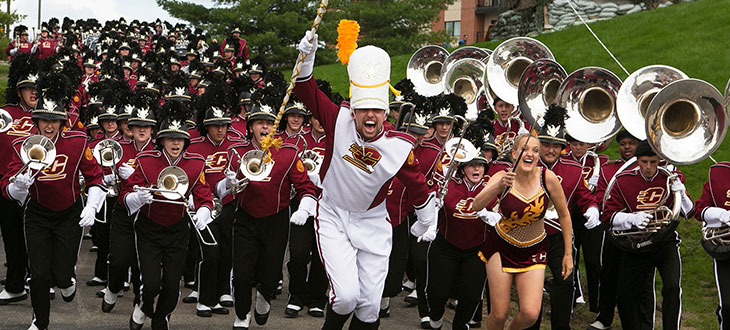 Before being named Fan Index's Best College Marching Band of 2018, CMU's Marching Chips fired up fans of Monday Night Football when they performed at Ford Field as guests of the Detroit Lions in September.
Digital help for brain tumor patients
After seeing the size of the informational binder given to brain tumor patients, first-year medical student Brian Shear developed an e-book that costs less to produce, is easier to read and can be accessed by patients anywhere in the world.
Shear completed the e-book during his internship at the Smillow Cancer Hospital and Yale Cancer Center. He credits his experiences with medical innovation and entrepreneurship at CMU with helping him pitch the concept to his mentor.
New settings for student success
At CMU, learning can happen anywhere. Thousands of viewers tuned into CMU's My Classroom video series to learn about ways students combine classroom knowledge with real-world experience.