Stage is set for special guests
Deborah Mayer's voice students connect with prominent performers
​Central Michigan University School of Music faculty member Deborah Mayer wanted to do something special to motivate her classes for their weekly meetings, so she arranged for notable guests to come speak with students.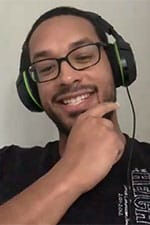 "My studio has students with various majors, vocal abilities and interests," Mayer said. "It was very important that I do something special for each of them."The first guest was Kyle Carter. Kyle was in the National tour of "In the Heights" and is currently covering the role of Mufasa in the "Lion King" national tour. He offered to virtually meet with students and talk about the next steps after college, auditioning, networking, life in New York, etc.
The second guest was for the music education majors. Cassandra Petrie is an accomplished opera singer who was contacted to sing in the young artist program in "Ariadne auf Naxos" with the Opera Steamboat this summer and serves as a music educator in Warsaw, Indiana. Cassandra did a Q&A with the music education majors about her first year teaching and the different challenges she faced.
Another guest was Mayer's husband, Tim Tobin, who taught a class about crossover, opera and musical theater. Tim sang on Broadway as a young man, then went to Europe to sing the French premier of "Cats" and starred as the Phantom in "The Phantom of the Opera" in Hamburg, Germany, before becoming a successful opera singer. Tim has the unique experience of being successful in all three genres and singing musicals in Europe.
With two classes left, she is working on more surprises for students, including Emmy and Grammy winner Rema Webb to come speak. Rema had a very long career on Broadway and was recently chosen by Sir Andrew Lloyd Webber to sing in a review of his works.
Mayer hopes that even though things are difficult right now, this brings some excitement and joy to students.