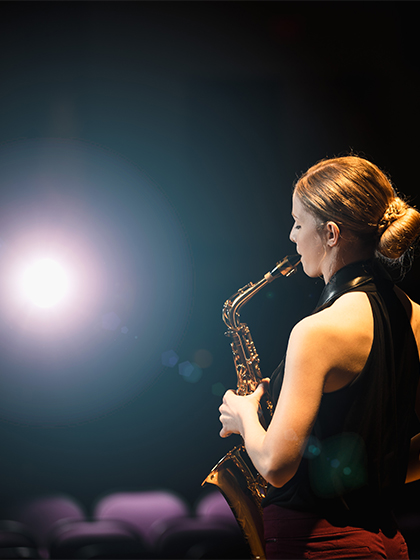 School of Music
Central Michigan University's School of Music is a hub for culture in mid-Michigan. Join our community of artists and teachers and learn from experts in their field. Participate in outreach and attend one of our hundreds of performances each year. Find out more and find your program today.
We do
The School of Music is a vibrant community of artist/teachers serving approximately 400 undergraduate and graduate music majors, thousands of general university students, and the mid-Michigan region. Through rigorous degree programs, insightful scholarly and creative activity, professional service, and outreach to the schools and community, the School of Music is the nexus of a cultural/music network that extends from the elementary general music classroom to the concert stage; from mid-Michigan to the nation and beyond.
---
Our mission
Music represents a unique and important way for humans to understand themselves, others, and the world in which they live. Communicating through music is a distinct cognitive capacity that is, like other modes of intelligence, amenable to education. We can teach—and students can learn—to perceive music more keenly and experience it more deeply. This is why music is an educational basic: a core discipline in Plato's ideal society, one of the original seven liberal arts, and a unique form of intelligence and expression affirmed by the most recent advances in cognitive science.
The mission of the School of Music is to advance the goals of Central Michigan University by providing a broad range of undergraduate and graduate programs for professional preparation in music, advanced studies in music as a liberal art, applied and academic courses, and experiences for the general university student. The School of Music is an accessible, student-focused community of artist/teachers dedicated to academic and artistic excellence, scholarly and creative endeavors that advance the discipline, and active service to the university, profession, and public.
---
---
We endeavor

to realize in practice its commitment to the developmental function of higher education and the ideal of accessible public education;
to provide undergraduate and graduate programs and curricula of the highest quality for students aspiring to careers in music;
to provide students who do not wish to pursue professional degrees in music with opportunities to explore musical interests and develop musical skills and knowledge;
to maintain a positive learning and working environment that attracts and retains a high quality and diverse student body, faculty, and staff;
to create a rich and​ collaborative community of independent and self-directed artist/scholars by supporting faculty and student creative, scholarly, and service initiatives;
to provide professional service to school music programs and arts and arts education agencies and organizations;
to serve the cultural needs of the University, community, and state through concerts, lectures, festivals, and other public events;
to maintain the highest level of professional, artistic, curricular, and pedagogical integrity in all areas of operation.
Central Michigan University is an accredited institutional member of the National Association of Schools of Music (NASM).