Student research, scholarships honored
Recipients of President's and Provost's Awards, Newby Awards, National Scholarship Awards recognized.
Scholars and researchers know it's true, whether they work with microscopic organisms, elemental forces, mathematical principles or anything else invisible or abstract: Not being able to see something doesn't make it any less real.
The same is true this academic year for a vast amount of Central Michigan University student research.
Nearly 300 student projects representing every CMU college were set to be displayed in Finch Fieldhouse this month in the annual Student Research and Creative Endeavors Exhibition (popularly pronounced "scree" for short), before the coronavirus and social distancing canceled all CMU events and shifted the university to remote learning.
But those projects are no less real, and you can explore their written descriptions.
Honors for a select group of these would-be SRCEE exhibitors are real, too. Each of CMU's six academic colleges with undergraduate students selects up to two students to receive the $250 Provost's Award for Undergraduate Research and Creative Accomplishments. From those, a committee selects up to three for the $500 President's Award.
"CMU is proud of its long-standing tradition of involving both undergraduate and graduate students in the research, scholarship and creative endeavors of our outstanding faculty," said David Ash, CMU vice president of research and dean of graduate studies.
Here's a look at the President's and Provost's Award honorees, along with recipients of the Robert Newby Diversity Research Awards and National Scholarship Program Recognition Awards traditionally recognized at SRCEE.
PRESIDENT'S AWARDS
Andrea Miller
Major: Family studies
College of Education and Human Services
Senior Andrea Miller's work ethic and compassion for the elderly are evidenced by her outstanding community volunteerism, exceptional research support for CMU's Institute for Intergenerational Relations and leadership as student president of the Family Relations Council. Research advisor Katie Reck said Miller assumed a key role in faculty research on aging stereotypes, resulting in an invitation to present her work in Hong Kong in 2018 and her successful publication in a top journal — both while still an academic junior. She has twice presented before the Illinois Council on Family Relations and won its Outstanding Student Research Award in 2019. "Andrea is within the top 5% of my students and within the top 1% of undergraduate students," Reck said.
Hanna Shoemaker
Major: Theatre and interpretation, design/technical theater
College of the Arts and Media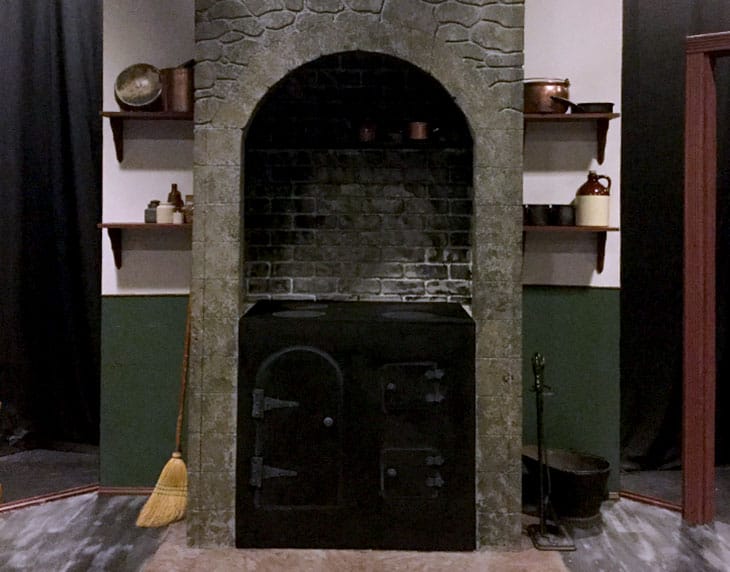 As student scenic designer for CMU's production of the Swedish play "Miss Julie," senior Hanna Shoemaker extensively researched lifestyles, materials, architecture and furniture of the late 1880s. She worked closely with advisor Paul Collins, director Steve Berglund and costume designer Ann Dasen to develop an award-winning scenic design that was honored at the Region III Kennedy Center American College Theatre Festival. She was selected as finalist in the National Realized Design Competition and received both the Award for Excellence in Technology and Design from the Stagecraft Institute of Las Vegas and the Don Child's Award for Cross-Discipline Collaboration.
Lindsey Sharrard
Major: Marketing
College of Business Administration
Supported by advisor Rebecca Dingus, Lindsey Sharrard combined her excellent abilities and enthusiasm for learning to develop a 35-page social media guidebook for dairy producers. College of Business Administration faculty have compared the guidebook to a "miniature dissertation." To complete this Honors Program capstone project, Sharrard incorporated her experience on her family's dairy farm with strong research skills, creative problem-solving and strategic communication abilities. The result has been multiple opportunities to disseminate the work, including presentations before faculty and invited sessions at state and national conferences. At the Great Lakes Regional Dairy Conference, Sharrard distributed 100 copies of her guidebook, and work is underway to publish her capstone work in a scholarly marketing journal.
PROVOST'S AWARDS
Yvon Bergner
Majors: Anthropology and psychology
College of Liberal Arts and Social Sciences
Yvon Bergner is a McNair Scholar who will graduate in May 2021. He has co-presented his research at a national conference. On behalf of the CMU Office for Institutional Diversity, Equity and Inclusion, he has twice participated in the Hispanic Association of Colleges and Universities conference. His research regarding community needs and role models among rural LGBTQ+ youth was recognized as independent, professional, ethical, and of graduate-level quality and complexity. Bergner is working toward a meaningful career in community-level advocacy work.
Bergner also received a Robert Newby Diversity Research Award. The award recognizes diversity­‐related work by up to three undergraduate student projects and one graduate student project per year with a $250 award for each project. See other Newby honorees below.
Lauren Blake
Major: Fine arts, concentration in studio art
College of the Arts and Media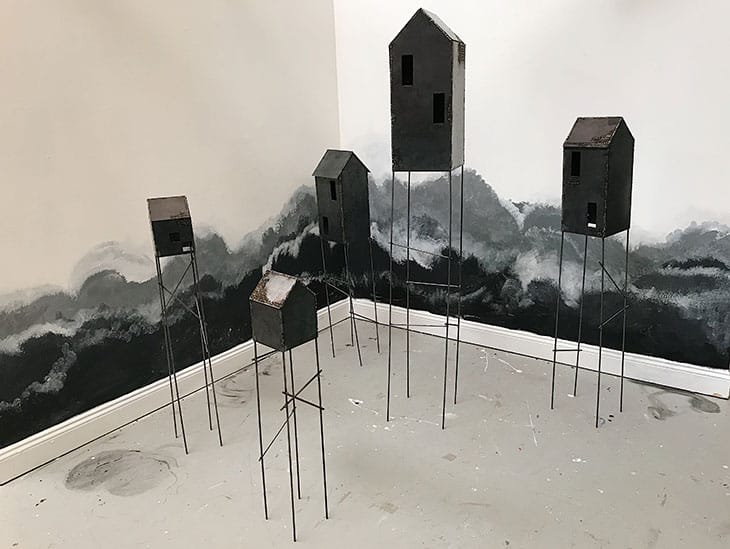 Lauren Blake has received numerous awards at CMU's annual juried student art exhibition. Her nominator, faculty member Johanna Paas, said Blake also is recognized outside CMU for the quality of her work, even when compared with graduate student exhibitors. Recently, three pieces of Blake's work were chosen for exhibition at the juried Lansing Collegiate Art Exhibition, and one of her sculptures was awarded first place. In addition to representing CMU at the Michigan Legislature's Art in the House initiative, Blake's printmaking was featured in The Hand Magazine, a forum for all types of printmaking celebrated on a national scale.
Dan Gepford
Major: Biochemistry
College of Science and Engineering
Dan Gepford is a senior McNair Scholar graduating this spring. In Benjamin Swarts' laboratory, Gepford identified new molecules that could support a rapid and accurate diagnosis of tuberculosis, one of the world's most dangerous bacterial pathogens. When these diagnostic molecules exhibited a sensitivity to four additional molecules, he worked with a research team at Indiana University and with Shasta Sabo's lab at CMU to characterize these molecules and document their reactions in the diagnostic process. Gepford has presented his work at multiple poster sessions, including a national conference of the American Chemical Society, has co-authored one scholarly manuscript and will be first author on a second article. After graduation in May, he will complete his doctoral study at Virginia Polytechnic Institute and State University.
Sydney Harless
Major: International business and information systems
College of Business Administration
Sydney Harless is a senior working with Finance and Law faculty member Mark Potts. For her Honors Program capstone project, Harless conducted more than three years of research comparing entrepreneurship in developed and emerging economies. Her results provided the first strategic insights into the impacts of fairness and justice on entrepreneurial growth in developing economies. Harless' work was accepted for presentation at an international conference hosted by the University of Verona in Italy. Her conference session won the Best Paper Award for the International Journal of Emerging Markets. Following further robust analyses of her findings, she and co-authors are submitting the manuscript for scholarly publication. Harless will apply her knowledge of global economies to a full-time professional role with Microsoft.
Mallory Marshall
Major: Clinical exercise science
Samantha Mentus
Major: Exercise science: kinesiology
Jacob Danek
Major: Biology: Biomed, cell and molecular
Mary Catherine McLaughlin
Major: Clinical exercise science
The Herbert H. and Grace A. Dow College of Health Professions
Mallory Marshall, Samantha Mentus, Jacob Danek and Mary Catherine McLaughlin were nominated by faculty member Bill Saltarelli for their collaboration and contributions to an Honors Program capstone project targeting local fourth grade students. The team developed a full-day teaching curriculum, aligned with activities, so young students could understand cardiovascular disease risk factors and learn the importance of physical activity and healthy exercise to wellness. Their work combined service learning, community service and student research. It demonstrated for the first time how a novel, collaborative teaching method (Jigsaw) can successfully explain CVD to young children. The team has presented its work in poster session and will present this spring to the Michigan American College of Sports Medicine. The students hope to disseminate their findings in a scholarly publication.
Joshua Muench
Major: Clinical exercise science
The Herbert H. and Grace A. Dow College of Health Professions
According to nominating faculty member Rachael Nelson, Joshua Muench is "one of the hardest working, most dedicated and personable students" in her professional experience. Muench has assumed critical roles in several research projects on fitness and exercise training and conducted his own study involving wristband activity monitors. The quality of his work has led to presentations before the American College of Sports Medicine and opportunities for scholarly publishing. Nelson emphasized that Muench's recruited participants were impressed with his professionalism, focus and organization. Remarkably, all of Joshua's progress was made while earning excellent grades and competing successfully for a prestigious internship at Beaumont Hospital in Detroit.
Anna Reynolds
Major: History
College of Liberal Arts and Social Sciences
Senior Anna Reynolds was recognized by faculty member Brittany Fremion for her academic record, passion for historical research and exceptional growth as a developing educator. In addition to serving as president of Phi Alpha Theta/History Club, Reynolds has enthusiastically pursued opportunities for scholarship with faculty and peers. She contributed to the Michigan PBB Oral History Project, developed interactive projects requiring extensive research and integration, and completed oral histories with a level of professionalism usually reserved for graduate assistants. According to Fremion, Reynolds is a "knowledgeable, driven and mature student who exhibits a genuine passion for learning and excitement for history."
Savannah Swiatlowski
Major: MathematicsCollege of Science and Engineering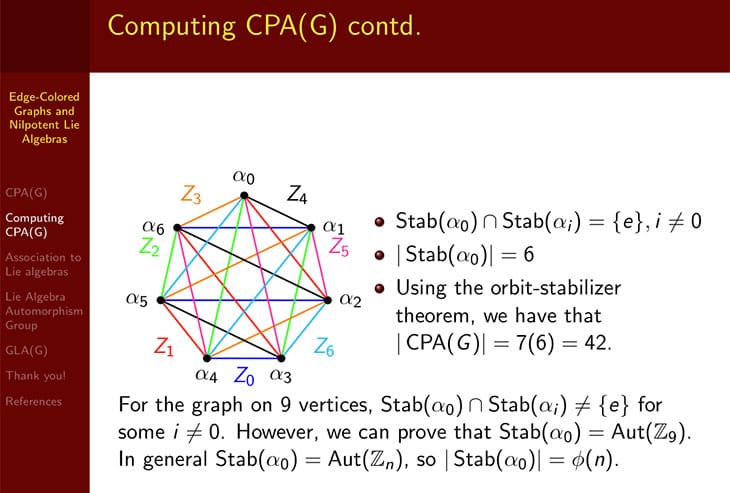 Savannah Swiatlowski is a senior working with faculty members Meera Mainkar and Debraj Chakrabarti on a project studying the symmetries of combinatorial objects, a topic of much interest to researchers in differential geometry. The project required that she learn higher-level mathematics usually reserved for graduate study and work through numerous computations to discern project results. Working patiently and enthusiastically, Swiatlowski prepared her results for dissemination in a scholarly journal. She has presented her work at the university, state and national levels. Swiatlowski is the recent recipient of the Ron Mosier Memorial Award from the Mathematical Association of America.
ROBERT NEWBY DIVERSITY RESEARCH AWARDS
The Robert Newby Fund recognizes diversity­‐related work by undergraduate and graduate student projects with an award of $250 per project. In addition to Yvon Bergner, mentioned above, here are the 2019-20 honorees.
Megan Lawrence
Major: Psychology
Under the guidance of faculty mentor Kyle Scherr, senior Megan Lawrence's project, "False Admissions of Guilt: The Unique and Interactive Influences of False Confessions and False Guilty Pleas," explores how the wrongfully convicted are perceived when they falsely admit guilt. After her graduation in May, Megan plans to spend a year expanding her skills and experiences within the criminal justice system to narrow her long-term educational and career paths in either forensic psychology or criminal law.
Andrea-Bernadette Pratt
Degree program: Doctor of Educational Leadership
Andrea-Bernadette Pratt conducts research on military-connected youth. She enjoys working with the education department of the CMU Museum of Cultural and Natural History and provides public programming and community education outreach. She also is an active member of CMU's K-pop club, K-Central. She is most passionate and vocal about removing barriers of educational inequality while protecting the interests of vulnerable student populations — those who suffer from poverty, high mobility rates, persistent subversive segregation and policies that attack diversity. She hopes to influence policy and serve military-connected youth as a middle school principal in the future.
NATIONAL SCHOLARSHIP PROGRAM RECOGNITION AWARDS
These awards honor students selected for prestigious and highly competitive national or international scholarships. Although the criteria for each scholarship program varies, all nominees who compete for these awards must demonstrate a strong record of academic excellence, potential for leadership, and the promise of positive professional impact at national and international levels.
Anastasia Bjork
Major: Health administration
The senior Honors Program student from Ishpeming, Michigan, has received a prestigious Fulbright Study Grant to Tampere University in Finland.
Meghan Dyer
Major: English education
The senior Honors Program student from Lake Orion, Michigan, has received a prestigious Fulbright English Teaching Assistantship in India.
Austin Konkel
Major: Mathematics, pure mathematics concentration
The junior from Warren, Michigan, has been selected to receive a prestigious Barry Goldwater Foundation Scholarship from the Barry Goldwater Scholarship and Excellence in Education Foundation.