Textile association honors faculty member
Usha Chowdhary receives 1st AATCC Student Chapter Faculty Advisor Award
Central Michigan University Fashion, Design and Merchandising faculty member Usha Chowdhary was chosen as the inaugural recipient of the American Association of Textile Chemists and Colorists Student Chapter Faculty Advisor Award.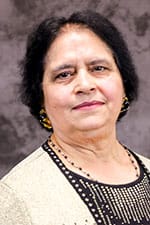 Chowdhary was honored March 12 at the 2020 AATCC International Conference in Greenville, South Carolina, in recognition of her active leadership, participation and support of CMU's AATCC student chapter. A member of AATCC since 2004, Chowdhary has advised the CMU student chapter since its inception in 2010.
"Affiliation of FIDM students with the CMU chapter of AATCC has several benefits," Chowdhary said. "It grooms members with leadership opportunities and awards, scholarships, research awards and professional development options.
"Student membership by itself provides them with free copies of the AATCC Review that keeps them informed about all activities and opportunities of the international organization."
Throughout her academic career, Chowdhary has taught graduate and undergraduate courses in all aspects of textiles, fashion and design. She has advised many graduate and undergraduate students and encouraged scholarly creative activities.
Chowdhary has received numerous awards and recognitions from peers and students for her leadership and support. She received AATCC's Faculty Advisor Recognition in 2017.
AATCC is a global association of professionals from across the textile and related industries. The Student Chapter Faculty Advisor Award recognizes and promotes AATCC members who work to ensure their AATCC student chapters are active and growing.