Three white coats, one family
College of Medicine's Class of 2023 begins its journey; one student follows in the steps of two sisters
A member of the College of Medicine's incoming Class of 2023 has already made his mark at Central Michigan University: Bradley Miller is the third sibling in his family to put on a doctor's white coat here to begin the journey into practicing medicine.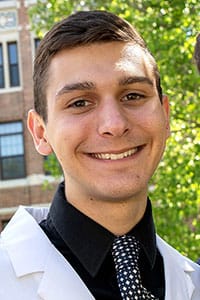 The Lapeer, Michigan, student follows in the footsteps of his sisters Lindsay (2021) and Michelle (2018), who currently is an OB-GYN resident at Henry Ford Hospital in Detroit.
"We are very proud of them and feel very lucky and excited to have them go to Central," said their mother, Jane, who is a nurse at McLaren Flint, where her husband, Jeff, is an orthopedic physician assistant.
Although both parents work in the medical field, they didn't expect their children to follow suit.
"We just expected them to work hard, try their best and pursue what they were passionate about," Jane said. "Lo and behold, they all were passionate about medicine."

Someone must go first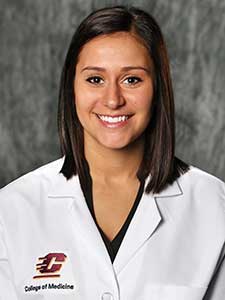 Michelle took the first step, entering with the College of Medicine's second class.
She and her parents were a bit uncertain at the beginning of her medical school search because of the college's young age, but after considering the college's mission of serving the medically underserved in Michigan, touring the facilities and meeting the faculty, both were sold.
"Any leftover questions on our part quickly went away when we saw how well she was doing and all of the support she was getting, from the professors to the financial aid department," Jane Miller said.
While Bradley has benefited from having his sisters lead the way, he still is a bit nervous.
"You never feel you got this with medical school," he said. "But I have a better understanding of the challenge I am facing. Having two older sisters who have paved the path for me and are willing to help me – from finding resources, study habits and even knowing the area – it is definitely helpful."
He said Lindsay gave him a piece of advice that is often uttered by medical students: If you can imagine yourself doing anything else, then don't go into medical school because it is so hard.
Bradley sees it as destiny.
"For me and my sisters, because this is the only thing that we can see ourselves doing, our path is before us, and all we have to do is walk it."
He isn't walking alone
Bradley will tread that path with 103 other new CMU medical students, and more than 600 first-year students who have gone before.
The College of Medicine selected this year's class from 7,442 applicants from nine states, 1,369 of them from Michigan.
The number of CMU students admitted set a record this year at 14. Five of the 14 took part in the CMUMed Honors Program, which offers early assurance of admission to select undergraduate members of the CMU Honors Program.
"We are committed to supporting applicants from all across the country and ensuring high enrollment levels of students from Michigan, and we are pleased that a record number of Central Michigan University students are joining this year," said Dr. George Kikano, dean of the college, in his remarks to new students and their families Friday at Plachta Auditorium in Warriner Hall.
The College of Medicine — established in 2009 — has a mission to improve access to high-quality health care in Michigan emphasizing rural and medically underserved regions and to address an anticipated shortage of 4,000 to 6,000 physicians in Michigan by 2020.