VP for research announces retirement
David Ash has been an academic leader at Central for nearly 15 years; a search committee has formed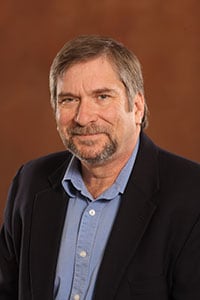 David Ash, Central Michigan University's vice president for research and dean of graduate studies, has announced that he will retire May 31, 2020, just shy of his 15-year anniversary at the university.
Ash arrived in October 2005 to chair the Department of Chemistry and Biochemistry after 22 years in the biochemistry department at Temple University School of Medicine. In August 2015, he was appointed interim vice president for research and dean of the College of Graduate Studies. In 2017, "interim" was removed from his title after he was the successful candidate in an external search.
Search for a replacement
Provost Mary C. Schutten has announced a national search for Ash's successor, who will have the title of vice president for research and innovation. The new title addresses changing priorities as CMU envisions its future, Schutten said.
Ray Christie, senior vice provost for academic administration, chairs the search committee for the vice president for research and innovation, assisted by search firm Greenwood/Asher & Associates. Other committee members are:
Vikesh Amin, faculty, economics.
Cali Clark, human resources representative.
Jane Davison, acting dean, College of Science and Engineering.
Robert Dvorak, faculty, recreation, parks and leisure services administration.
Tim Hartshorne, faculty, psychology.
Ute Hochgeschwender, faculty, College of Medicine.
Jon Humiston, provost's appointee.
Blaine Long, faculty, School of Rehabilitation and Medical Sciences.
Mary Montoye, executive director, research and graduate studies.
Toby Roth Jr., interim vice president, government and external relations.
Chris Tycner, chair, physics.