Alum honored for work in family studies
Postdoc scientist began her research career as a CMU undergrad
Central Michigan University alum Anna L. Olsavsky is the 2020 recipient of the National Council on Family Relations' NCFR Student Award.
The award recognizes excellence as a student and great potential for contributing to family science.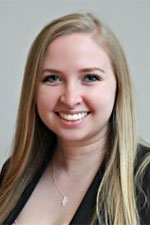 Olsavsky graduated from CMU in 2015 with a double major in family studies and psychology. She received the 2015 Honors Program Academic Excellence Award and served as president of the university's NCFR student affiliate.
Her research work began during her first year in Human Development and Family Studies, collaborating with faculty members Pam Sarigiani and Phame Camarena. Their study focused on body image development in college students and was presented at the NCFR conference and the Society for Research in Child Development.
"CMU is the foundation of my budding academic career," Olsavsky said. "I owe a lot to Drs. Sarigiani and Camarena, Jeff Angera, and Chris Latty for their academic guidance and support. They provided me with opportunities to learn about and participate in the research process, and helped spark my interest in making it my career.
"On top of their mentorship, they were also all phenomenal teachers, which meant that I came into graduate school very well prepared. I am incredibly grateful for the education I received from CMU, the CMU Honors Program, and the HDFS department."
Sarigiani was excited to hear of Olsavsky's award.
"I met Anna during her first year of college," she said. "I saw early on how research sparked Anna's interest, and It has been very rewarding for me to see Anna grow as a researcher and scholar across these years."
Olsavsky is a postdoctoral scientist in the Center for Biobehavioral Health in the Research Institute at Nationwide Children's Hospital in Columbus, Ohio. She earned her doctorate in human development and family science this year from Ohio State University with NCFR student honors.
"NCFR is an organization that I highly regard, and one that was truly formative in my decision to pursue an academic career," Olsavsky said. "It was only the second academic conference I ever attended, and I did so as an undergraduate presenting research with CMU faculty. Recognition from NCFR is very personally and professionally meaningful."
Olsavsky's award was presented Friday, Nov. 13, during the 2020 NCFR Annual Conference.