Aphasia work yields songs of hope
Communication sciences faculty member helps people improve their speech using the lyrics of their lives
Katie Strong understands the power of storytelling.
"We process who we are through the telling and retelling of stories, especially those of trauma and stress," said the Central Michigan University communication sciences and disorders faculty member in The Herbert H. and Grace A. Dow College of Health Professions.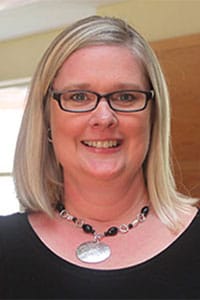 "As we retell stories, it helps reshape how we think about something, which ultimately influences how we view ourselves, and identity can be tied to our sense of well-being."
Strong recently was honored as Aphasia Distinguished Scholar by the Tavistock Trust for Aphasia in recognition of her research and her mentoring of students. Aphasia is the loss of ability to understand or express speech, caused by brain damage such as after a stroke.
Her work with stroke patients is focused not just on helping people regain the use of words through repetition, a common procedure, but by using words that are tied to their lives before stroke and after.
"We are helping people use language in ways that are meaningful to them," she said.
The method not only improves a person's ability to use words, but in the process it improves their sense of belonging and self-worth by telling stories about their lives.
She calls the method "My Story."
Putting lives to music
Strong is expanding on her method by introducing music, with the help of a research grant from CMU.
To create the new therapy, she collaborated with a music therapist from Michigan State University's Community Music School, two CMU speech-language pathology graduate students, and three people with aphasia who are members of the Lansing Area Aphasia Support Group.
With the support of speech therapists and a music therapist, participants created three songs: one about their past self, a second about their current self after stroke and aphasia, and a third about their future self.
"There are a lot of ways to tell stories," she said, "and I want to create options for clinicians to have meaningful interactions with their clients to help them process the trauma and honor them as a person."
Mentoring students
One of Strong's goals is to cultivate future clinicians and researchers from the CMU students in her lab. Since 2017, she has had 11 undergraduates and five graduate students participate.
Students in her lab help transcribe her many interviews and sessions with clients and clinicians. They also lead and present research projects, one of which has been submitted to a peer-reviewed journal, she said.
In addition, Strong supervises graduate students who help clients with aphasia who come to the Carls Center for Clinical Care and Education.
The makings of a perfect job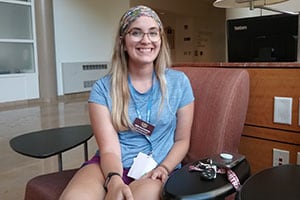 One of the lab workers is Abby McConnon, a speech-language pathology master's student from Lake Linden in Michigan's Upper Peninsula.
McConnon's future was undecided until she took some classes taught by Strong. It was sealed when she asked to join Strong's speech lab, helping transcribe video interviews of therapy sessions with people with aphasia.
"That's where I saw how I could really help people," she said. "It was really impactful.
"Hearing Dr. Strong encourage clients how to tell the hard part and the good part of their story was really impressive. It was very helpful for me to see the positive reactions to the strategies we were taught in class and demonstrated in the lab."
McConnon will be completing an internship next semester in brain injury rehabilitation, one of several areas she wants to explore after graduation.
While she hasn't settled on a particular employment area, she knows for certain what the outcome would be for a perfect job.
"I want to see that I am making a difference in clients' lives, that they are making progress and want to come back for more sessions with me."