Awards power students' efforts
Fulbright, Boren, National Science Foundation equip four for travel and research
Four Central Michigan University students received prestigious national scholarships, fellowships and awards in the 2018-19 academic year through the National Scholarship Program.
For students who want to explore new cultures, learn new languages, take a deep dive into research and continue lifelong learning, a little help from the program and a rigorous application process led to thousands of dollars in scholarship funds.
Recognized for academic excellence
Maureen Harke, coordinator for the program, said her office has nominated more than 70 students from across the university for eight different prestigious national and international awards, such as the Fulbright and Goldwater scholarship.
"CMU students often have practical experience working in labs or teaching, international experience, and strong academic records — important components in making candidates for these awards appealing to national and international selection committees," Harke said.
"The students who win these nationally competitive awards highlight CMU's academic excellence, and their success inspires others to seek out these exciting opportunities."
Award-winning world travelers
Since the National Scholarship Program office opened in 2010, more than 40 CMU students have applied for the Fulbright U.S. student program. These competitive awards enable students to research, study and teach in more than 140 counties around the globe. Thousands of students apply each year and only about 20 percent are selected, fewer in some of the most competitive countries.
CMU students have won awards and traveled to countries such as Mexico, Poland and the United Kingdom. In 2018-19, CMU had seven student finalists and two award recipients: Grace Pawluszka and Joshua Briscoe.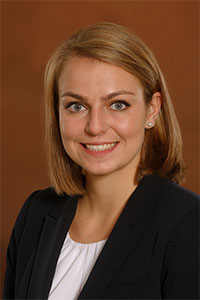 Grace Pawluszka: A music education major from Warren, Michigan, Pawluszka began thinking about the Fulbright award her junior year. She'd already traveled extensively through study abroad and with her family, visiting places such as Poland, Austria, New Zealand and Croatia. She completed a language, culture and history program in the Slovak Republic through study abroad and found a strong sense of community and family there.
"This experience will help me anticipate the cultural needs of my students as a teacher in the U.S.," Pawluszka said.
"Any sort of extensive experience abroad like this is an opportunity to recognize that there are multiple ways to accomplish anything in this world. Having that awareness and open-mindedness will be beneficial in any career path I choose to follow."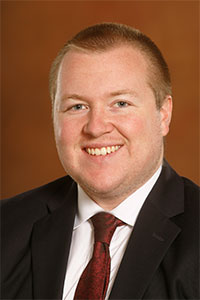 Joshua Briscoe: An international relations and cultural and global studies major from Limerick, Pennsylvania, Briscoe traveled to South Korea several times throughout his studies at CMU. After his freshman year, Briscoe took classes in 2016 at Korea University and went back again in 2018. He also completed an internship at the Homer Hulbert Memorial Society, a nonprofit organization he connected with through Hope May, director of CMU's Center for International Ethics.
Briscoe said his prior experience in the country, combined with his work experience as a teaching assistant and with the Office of Study Abroad, made him a competitive applicant for the Fulbright.
"I want to live and work in a foreign country because I want to learn as much about the world and its people as possible. Living and working in South Korea for a year will help me learn so much more than I could ever hope to learn through taking a full year of classes about Korea in the United States," Briscoe said.
Building international connections
For students interested in public service, the Boren awards program offers an opportunity to learn and teach overseas in countries with significant interest to U.S. national security. In an increasingly globalized world, the U.S. needs language and culture experts who can guide relationships and partnerships with countries around the globe. This year, graduate student Emily Dimet became the first CMU student to receive a Boren award.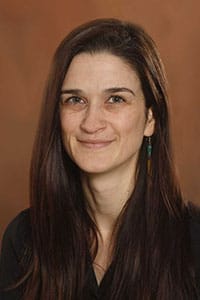 Emily Dimet: Pursuing her Master of Science in Administration – International Administration Dimethopes to pursue a career developing international and cultural exchange programs to strengthen ties among nations with an office such as the U.S. Bureau of Educational and Cultural Affairs.
Dimet has spent time traveling abroad and studying languages such as Chinese and Spanish. With the Boren fellowship, she will travel to Jaipur, India, to pursue classes in the Hindi language and also to explore cultural activities such as yoga and Bollywood dance.
Pursuing a passion for research
The National Scholarship Program connects students with several awards designed for students who wish to pursue research and science, technology, engineering, and math. Lillian Hendrick, a biology major from Freeland, Michigan, began working with Harke on an application for a Goldwater award and translated the experience into a National Science Foundation Graduate Research Fellowship.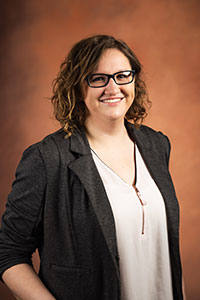 Lillian Hendrick: A first-generation college student from Freeland, Michigan, Hendrick developed a love for the study of insects through her high school's Science Olympiad program. Coming to CMU opened doors for her to participate in entomology research in the lab, the CMU Museum of Cultural and Natural History, and in the Galapagos Islands and to present research at conferences around the country.
Now her fellowship will enable her to pursue her research on an endangered species of butterfly into graduate school.
"It's exciting to be the first person in my family to do something new. My parents were apprehensive, but now they're so excited.
"I've poured more than 200 hours into these applications and learned so much through the process. It helped me clarify my own goals and understand exactly what it is I want to do for my dissertation," Hendrick said.
Open to all students
"Competing for nationally and internationally competitive awards is a rigorous process, but we assist students in finding an opportunity that is a good fit for their personal interests and professional goals," Harke said.
Visit the National Scholarship Program website to learn more about the scholarships available and to begin the application process.