CMU Board of Trustees meeting is President Davies' first
Davies speaks of strong foundation, meeting challenges
​Central Michigan University President Bob Davies, noting it was his 27th day in office, said this morning in his opening report to the Board of Trustees that CMU is operating from a foundation of success and strength. He also acknowledged challenges, including increasing competition for students and the need to increase market share and expand recruitment efforts geographically.
"As we position CMU, as we continue to define ourselves, we must be bold … " Davies said. He said students must graduate with technical expertise as well as a background in the humanities, which fuel the skills employers seek.
Additionally, in citing a comment from a faculty member, Davies said, "We are central to the success of Michigan and that is how we will continue to position our university going forward."
Also in his opening remarks, he recognized several university accomplishments, including:
CMU has welcomed 102 new faculty members since last fall – 65 full time and 37 part time.
Two new programs: the online RN-to-BSN completion program and online Bachelor of Science in Business Administration, both launching in fall 2019.
Expanded and enhanced student services through the Counseling Center.
New, creative multicultural initiatives led by Chief Diversity Officer A.T. Miller.
Davies also recognized:
A team of Facilities Management staff and several students for receiving the Association of Physical Plant Administrators 2018 Sustainability Award.
The College of the Arts and Media for taking on the role as Creative Action Partner at the 2018 Traverse City Film Festival. Animation student Maggie Buerkle and broadcast and cinematic arts alumnus Don Blubaugh received top honors for their "bumpers" — 20- to 60-second films played during the festival in lieu of commercials before the feature films.
A team in CMU's Center for Excellence in Teaching and Learning for receiving the 2018 Catalyst Award from the educational support company, Blackboard, for their work supporting faculty in the development of online courses.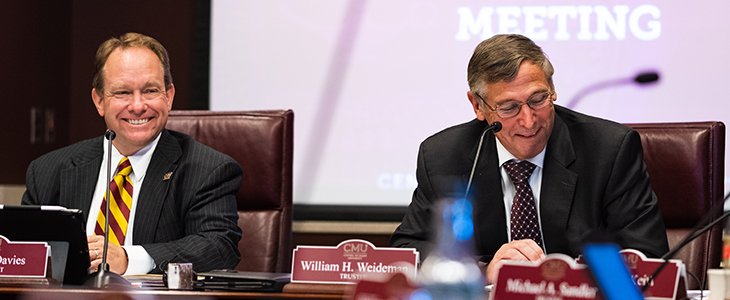 Chippewa Champions Alumni Center
Trustees also approved design and construction of the Chippewa Champions Alumni Center. The center will welcome alumni and guests to campus, provide student training opportunities, include office and meeting spaces, and become a key athletics facility.
The center, to be located at the north end zone of Kelly/Shorts Stadium, will be home to Advancement and Alumni Relations staff and CMU's football program. In addition, it will include sports medicine and strength and conditioning labs, as well as a nutrition and fueling station and a hydrotherapy center.
The labs will serve all of CMU's nearly 500 student-athletes and deliver state-of-the-art training experiences for students enrolled in The Herbert H. and Grace A. Dow College of Health Professions and the College of Medicine.
Facility costs, estimated at $32.5 million, will primarily be funded by Athletics, Alumni Relations, philanthropic support and the remaining one-time costs from university construction reserves. Future Athletics revenues include game guarantees from other universities the football team will play over the next decade, including Penn State, Alabama, Miami, Missouri and Louisiana State.
"This facility will be a multipurpose center used by students, alumni, community and businesses," said CMU Board Chair Bill Weideman. "This is a One CMU project — a continuing investment in our capital infrastructure."
Weideman said a significant amount of funding has already been secured, and none will come from operations, academic colleges or tuition dollars.
Report on 2017-18 priorities and initiatives and other actions
Provost Michael Gealt reported on 2017-18 university priorities and initiatives. The report highlights achievements such as:
CMU's yearlong 125th anniversary celebration.
The College of Medicine's full accreditation from the Liaison Committee on Medical Education.
An increase in the six-year graduation rate.
Among new alumni, 92 percent have jobs or are in graduate school within six months of graduating. The national average is 84 percent.
The complete year-end report is available online.
In other matters, trustees received a clean, unmodified audit opinion — with the highest level of assurance — from CMU's external audit firm Plante Moran. The audit shows CMU had a $22 million net position increase that helped offset — but did not fully cover — a $36 million liability recorded for health care costs of the Michigan Public School Employees' Retirement System.
In other business, trustees approved:
Emeritus rank for 35 faculty and staff, whose combined total years of service to CMU was 1,046.
More than 1,000 students for graduation this past August.
Authorization of two new public school academies: The Doral Academy of Ann Arbor and the Royal Academy of Excellence in Taylor, Michigan.
A dozen new naming opportunities, including 10 in the Chippewa Champions Alumni Center, one in the Indoor Athletic Complex and one in the School of Music.
The board also received a report showing external grant funding of faculty and student research increased to $17 million in the fiscal year that ended June 30, up from $13.6 million the previous year.