CMU charts a course for charters
University's 57 partner schools educate more than 28,000 Michigan students
Many years before Firas Shalabi graduated in May from the College of Medicine, Central Michigan University had a hand in preparing him to become a physician.
As a charter public school authorizer, CMU partners with Central Academy, the Ann Arbor, Michigan, K-12 school where Shalabi found the bioscience courses and supportive environment that set him on his career path.
"I attended Central Academy for 10 years, which allowed me to develop and appreciate long-lasting relationships with my teachers and classmates," he said. "I also appreciated having a smaller class size, something I was able to value again when I was part of a class of 104 in the College of Medicine."
Shalabi's story is among countless successes being celebrated as August 2019 marks 25 years since CMU became the nation's first university to authorize a charter public school.
In the 2019-20 school year, CMU's Governor John Engler Center for Charter Schools expects to partner with 57 schools serving more than 28,000 Michigan students.
"We believe that a parent's choice, not an address, should decide the education their child will receive," said the center's executive director, Corey Northrop. "We feel a call to provide students with access to a successful future by giving them opportunities for an education that is the best fit for them."
What's a charter public school?
Charter public schools are tuition-free, publicly funded schools. They are bound by the same laws and regulations as traditional public school districts. Charters are innovative options that are open to all students. They are required by law to hold a random selection lottery if demand exceeds the number of available seats. Michigan law first allowed charter public schools in 1994. There are roughly 300 charters in Michigan today.
CMU authorizes charter public schools through a charter contract between the university Board of Trustees and each charter's trustee-appointed board of directors.
The Center for Charter Schools provides academic support and helps ensure that the charter contract and the law are being followed. It also shares best practices for authorizing charters with other organizations.
"CMU has led the way on what it means to be a charter school authorizer," Northrop said.
He said the center, part of CMU's College of Education and Human Services, is looking forward from its 25-year milestone and re-envisioning what schools can be for their students.
On Aug. 20, the center's annual conference in Novi, Michigan, will kick off a year of focus on projects and initiatives that celebrate the importance of providing quality educational opportunities for students.
Meanwhile, through partnerships with CMU colleges, the Center for Charter Schools connects students and families with learning opportunities, campus experiences and support for success in higher education.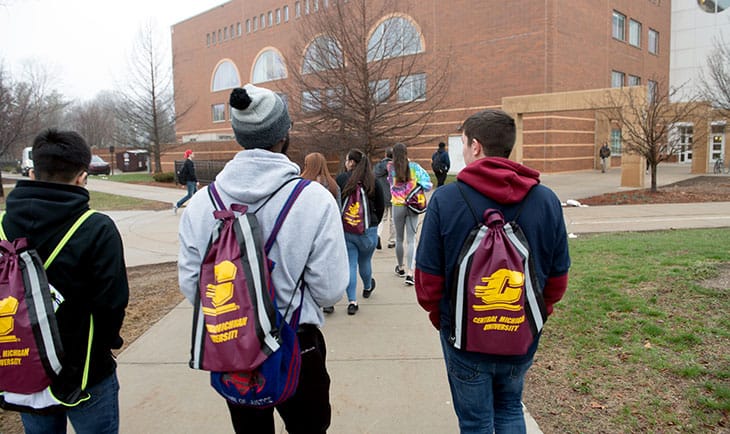 In April, CMU hosted a group of high school juniors from its partner schools for a day of learning more about the university. CMU also offers scholarships to graduates of its partner schools who attend CMU for their undergraduate degrees.
It all comes back to offering families choice and opportunity, Northrop said, and charters are one piece of the educational environment in Michigan.