CMU: Selling with the Bulls
CMU team places third overall, wins first place in quick pitch and customer conversations
A team of Central Michigan University professional sales students placed third overall at the University of Florida's Selling with the Bulls Competition. Students also took first place in the customer conversations and quick pitch rounds.
The competition is known as the toughest test in sales education. CMU's team competed against teams from 16 schools. The competition was scored based on performance during three rounds which included cold calling, pitching and conversations with customers.
During the quick pitch round, senior Allison Harrison, a finance major, took a nontraditional route to her sales pitch. She felt judges were getting tired of hearing pitches that all sounded the same, so she changed tactics and told them a story instead. Successfully reading the room and adapting her strategy accordingly led to a first-place win.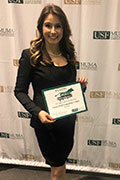 Josh Statly, a junior marketing: professional sales major, also won first place in the customer conversations round.
The competition also gave students time to network with industry professionals and peers from other institutions.