CMU tops 200-plus schools in banking competition
Team of 2 seniors defeats Ivy League competitors for international grand prize
Two seniors in the College of Business Administration have become the first Central Michigan University students to win a prestigious international finance competition.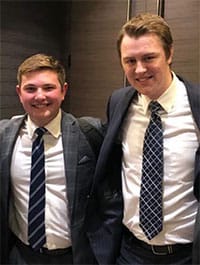 CMU's Jake Aymen and Eric Scott beat out more than 10,000 participants from more than 200 schools — including world-class universities such as Cambridge, Yale, Massachusetts Institute of Technology, National University of Singapore, HEC Paris and more — to win the $6,000 grand prize in the 2019-20 National Investment Banking Competition of Canada.
Scott, of Canton, Michigan, and Aymen, of Port Austin, Michigan, are also the first team of only two people to win the NIBC.
Aymen is majoring in finance and minoring in economics. Scott's double major is in accounting and finance.
NIBC teams apply and develop skills in financial modeling and pitching based on a simulation of an investment banking transaction. They value companies and present recommendations to a board composed of senior management of real-world banks.
"I've never felt more pride being part of the CMU community. Fire up forever!" — Jake Aymen
"Neither of us has formal investment banking training, nor did we complete investment banking internships," Aymen wrote on LinkedIn. "We had something more powerful: support. Support from faculty, support from alumni. Support from administration. Support from our peers. Support from NIBC volunteers.
"If you belong to one of these groups, thank you. It's as much your victory as it is ours. I've never felt more pride being part of the CMU community. Fire up forever!"
Aymen and Scott were among roughly 63 teams selected to attend the National Investment Banking Competition and Conference in Vancouver, British Columbia, in March.
Another round of presentations whittled finalists to eight teams. A Goldman Sachs technology group from San Francisco, California, chose three teams, including Aymen and Scott, to advance and present to the whole conference.
Judges, including the head of capital markets for all of British Columbia at TD Bank, selected Aymen and Scott to win the grand prize.
The honor has special meaning for CMU Finance and Law faculty members Bradley Taylor and Maxim Dolinsky.
With support from the college and dean, Taylor and Dolinsky started the Michigan Finance Scholars program just over two years ago to bolster students' experience with additional case studies, competition opportunities and development of soft skills.
"We congratulate Jake and Eric on their win," Taylor said. "Success like theirs makes our careers worthwhile."