DTE donates high-tech picnic table to CMU
Solar-panel workstation is in gratitude for students' research at energy company's solar park
A symbol of the impact of Central Michigan University's School of Engineering and Technology rose amid the snow Monday as DTE Energy erected a solar-powered picnic table/high-tech workstation outside the Engineering and Technology Building.
The donation is in gratitude for the work of 12 engineering and technology students during the past two years of senior projects. The work is designed to give students experiences solving real-world engineering problems, said Kumar Yelamarthi, director of the school.
The students' task was to measure the effectiveness of 200,000 solar panels in DTE's solar park in Lapeer, Michigan, and design software to improve their efficiency.
"It's great to be able to work with high-caliber students to develop this software and then experience the real-world benefits of it in our daily operations. We're thankful for the hard work of everyone involved," said Ed Henderson, DTE's manager of renewable energy operations.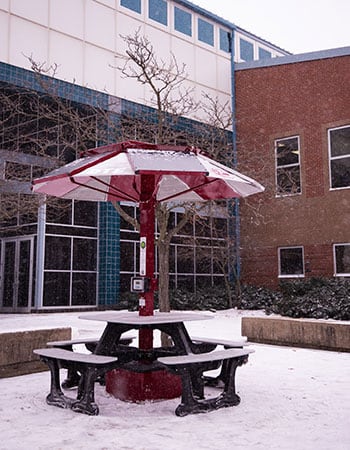 A table for research and education
The solar-powered table is a symbol of DTE's relationship and commitment to Central, which has served as a pipeline for new talent for the company, he said.
"This is the first solar workstation we've donated, and our hope is that the College of Science and Engineering students can use it to develop other software and further their research and education," said Anthony Morabito, supervisor of solar energy operations.
The workstation, built by EnerFusion Inc., produces solar energy that can charge users' devices, he said.
Engineering and Technology seniors this year will use data collected from the table to improve solar efficiencies, and other engineering students will use it for their own research, Yelamarthi said.
The school is working to have even more industry-sponsored projects for students — from DTE and others, including automobiles and manufacturing, he said.
"We help organizations with real-world problems, provide our students with real-world transformative experiences, and prepare the future workforce in the process," he said.
"CMU has a vision for community engagement, and the generosity of our DTE partner is an excellent example of working together to be innovative and sustainable while providing our engineering students real-life experiences," said Provost Mary C. Schutten.
"We are grateful for such community partners and for this very cool table."