Learning from the best
Students attend master class with visiting guest artist as part of Chamichian Endowment
A visiting guest artist means not only a spectacular performance, but a chance for students in the School of Music to learn from world-class musicians.
The "Trout" Quintet's visit as part of the 27th annual Chamichian Endowment Concert on Nov. 6 was no exception. Following the Tuesday evening concert, pianist Orion Weiss spent Wednesday morning working with a group of students on their musicianship.
"It was both a pleasure and an honor to play for Weiss," said Matteo Generani, a graduate student in the music performance program.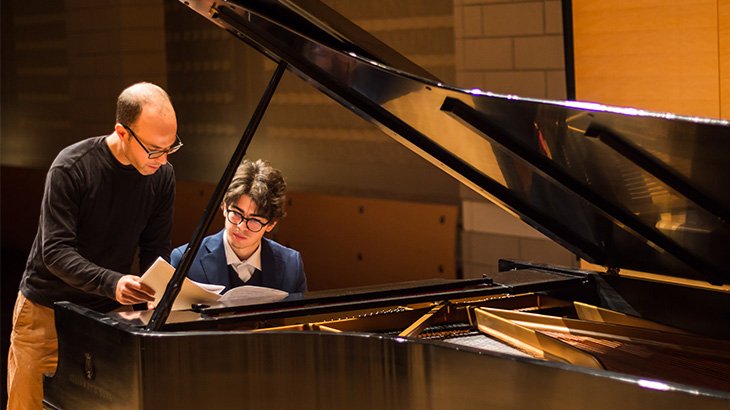 Sara Hammelef, a double major in music and music education, finds that attending master classes helps her to improve her playing, both individually and in groups.
"Weiss was able to offer new insights to our trio we hadn't considered before," Hammelef said. "Specifically, how to handle a series of harmonic changes in the middle of the movement to make our work more satisfying to our listeners."
Souren L. Chamichian Endowment
The Souren L. Chamichian M.D. Artist in Residency Endowment enables the School of Music to offer a free guest artist concert each year for students and the local community. During this residency, guest artists also conduct a master class for university students.