Lend a hand, build a résumé
CMU students develop professional skills through summer volunteer service
Volunteering doesn't just feel good — it can help Central Michigan University students prepare for great careers.
The act of giving back can push students outside their comfort zones, inspire connections with diverse populations and develop professional skills such as communication, problem-solving and teamwork.
"Alternative Break site leaders are provided incredible opportunities to build their leadership skills and gain experience that looks great on a résumé for any kind of career," said Jennifer Drevon, assistant director of the Mary Ellen Brandell Volunteer Center.
Drevon said more than 180 CMU students participated in the program this summer, traveling to 12 states and two countries to engage in community service and leadership development.
Here's a sampling of stories about CMU students who are serving, leading and growing: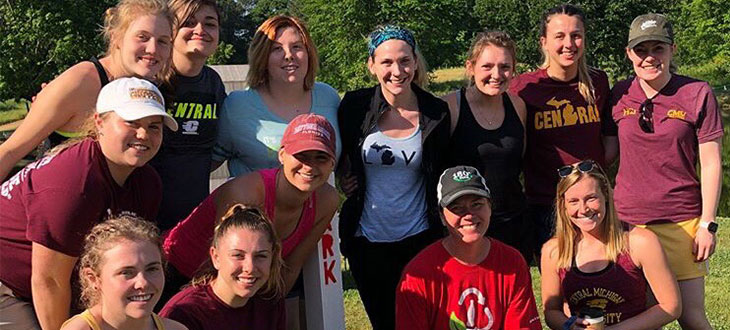 Nutrition, dietetics majors plant seeds of hope for cancer patients
To help everyone reap the benefits of a healthy diet, 12 CMU students spent a week working to put organic, pesticide-free produce into the hands of cancer patients.
Senior dietetics major Erin McGarry helped to lead the group's efforts at the nonprofit 180 Degree Farm in Sharpsburg, Georgia. Working with the farm's owners, students learned about challenges many cancer patients face while trying to eat fresh, nutrient-dense foods, including a lack of availability and high cost.
The team worked in the gardens spreading mulch, weeding, harvesting and planting crops. McGarry said her team was challenged by the physical labor and the high temperatures, but was motivated to push through.
"Hearing how grateful they were for our help was very rewarding," said McGarry.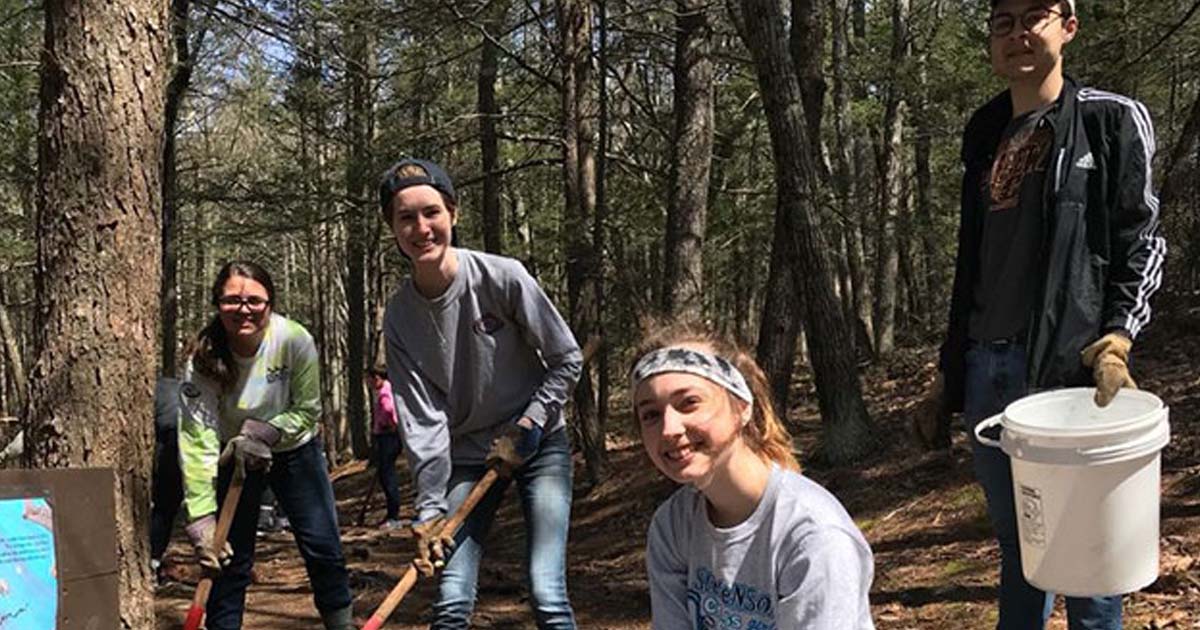 Future teacher, environmental advocate
When she arrived at her first work site, CMU senior Alyssa Goericke could immediately see how years of budget cuts had taken a toll on public parks in Maine.
The secondary education major led a team of eight students on a trip to southeastern Maine to complete conservation and maintenance projects.
Their service included trail cleanup and construction, weeding and gardening, bridge building, building a tepee-like structure behind an elementary school, and removing invasive plant species.
"Teaching kids about nature, ecosystems and their relationship with nature is really important to me," Goericke said.
She intends to keep working on environmental education and stewardship when she returns to campus.
Creating a colorful world of opportunity for youth
A group of CMU students helped paint a picture of the value of arts education during a weeklong volunteer break with the Arts@Large festival in Milwaukee, Wisconsin.
Senior social work major Mariah Ashley called it a chance to "create a colorful world of opportunity." She was one of two site leaders for the service trip, working with eight other students during the summer arts festival.
The group prepared pieces for an event display and worked one-on-one with children to create art projects. They also helped with performances including a children's orchestra and open mic sessions.
Seeing the impact of her team's work inspired Ashley to think about other opportunities to become an advocate for the arts and for young people.
"It reinforces for me the importance of becoming involved in local change agencies, such as a school board, to begin conversations about the importance of art in youth development," she said.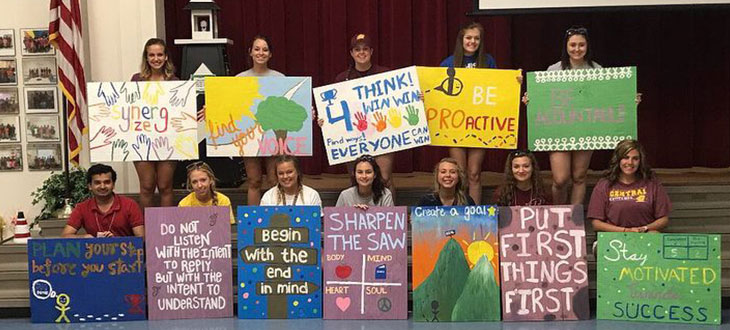 Breaking down barriers to education
CMU students helped to break down obstacles in a dual-language, leadership-centered elementary school in Immokalee, Florida.
Before their trip, first-time Alternative Break site leader Mckenzy Armstrong, a human resource management major, led weekly meetings for her 12-member team. Together, they discussed diverse classroom settings, educational barriers and their impact on low-income communities.
"Language barriers were very apparent in some classrooms, and some children were distracted because they were sleepy or hungry," said Armstrong.
The CMU students shadowed teachers, worked with children and helped prepare for the end of the school year. They also created a mural inspired by the school's "seven habits to inspire leadership."
Most of the CMU participants were education majors, but Armstrong said the experience applied to her career path, too. As the world becomes increasingly diverse, she said, workers in every field need to prepare to work with English language learners.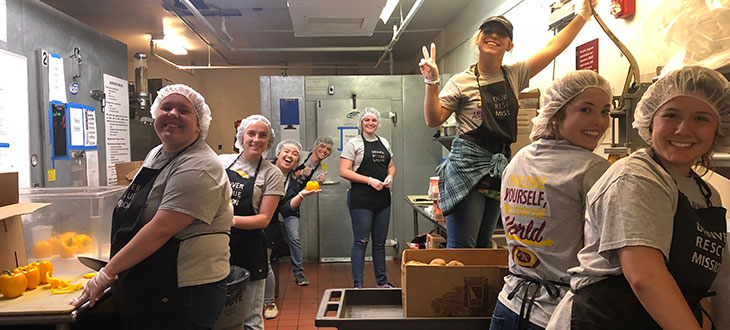 Serving meals, busting stereotypes
Ten CMU students, led by senior Kourtney Koch, traveled to Denver, Colorado, to learn about hunger and homelessness and hear impacted families' stories. They also learned to see past common stereotypes about homeless people.
Working with community service agencies, students prepared and served meals, helped with children's programs, and spent time talking with guests.
Koch, a hospitality services administration major, said she hopes her team will continue to volunteer with Mount Pleasant-based agencies that tackle homelessness and hunger issues.
"Our group did a great job offering strong, direct service, but the experience and education we gained from the staff and guests of the Denver Rescue Mission were immeasurable," Koch said.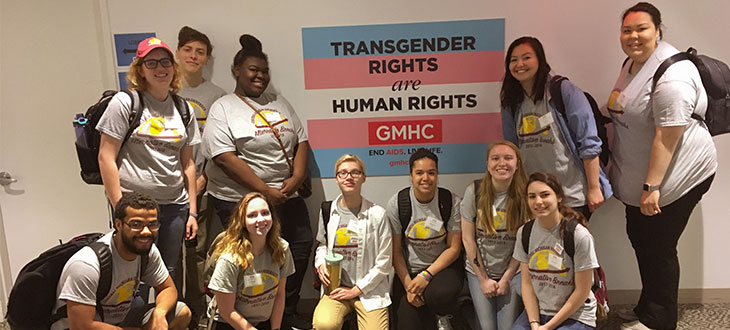 Advocating for peers, appreciating differences
"People are more than their diagnosis."
CMU senior Rachel Norman led an LGBTQ+ solidarity Alternative Break to New York, hoping to become a better ally for students with HIV/AIDS.
The environmental science major served as site leader for 11 students volunteering at GMHC, formerly Gay Men's Health Crisis.
The group worked on the AIDS Walk project and helped the agency prepare to relocate. They also served food and were able to sit down and talk with clients.
Norman said she was most affected by a discussion with a transgender woman.
"She was so open and answered everyone's questions. She stressed the importance of having conversations to break down stereotypes," Norman said. "It made me think a lot about the importance of putting people first and allowing them to tell their own stories."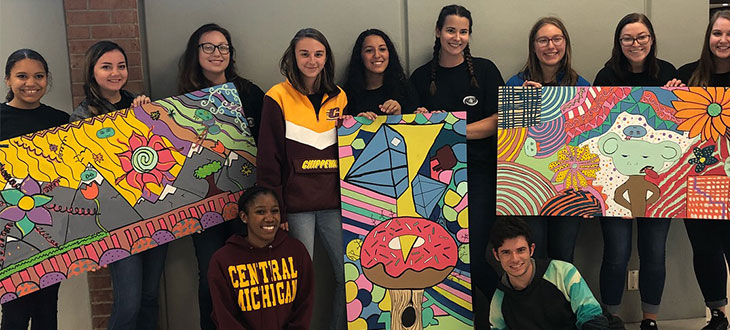 Self-expression through art for juvenile justice
Working on an art project at Youth Links juvenile justice center, CMU student Josh Geary asked about his young partner's focus on monkeys.
"He said monkeys are his favorite animal because they're fun and wild, but if they are too wild they get caged up," Geary said.
The young man was a resident of the Omaha, Nebraska, crisis stabilization center, which serves 10- to 18-year-olds referred by juvenile justice agencies. The art therapy project was designed to help clients express their feelings in a constructive way.
The criminal justice trip was the fifth Alternative Break for Geary, an integrative public relations major, and his most challenging personally: Instead of manual labor, he was facing heartbreaking stories.
Geary and his team of 11 CMU students met with staff and worked alongside residents throughout the week.
"We discussed the difficulties young people face trying to move on once they've entered that system. We left each day to go home knowing those boys couldn't," he said.
To leave on a positive note, Geary and his teammates wrote letters to their partners, offering thanks and well-wishes.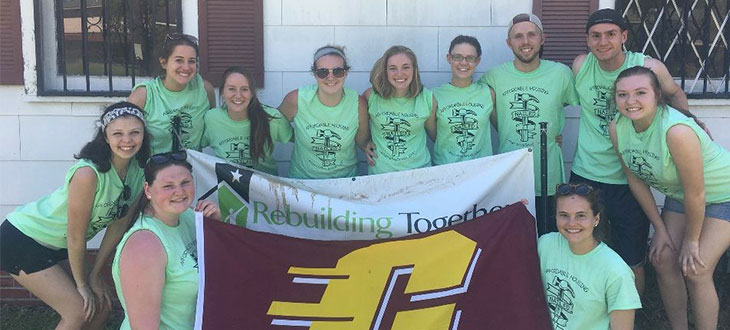 Flooding a city with help
During a trip to Louisiana, senior Kelsey Griffith, an elementary education major, saw firsthand how some communities can struggle for years with the aftermath of a natural disaster.
Griffith and her team worked with Rebuilding Together Baton Rouge, an organization that repairs homes for elderly and low-income homeowners. They spent the majority of the week making repairs to the home of a local veteran. The house had been damaged by flooding in 2016 and needed new paint, flooring and yardwork.
"Many days the temperature climbed into the upper 90s, and we had to press on with no air conditioning. Although we were tired and a little sore, it was so worth it," Griffith said.
She said her team's hard work allowed the homeowner to move back in more quickly.
Griffith said her group hopes to bring back what they've learned to help Mount Pleasant agencies such as the Isabella County Restoration House shelter and Habitat for Humanity.