Multicultural role models
Working with TRIO Detroit motivates CMU students to become advocates for diversity
College may seem like the next logical step for many high school students, but not all get the encouragement and support they need to make the transition successfully.
That's why Central Michigan University welcomed 60 Detroit-area high school students to its Summer Academy to fire up their future.
The Summer Academy is one of many programs offered through the CMU TRIO Detroit office. The intensive three-week experience is designed to mimic college life: High school students live in residence halls, eat in campus residential restaurants, attend classes and participate in social activities.
CMU students take the lead
Guiding them are CMU students, including two TRIO program alumni: Victoria Spencer and Alejandro Salais.
Spencer, a junior from Detroit, Michigan, studying integrative public relations, served as program mentor for this year's Summer Academy. She attended her first TRIO Upward Bound meeting as a high school sophomore after being referred by her favorite teacher.
"I knew I wanted more than the life I saw around me at home. I thought I wanted to go to college, but I was scared to apply. I had the drive to do more and learn more, but the resources to support me just didn't exist in my high school. I couldn't see a path forward until I found Upward Bound," she said.
Salais, a sophomore from Lansing, Michigan, studying Spanish and broadcast and cinematic arts, joined the TRIO Education Talent Search at his high school during his junior year.
"My mentors noticed when I didn't show up for meetings and called me out about it. I had the sense that someone was looking for something special inside of me and wanting me to succeed. They also looked like me — they shared my heritage — and gave me role models," Salais said.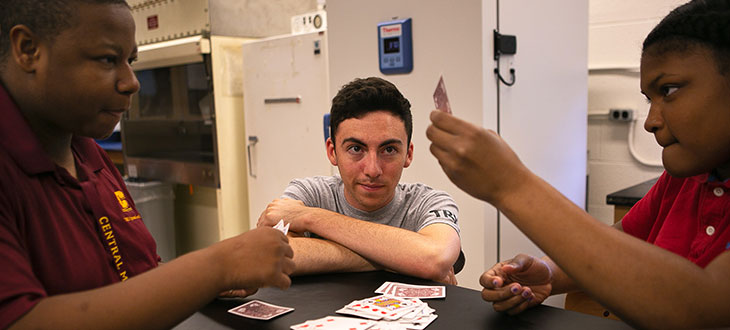 Their own positive experiences with TRIO programs made them want to reach back to help others who could follow the same path.
Filling in the gaps
Primavera Jimenez, director of CMU's TRIO Detroit programs, said Upward Bound, Educational Talent Search and the McNair scholarship are all designed to help middle and high schoolers find a path to college. CMU began to receive funding for TRIO programs in 1999 and has served thousands of students like Spencer and Salais.
"These students are bright, capable and eager to learn despite the challenges they must overcome to be here. We reach out to them in their schools, at home or wherever we need to be to support them."
Spencer, the first in her family to attend college, recalled that she worried about being prepared to apply.
"The school I came from was under-resourced. We didn't have advanced placement programs until my senior year. We were strong with athletics but weak on academics," Spencer said.
She had a great GPA but struggled with standardized tests and was overwhelmed by many parts of the college application process. Her mentors from Upward Bound helped her with practice exams, test strategy and navigating the many required forms for her applications.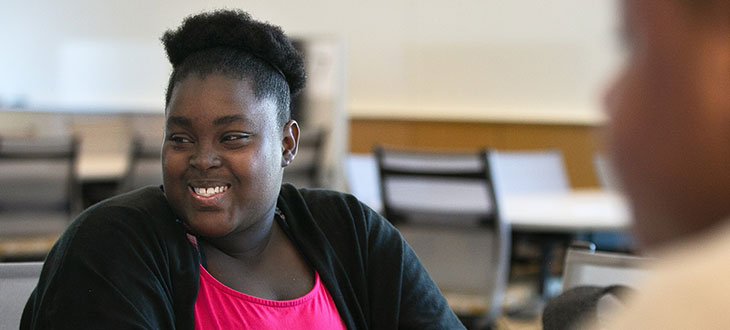 As a result, Spencer received offers for admission and scholarships to several universities, including her first choice: CMU.
Salais, too, received help from his mentors identifying scholarship opportunities and choosing the right campus to fit his goals. He received both the Leader Advancement Scholarship and the Multicultural Advancement Award of Distinction scholarship at CMU.
Balancing academics and play
Jimenez said the Summer Academy provides hands-on introduction to STEM subjects and prepares students for more challenging college classes.
This year, students took classes in biosciences with Gregory Colores, a biology faculty member; oceanography with Rachael Agardy, from the earth and atmospheric sciences department; and thermal energy with Walter Malec, from the School of Engineering and Technology.
"In our evening debriefing sessions, they all talked about how cool it had been to do experiments and to learn from teachers who were really passionate about their subjects," Spencer said.
They also received extra help in math and other subjects from local high school teachers.
But it wasn't all work. They visited the Student Activity Center for swimming, bowling and working out. There were several nights of board games, movies, and even a dance party or two.
"I can remember being in their shoes. It's their first time on a college campus. They want to see and explore everything. It's all exciting to them," Salais said.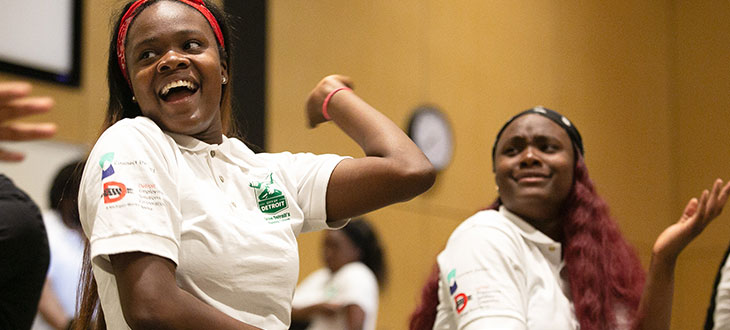 A new sense of purpose
Spencer said she never thought of herself as a leader before this summer. Now, she's got big plans for her final year on campus.
"This experience working with these teens has been pushing me and inspiring me. I feel it has given me the courage to seek out more opportunities for leadership," she said.
She hopes to intern with a nonprofit that serves minority and low-income families.
Salais wants to use his experience to advocate for better funding for public schools.
"I felt like our local media always had something negative to say about my school. They talked about our low test scores without acknowledging the high percentage of refugee students or students who were learning English as a second language. I want to talk about the good things that are happening, the positive things people in inner city schools can accomplish," he said.