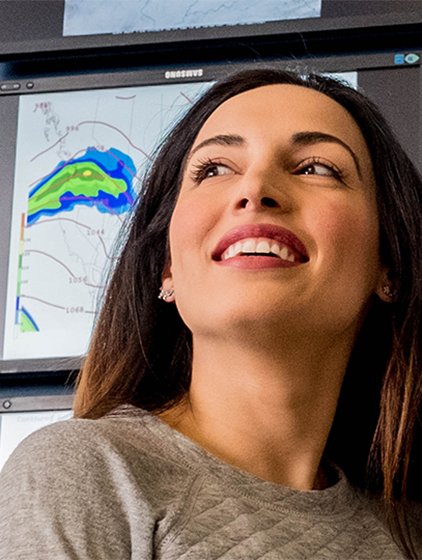 Department of Earth & Atmospheric Sciences
Explore modern and ancient mysteries as a student in our earth and atmospheric sciences programs.
Sky's the Limit
Earth & Atmospheric Sciences students research the ever-changing weather, explore the origins of life and try to answer big questions like the disappearance of dioxane levels in Ann Arbor, Michigan.
Broadcast Meteorology students can get in front of a green screen and participate in classes taught by a local chief meteorologist. If you're interested in research, hop in our mobile mesonet (mobile weather station) and conduct research on climate, severe storms and weather forecasting throughout the state and at the Central Michigan University Biological Station on Beaver Island.
Our students make a global difference through important research projects. CMU researchers have sought to discover the first signs of oxygen on Earth by examining trace metals in rocks. They have also probed why contaminant levels at a site near Ann Arbor are suddenly disappearing. Where will your passion take you?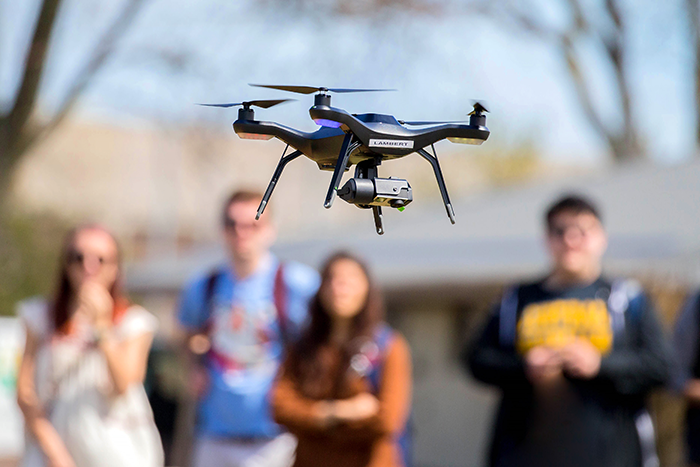 My experience at CMU prepared me for what lies beyond graduation. My professors designed the classes in such a way that I was able to stand out when it came time to apply for jobs after graduation.
Environmental Science
CMU's location in the heart of the Great Lakes provides the perfect setting to study the environment, with state-of-the-art facilities in Mount Pleasant and at the CMU Biological Station on Beaver Island.
In our environmental science program, you will learn to sample, analyze, model, interpret, and predict earth system properties in order to address environmental problems.

Fieldwork is a key part of our courses, so you'll take multiple field trips to assess soil and water chemistry, streamflow, and erosion. You'll work with professional software, field instruments, and laboratory equipment that are used in industry, government, and academic settings.
Geology
Geology studies our planet and all the different processes that shape the natural world around us.
Learn about natural resources, such as energy, materials and water needed to sustain our society, about natural hazards - for example, earthquakes, volcanic eruptions and floods, about the origin and evolution of life, oceans and mountains, and much more.
Master geologic knowledge, competencies, and skills that will help you succeed in your chosen geoscience career.

Ample opportunities for team-based field and laboratory projects, critical thinking, computer applications, and technical communication (written, oral, and virtual) will help you become a modern professional geoscientist.
Meteorology
Our meteorology program meets the guidelines specified for a Bachelor of Science degree by the American Meteorological Society, as well as the requirements outlined by the National Weather Service.
This is considered to be the highest level of accreditation for undergraduate atmospheric science programs.

Gain the skills necessary to attend graduate school, forecast for the National Weather Service, broadcast weather for television and radio, or work in the commercial weather industry.