Research explores MS at college
Faculty members, students shine light on lesser-known side of multiple sclerosis
It's not easy to bring the "invisible" to light, but two researchers at Central Michigan University are doing just that as they learn from the stories of college students with multiple sclerosis.
Faculty members Holly Hoffman and Cheryl Geisthardt in human development and family studies have spent months poring over students' responses to an online survey. They're looking for best practices that can improve the college experience for young people with MS and other so-called invisible conditions whose symptoms may be hard to see.
Living with MS
In MS, the insulating covers of nerve cells in the brain and spinal cord are damaged. Symptoms, which can come and go, include fatigue, vision problems, numbness and mobility issues, and speech issues. There is no cure, but treatment can slow or halt progression. It's the most common disease of the central nervous system in young adults. Here are a few resources at CMU:
College students' journeys with MS often start in childhood: About 5% of people with the condition today are diagnosed under age 18, and Hoffman and Geisthardt also spent months interviewing parents of children with pediatric-onset MS.
"This research is important to supporting children and families dealing with complex and less-understood medical conditions," Geisthardt said. "Providing effective support can improve the quality of life and overall well-being for both patients and their families."
And it can address a key challenge for those young adults: the need to begin managing their condition on their own.
As young people with MS enter adulthood, they face decisions about how to access medical care and when to share about their condition in dating and personal relationships.
And while informing instructors or bosses about MS can be helpful when working out mobility issues or the need to balance work and rest, "it's a double-edged sword" that also means showing vulnerability, Hoffman said.
Hoffman, Geisthardt and a co-researcher now at Ohio State University who began working with them as a CMU undergrad, recently published a scientific journal article exploring how students with MS navigate the college experience.
Students with less visible challenges such as exhaustion, mental health issues or learning disabilities reported being viewed more skeptically by instructors than students with visible physical disabilities — revealing that many educators need a better understanding of conditions such as MS.
The article also detailed the online survey where college students shared their challenges and how they cope. While coping strategies included sleep, exercise, and time with friends and family, students also reported using campus disability services, health services and counseling.
CMU students with a disability have the option of registering through Student Disability Services to help secure support and accommodations.
Students' role in research
Hoffman and Geisthardt's research has opened study opportunities for CMU students, too, including a graduate student on a research fellowship and four Honors Program undergraduate research assistants.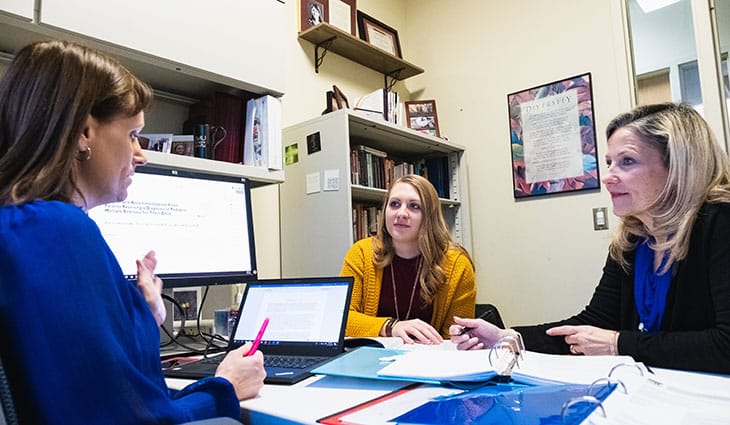 One of those honors students is Carly Jenkins of Breckenridge, Michigan, a junior majoring in child development.
Jenkins was project manager for the research last semester as part of a leadership course. Now she's working to incorporate her research into her senior capstone project, the last major requirement for graduation from the Honors Program.
"Not only will this be an incredible capstone experience, but I want to work in the medical field with children one day, so learning about this disease and how it affects them is preparing me for that," she said. "Knowing how to do research is a very important skill for a lot of career areas, medical field-related or not."
Medical student Danielle Hebert, from Williamston, Michigan, joined the research on a summer scholarship after Geisthardt and Hoffman spoke at CMU's College of Medicine.
"Now she's thinking of going into neurology," Geisthardt said.
Hebert earned co-author credit with Geisthardt and Hoffman on an article in the Journal of Pediatric Neurology. Now in her third year of med school, she's on medical rotations around the state and planning to practice in Michigan.
She said being able to point to her own research will give her an advantage when applying for a residency program.
'We're not done'
Geisthardt and Hoffman are continuing their research.
Hoffman said they're interested in producing engaging and accessible informational material, like a video or a one-page sheet, that could help educators and others understand MS.
"Students do struggle with how to explain what's happening to them," Hoffman said.
The researchers also are working on two journal articles that will include students as co-authors and are planning more interviews with college students.
"We have so many ideas," Geisthardt said. "We're not done. This is just beginning."