Scholars grow from STEM out
Students build teaching skills by working with children in math, science and more
Among the more than 3,100 graduates walking across the stage at Central Michigan University commencement ceremonies this weekend will be the first six from an elite group.
All plan to be teachers, and all have a math or science major or minor.
Most have been courted for this special role since before they started their freshman year.
And they're some of the only teacher education candidates in the College of Education and Human Services eligible to work with children from their first day on campus.
They're the first graduates from the ranks of CMU's STEM Education Scholars.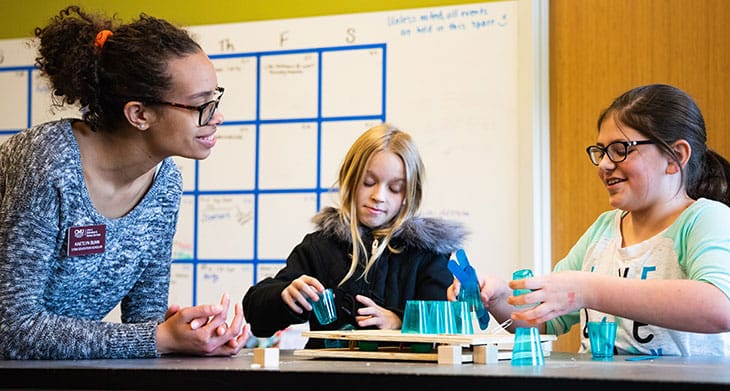 The select team of undergraduates helps with outreach programs, workshops and career-building activities in STEM (science, technology, engineering and math) for students from pre-kindergarten through 12th grade.
Along the way, they bulk up on career skills.
"Five of the six scholars graduating now have been hired as teachers before graduation," said Julie Cunningham, director of CMU's Center for Excellence in STEM Education and advisor for the scholars.
Know-it-alls not needed
Jayda Sykora starts teaching eighth grade math the Monday after she graduates Saturday. She'll finish out the school year at Harrison Middle School in mid-Michigan before beginning her first full academic year there in the fall.
A senior from Clare, Michigan, with a math major and secondary teaching certification, Sykora joined the scholars her sophomore year. She worked in STEM summer camps in addition to school-year programs.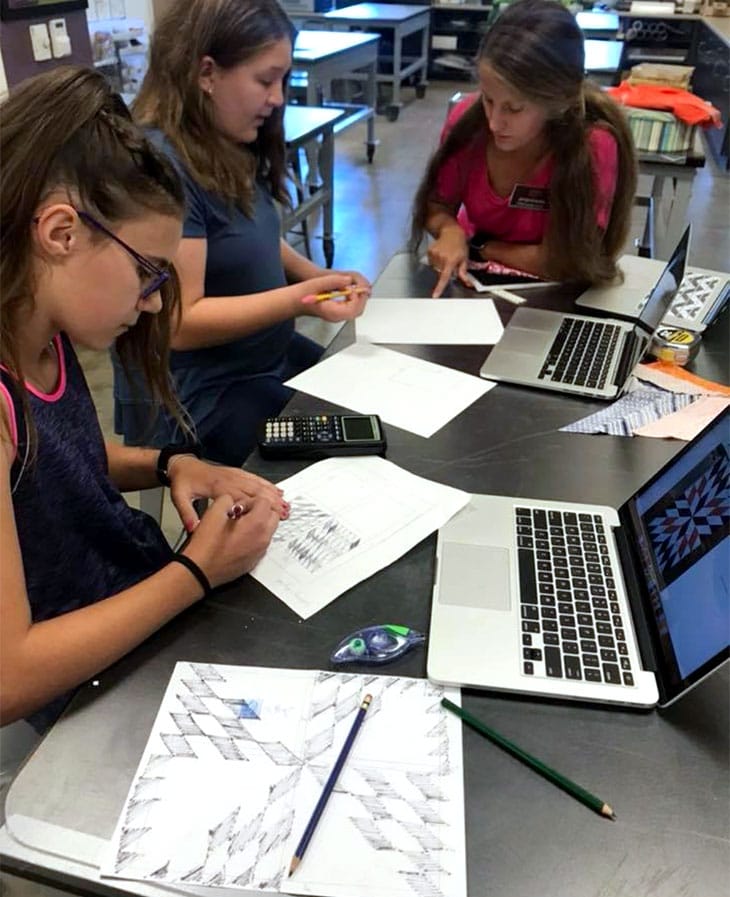 Sykora said her many hours as a scholar have honed her critical thinking and taught her how to connect with students and fuel their creative ideas. The most important lesson, she said, is that she doesn't need to know everything to be an effective teacher.
"I've found that when I'm working with a student, learning along with them is acceptable," she said. "I'll say, 'Why don't we investigate this together?'"
Responsibilities and rewards
Scholars each lend their time to at least six learning/teaching/community events each semester, from among opportunities such as school field trips, free-form "open make" nights for middle schoolers in the Maker Space, conference presentations, faculty lunches, speakers and more.
Rewards extend beyond career skills:
Scholars receive a $1,000 tuition stipend; enrollment in Leadership Safari; annual membership in a national math or science association; and opportunities to attend a national math, science or STEM conference.
They can register early for math and science courses and have special access to academic advisors and exemplary educators.
They live in a residential college with other future teachers in Sweeney Hall.
Often, they are hired to work at STEM summer camps.
In the program's first four years, about 40 students — first-year through seniors — have participated. Cunningham now can take on as many as 20 new scholars a year, and 14 already have applied for fall.
Many learn about the opportunity from outreach to accepted first-year CMU students who have indicated an interest in education and STEM. But anyone can learn more and apply online.
"I think this is one of the best opportunities for education students to prepare outside their student teaching," said junior Ryan Stevens, of Elsie, Michigan.
It's Stevens' first year as a scholar, and he already sees benefits: connecting with his fellow scholars, working with schoolchildren of all ages, attending a national teachers' conference to network and learn — and hold Madagascar hissing cockroaches. For practical reasons.
"In a physics class," he explained, "you can race them and record the speed and distance for physics formulas."