Senior places 1st in national sales competition
Team performs well as CMU claims its 3rd 1st-place finish in a row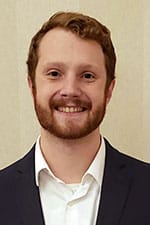 Central Michigan University senior Josh Statly won first place in the Pi Sigma Epsilon National Pro-Am Sell-A-Thon and the Pi Sigma Epsilon Yearlong Sell-A-Thon.
The online competition is centered around a video call and 12-minute business scenario role-play. Pi Sigma Epsilon is a national co-ed professional fraternity in sales, marketing and management.
Statly, a marketing major with a professional sales concentration, has served as the sales team captain at CMU for the past three years, taking on the responsibility of educating, training, motivating and incentivizing other student team members.
The focus on preparing others for sales competitions has led to great success for Statly over the past several years, including in the AT&T Sales Competition and the University of Florida's Selling with the Bulls Competition, both in 2019.
CMU's team performed well overall in the Pi Sigma Epsilon competition and placed as follows:
Pro-Am Sell-A-Thon
Top 9, National Competition: Nathan Camilleri.
Finalist: Chelsea Barnett.
Finalist: Connor Waple.
Finalist: Emma Stowe.
National Speakers Competition
Scholarship winners
Debbie Khalil Memorial Scholarship: Kaitlyn Dubay.
Principal Scholarship: Rob Allen.