Students' lab is on Galápagos Islands
Study Abroad experience immerses participants into the laboratory of Charles Darwin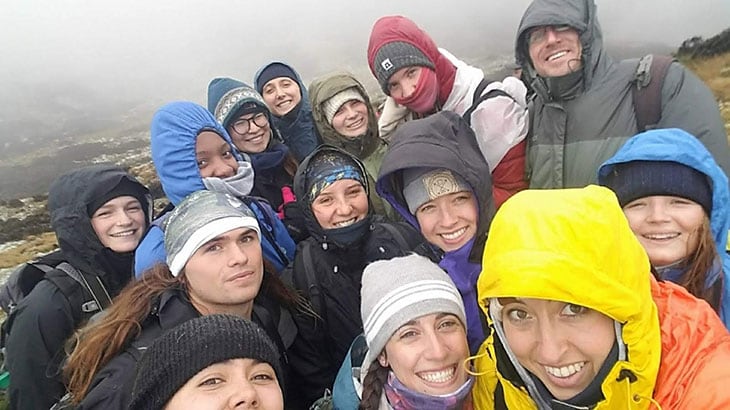 ​Imagine a college class in mid-February where one day is spent in an Amazon rain forest identifying the sounds of animals and another day is dedicated to observing the behavior of flamingos or scuba diving to record the species of fish.
Central Michigan University students have that opportunity through the IES Galápagos Islands Study Abroad program.
Fast facts
Study in Ecuador and the Galápagos Islands.
$10,000 scholarship.
15 credits.
Work with students and professors from across the U.S. and Europe.
Study giant sea turtles, exotic fish, birds, reptiles and more.
Every spring and fall semesters, four CMU students are accepted into the 15-credit program. Students who have a signed major or minor in the College of Science and Engineering are eligible to apply a $10,000 scholarship from CSE.
Accepted students spend five weeks in Quito, Ecuador, taking field trips that include the Amazon rainforest. Then they travel about 660 miles into the Pacific Ocean to spend 10 weeks studying in the Galápagos Islands, where Charles Darwin conducted his evolutionary biology studies in the 1800s.
"The Galápagos are the place to go to study," said Carson Pakula, a senior biology major from Canton, Michigan, who went in 2018.
"The whole program is incredible," said Kiara Cushway, a junior biology major from Big Rapids, Michigan, who went this past fall.
Applicants come from a variety of majors but generally are studying biology, environmental science or ecology, said Heidi Mahon, director of student services in the college.
Hands- and fins-on learning
The selected CMU students become part of a team of students from all over the U.S. and Europe.
During their weeks in Quito, they attend classes to learn Spanish and scuba diving or snorkeling. They use their training to assist in the research of instructors from around the world studying there.
They are housed with local families and become immersed in the local culture. The hosts go out of their way to make the students feel at home, often including them in family activities.
Pakula attended a birthday party and a funeral with his host family.
"They really treated me like I was one of their children," he said.
Once the students move to the Galápagos Islands, their days begin with about three hours of instruction in a traditional classroom setting, then they head across the beach — being careful to step around the sea lions — and into the water or forests to help with research and to explore.
One of Cushway's memorable days was when she was helping with research on giant sea turtles.
"They were amazing to study and fun to swim with, too," she said.
She also helped collect data on humpback whale behavior and "songs," identified and observed 25 marine fish species and observed the behavior of flamingos, lizards, iguanas, frigate birds, blue-footed boobies and others.
"We were surrounded by (animals) you only hear about in documentaries. Then there was me, a suburban kid having the opportunity to be in the heart of all of that. It was very unique and very rewarding." — Carson Pakula, senior biology major
Pakula's most memorable experience was spending 10 days in the Amazon rainforest in Ecuador, studying tropical ecology.
"We were surrounded by monkeys, snakes, crazy animals like jaguars that you only hear about in documentaries. Then there was me, a suburban kid having the opportunity to be in the heart of all of that. It was very unique and very rewarding."
Tracking goals
The experiences helped sharpen the knowledge and research skills of both students, better preparing them to achieve their goals, they said.
After graduation, Pakula will pursue a master's degree in biology or a similar field. His career goal is to do field research, preferably for the Michigan Department of Natural Resources or another state or federal agency.
Cushway plans to pursue a master's or doctoral degree in freshwater biology.