The properties of a valuable hire
Required CMU undergraduate physics course takes seriously the matter of employment
Daniel Hatcher is graduating from Central Michigan University this spring with a master's degree in physics and a graduate certificate in data mining. He has a job lined up at General Motors as a business intelligence data analyst.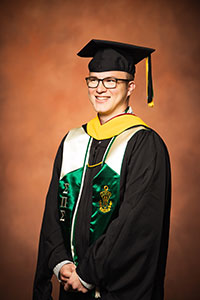 While he is happy for what his future holds, getting a master's degree is not what he had planned when he graduated from college in North Carolina with a bachelor's degree in physics.
He wanted a job.
"But I didn't know what I was doing: writing a resume, a cover letter, trying to get an interview," he said. "I was just sitting at my kitchen table, opening job applications, filling them out and sending them off."
He said he applied for about 50 positions.
"I heard back from one, which told me that I wasn't qualified and asked me if I knew someone who was. It was demoralizing."
If he had been a physics undergraduate at Central, he might have gotten that job.
'Graduate school is not a career'
CMU physics faculty member Marco Fornari discovered years ago during advising sessions with his undergraduate students that many of them assumed that they had to earn a master's degree to have a good career.
"Graduate school is not a career, I tell them. It is another level of education, not a goal."
He decided he needed to help them understand their job options and teach them the tools to land those positions.
It's not easy changing a mindset.
Physics is not a major where you know exactly what you will do after undergraduate graduation, such as an accounting major will be an accountant, Fornari said. It's more like being an English major: You have to find the jobs that require those skills.
Fornari recognized that his undergraduate physics majors, even with all their problem-solving abilities, needed help perfecting the additional skills required to land a job, such as writing a resume, crafting a cover letter, performing well in an interview, and others.
On course to jobs
So in 2014, he created a one-credit required course called Careers in the Physical Sciences.
In it, students not only learn typical starting salaries of jobs suited for undergraduate physics majors — ranging from $30,000 to $75,000 — but also common employment areas, such as engineering, computer hardware and software, business and finance, research and technical, and education.
"If I had had a course like this available when I was an undergraduate, it would have been very helpful."— Daniel Hatcher, physics master's graduate
They also learn a lot about themselves through external and self-assessment tests that focus on interests, experience and potential, skills, and personality.
Then it's on to goals — continued education or a job — and creating timelines, conducting informational interviews with people who hold jobs of interest; creating a career plan; building a resume; writing a cover letter; creating and practicing an elevator speech; job interviewing; and further education.
The students also are encouraged to take advantage of other university resources, such as a visit to the College of Science and Engineering's Student Success Center for mock interviews and to stop by First Impressions to learn about appropriate attire.
What employers seek
"If I'd had a course like this available when I was an undergraduate student, it would have been very helpful," Hatcher said. "The option then was to go to graduate school. If not, it was up to you to figure out what to do."
He noted that statistics show he would have had a lot of company if he had landed a job in the private sector with a bachelor's in physics.
Data from the American Physical Society show that 65 percent of the U.S. graduating undergraduate physics majors in 2013 and 2014 found initial jobs in the private sector.
"What I have seen is that a lot of employers aren't looking so much for physics, or statistics, or engineering. They want someone who can think critically, can solve on their own most of the problems they encounter, and who doesn't need to be told multiple times to do something. Physics is great for that."