Phonathon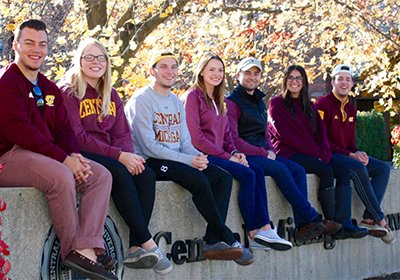 On the campus of Central Michigan University lies a room that comes alive each evening with the energy and excitement of students.
The CMU Phonathon employs students who call nearly every day of the year to speak with the 200,000-plus Chippewa alumni, parents, and friends of the university to welcome them back for events, update their contact information, and raise funds to help support essential initiatives that go to enhance the learning and living experience for current students. In fact, the student callers are a key element of the CMU Advancement mission for Central Michigan University.
Students have helped with the university's phonathon for more than 19 years. Full data collection on the phonathon began in 2004. Since that time, 1,534 student employees have secured nearly $9.5 million in pledges and gifts for funds across CMU — from academics to financial assistance to athletics.
Our student callers are committed to helping maintain and improve the CMU experience for students of today and beyond. These students value the quality education they receive at CMU and realize the life-long advantages that it provides. For this reason, our Phonathon callers are not only calling to ask for support but are also calling to thank our generous supporters for the great opportunities and experiences they are receiving at CMU!​