Careers commence before graduation
Meet CMU's newest degree earners who already are on professional pathways
You've received your degree from Central Michigan University. What are you going to do next?
For some August and December graduates readying for commencement Saturday, the answer is go to work Monday morning. Many CMU grads step directly from their studies into professional jobs in their chosen fields.
In fact, nearly nine in 10 CMU alumni surveyed six months after graduation say they're working in their career field or pursuing an advanced degree.
December commencement
Graduation ceremonies for August and December degree earners take place at 9 a.m., 1:30 p.m. and 6 p.m. Saturday, Dec. 14, at McGuirk Arena in the John G. Kulhavi Events Center. Find livestream links on the Office of the President website
Career development support
CMU's Career Development Center empowers students and alumni for life. Here are eight ways.
Julia Barlow Sherlock, director of CMU's Career Development Center, celebrates their achievements.
"It takes work," she said. "Work to find out more about themselves and what they are really good at. Work putting together the right set of career readiness experiences — research, student organizations, internships — developing their professional network over their entire time at CMU.
"This is how a new grad walks across the stage with their diploma in one hand and job in the other."
Here's an introduction to three new grads with exciting jobs in their fields.
Brielle Benbow
Account coordinator, Real Integrated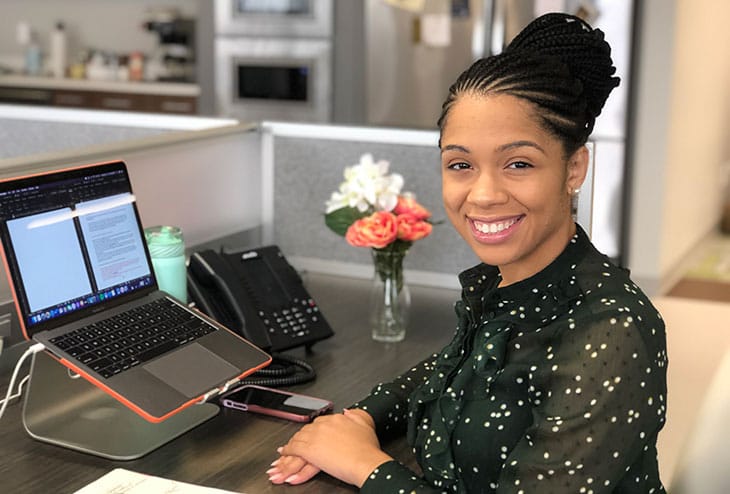 At Troy, Michigan, PR firm Real Integrated, Saginaw native Brielle Benbow crafts news releases and media alerts, develops pitches, gets clients' names in the press, and tracks their media mentions.
And if you see her this season working a fundraising gift wrap station at the Village of Rochester Hills outdoor mall in Rochester Hills, Michigan, that's part of it, too: The shopping center, a client, is raising funds for the Jay's Juniors radio program charity that sends terminally and chronically ill children to Disney World.
"A high level of professionalism, willingness to put in the hours and go above and beyond: I always know when we have interns from Central, they have those qualities." — Samantha Boyke, Real Integrated
It's all part of the takeaway from her CMU education in integrative public relations.
"I learned what a job in public relations was about," she said. For example, a course taught her how to create communications plans. "When I got to my internship, I had to do that exact thing. I didn't panic."
Real Integrated hired Benbow as an account coordinator at the end of the 300-hour internship she began there in May.
"Right off the bat, she was one of the interns we could depend on," said her supervisor, Senior Account Manager Samantha Boyke. "She definitely could hit the ground running."
So could other CMU students and alumni hired over the years as interns and employees, Boyke said.
"A high level of professionalism, willingness to put in the hours and go above and beyond: I always know when we have interns from Central, they have those qualities," she said. "Their classes have taught them the basic knowledge that helps them in the real world."
Benbow wants to someday run her own PR firm and create a nonprofit serving inner-city youth. She said her CMU experience — including IMPACT workshops and leadership in her sorority, Sigma Kappa Chapter of Zeta Phi Beta — prepared her to see tasks through to completion, as has her major.
"The IPR program is one of a kind," she said. "It's really helped to set me apart."
Carlos Salcido
Supply chain analyst, Kimberly-Clark Corp.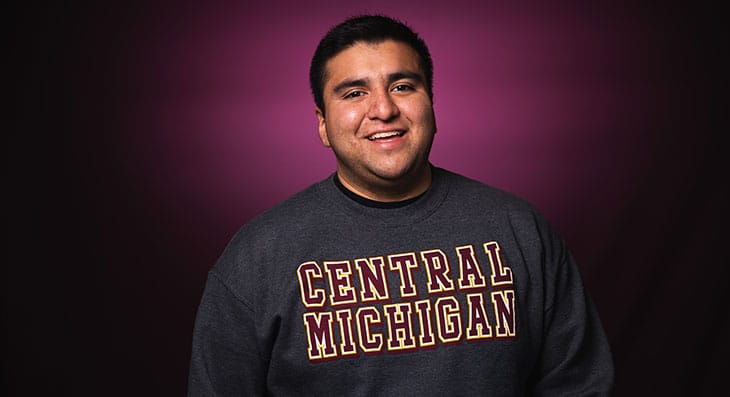 There's no such thing as idle small talk at a CMU career fair.
Marketing and logistics management major Carlos Salcido, from Lincoln Park, Michigan, learned that one day as he helped with an event at Finch Fieldhouse.
A Kimberly-Clark Corp. recruiter he was chatting with asked for his resume. The company later called him for an interview, "and the next thing you know, as a sophomore, I got an offer to intern in Wisconsin for six months." While there, he discovered that Kimberly-Clark has many CMU alumni.
This fall, he accepted the company's offer of a full-time job as supply chain analyst in Roswell, Georgia.
Salcido credits close relationships built among students and faculty at CMU and in the College of Business Administration with his growth from a new student to a graduate with a job.
"There is something about CMU people that we look out for one another," he said. "The awesome logistics faculty and my fellow CMU Chippewas helped push me out of my comfort zone when I needed it.
"There are a lot of opportunities at CMU. If you apply yourself and put in the hard work, anything can be possible for you," he said.
Faculty member Evelyn Smith, director of the student engagement-logistics management program, said Salcido stands out for taking advantage of many opportunities offered to logistics students.
"His participation in professional student organizations helped him create opportunities that led him to full-time work," she said.
"I know he is going to do good things."
Cassondra Boothroyd
Group travel and special events coordinator, Mackinac State Historic Parks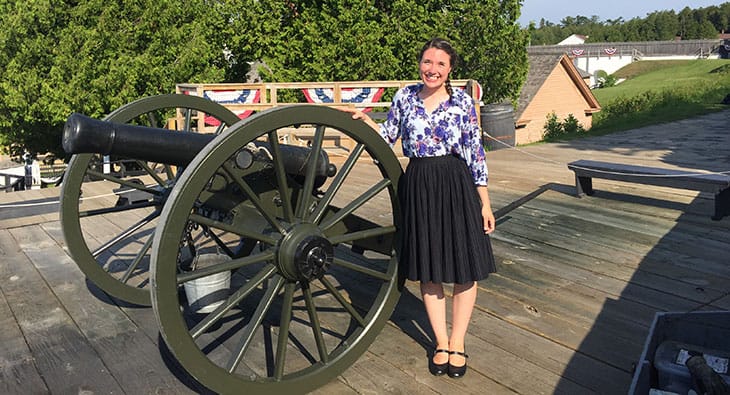 Not long ago, Cassondra Boothroyd was an intern. Today, she has an intern.
The recreation, parks and leisure services administration major from Chaska, Minnesota, concentrating in recreation and event management, works with tour groups and wedding parties — from 12 to 200-plus people — coordinating events on Mackinac Island and in Mackinaw City, Michigan.
She first connected with Mackinac parks through a CMU tourism class that visited the island in her sophomore year.
"I got to hear my future co-workers speak to my class," she said. That same day, she went home and applied for a marketing and special events internship, which she received.
"She made an immediate impact during her time here," said her supervisor, Marketing Manager Dominick Miller. "When a position opened last spring, we immediately reached out to Cassie. It's been a wonderful experience having her back. She still has all of the excellent qualities from before but has added a couple of years of experience and education that have made her an ideal fit with us.
"I know her time at Central is what helped get her ready."
Boothroyd knows it, too.
It started when faculty within her major steered her toward the Disney College Program, where she worked and lived at Disney World in Orlando, Florida, while taking three college courses that transferred to CMU. The "life-changing experience" put her classroom knowledge to work on the front lines of customer experience.
"I was working with hundreds of thousands of people each day," she said.
Now, Boothroyd works in Mackinaw City, in the Lower Peninsula. But in the summer, her office is on the island, and her job is mostly outdoors.
"I love it here so much," she said. "It's an amazing place, and I'm doing what I love."