CMU puts new ideas to the test
From medicine to the environment to campus culture, 2019 was a year of innovation
Innovation happens every year at Central Michigan University, but 2019 may have taken it to a new level with a competitive $3 million fund to innovate student-focused programs.
The President's and Provost's Fund for Program Innovation and Excellence launched in October with a goal to encourage and support new initiatives and approaches. President Bob Davies and Provost Mary C. Schutten will announce fund recipients and amounts in February.
As part of CMU's 10-year strategic envisioning process, the fund is dedicated to projects aimed at rigor, relevance and excellence. It's one of many innovation-minded developments in a year that saw creative new ideas in scientific research, campus culture and more. Here are some examples:
Guarding the Great Lakes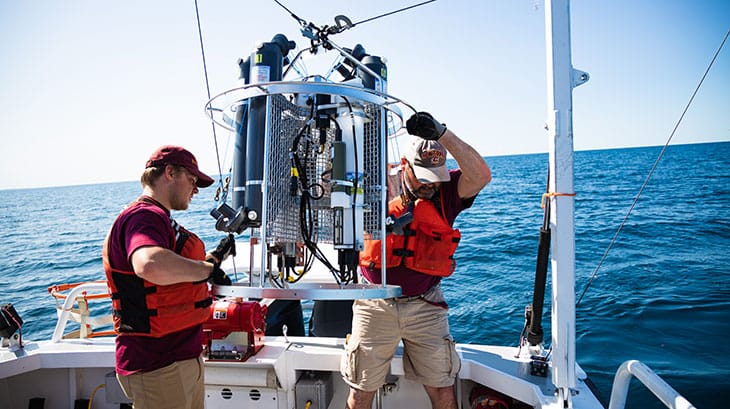 All around the Great Lakes, CMU researchers collaborate to find new ways to protect and manage ecosystems. Take a closer look at eight sites where faculty and students spent the summer focused on algal blooms, invasive species, fisheries and more.
The might of microbes
In another example of innovative research on the lakes, a team of seven faculty from CMU's Institute for Great Lakes Research studied whether microbes in the Straits of Mackinac could decompose oil in case of a spill. The researchers used oil supplied by Enbridge Inc., whose Line 5 pipeline crosses the straits. Learn more about Testing oil spill defenses.
A new home for talking things out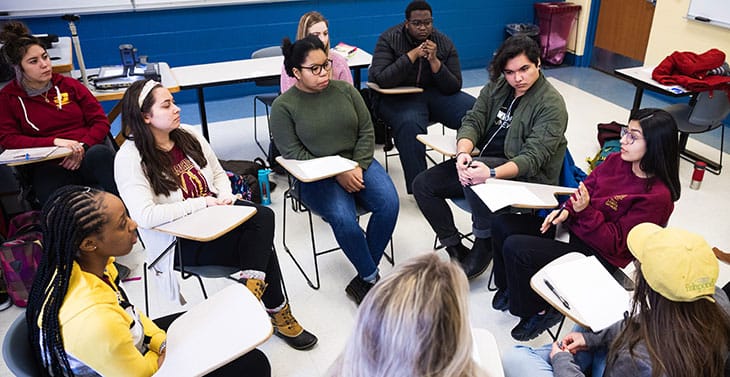 Innovation also happens in areas outside of science. CMU's new Institute for Transformative Dialogue expands intergroup dialogue across the university. Discussions provide a safe way for students to explore new perspectives, increase understanding of others and develop skills to thrive in a multicultural society. Learn more about the new home for talking things out.
Blazing a CMU Gold Path
There's also a new career-focused way for CMU students to explore their interests, track their cocurricular involvement and document their in-demand skills. Jennifer Drevon, CMU Gold Path program specialist, said participating in campus activities offers students a wealth of benefits. Learn more about Introducing new CMU Gold Path.
Restoring speech through song
Medicine and health care were rich areas of innovation in 2019. Faculty member Katie Strong helps stroke patients regain the use of words by using words tied to their lives before stroke and after. With the help of a CMU research grant, she's expanding on her method to include music. Learn more about Aphasia work yields songs of hope.
Here are examples of other innovative medical and health-related research:
New ways to check the weather
CMU advances environmental research on land as well as on water. Meteorology students and earth and atmospheric sciences faculty member Jason Keeler spent part of the summer in the department's first mobile weather observation vehicle, a Ford Explorer tricked out with weather tech. Keeler said Central is the only Michigan university with such a vehicle.
"It allows us to continue to be a leader in the field," said Larry Lemke, department chair.
Here are a few other places where CMU is applying new ideas and technology to "old" challenges:
A safer flame retardant — Research in CMU's science of advanced materials doctoral program aims to make fires less deadly. Newly retired faculty member Bob Howell led a team developing flame retardants that are biodegradable and less toxic when subjected to flame.
Hot on alternative fuel — Engineering and technology faculty member Yousef Haseli and a team of student assistants built a gasifier to explore clean, efficient and renewable energy. Haseli is working to turn wood into low-cost and environmentally friendly syngas that can power engines and fuel cells.
Old-world art meets latest tech — Art history faculty member Scott de Brestian and his students travel each summer to the Church of the Assumption in San Vicente del Valle, Spain. The students help de Brestian photograph historical artifacts to create digital 3D models that can be used to create physical replicas.
New ways of learning on Beaver Island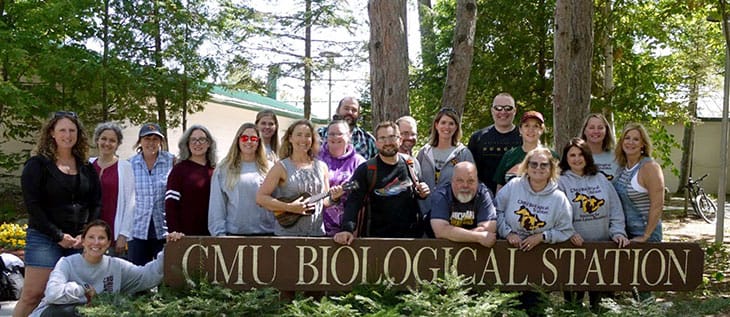 A weeklong experience at CMU's Biological Station on Beaver Island equips K-12 teachers for the school year and beyond. The Beaver Island Institute, led by faculty members Troy Hicks and Wiline Pangle, focuses on experiences for teachers that will spark children's natural curiosity, build scientific literacy, and expose them to technology and data in the classroom. Learn more about Beaver Island Institute making waves.
Support for student startups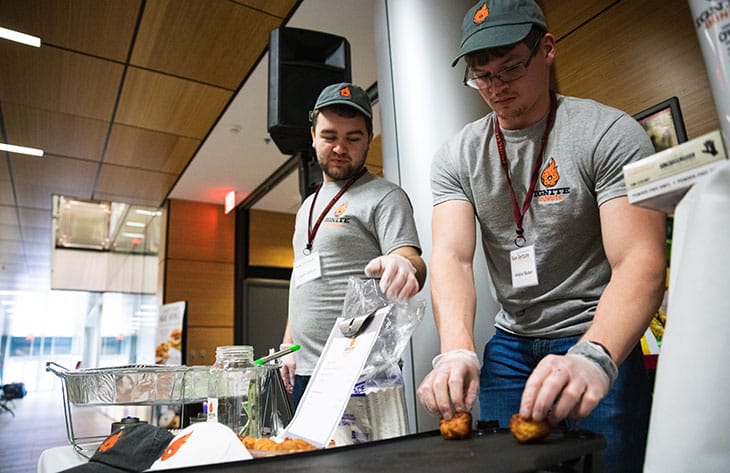 Starting a business means innovating almost by definition. CMU students Casey Croad and Chris Eakin did so to create their company, Ignite Donuts. They paid their success forward with an October 2019 networking event for future student entrepreneurs. The pair offered six pointers on finding help at CMU and in the local community, plus a final tip: "Be brave." Learn more about the Support for student startups.