Envisioning the future: CMU in 2030
President shares annual report with trustees, outlines 10-year plan
"Rigor, Relevance and Excellence" is the working title of a 10-year strategic envisioning process presented to the Central Michigan University Board of Trustees today by President Bob Davies as part of his annual report to the board.
Davies initiated the effort in response to the many challenges facing institutions of higher education in the current social, political and economic landscape.
"Ten years is a longer planning time horizon to allow for bold and innovative thought to take place," Davies said. "It enables us to think in transformational terms, not in annual and short-term transactional tactical forms. We will reshape Central and position ourselves to better serve our students; foster innovation and economic development; ensure civic and social advancement; and spur new creations that will impact our region, our state and beyond."
The process, which will engage students, faculty, staff and other university stakeholders, will be built around a set of strategic pathways, which may include:
Enhancing CMU's academic quality and environment with renewed commitment to rigor, relevance and excellence in curricular and cocurricular activities.
Establishing CMU as an equitable and inclusive marketplace of ideas and actions.
Building relationships with partners to foster innovation, economic development and cultural enrichment throughout Michigan.
Addressing college students' changing needs.
Redefining and expanding CMU's business model.
Also in his report, Davies highlighted several successes from the 2018-19 academic year, showcasing CMU's commitment to the three imperatives of CMU's Advancing Excellence strategic plan: student success, faculty research and community engagement. These include:
Expansion of leadership offerings through the Sarah R. Opperman Leadership Institute.
450 student-athletes achieved excellence in competition and in the classroom, winning Mid-American Conference championships and earning one of the highest cumulative GPAs in the MAC.
Several national and international awards received by students.
The College of Medicine's historic 25-year partnership with Covenant HealthCare.
CMU's selection to serve as a Next-Gen Lab by software giant SAP.
Fundraising success through the completion of the historic $100 million capital campaign, Fire Up for Excellence, three years ahead of schedule.
"We will reshape Central and position ourselves to better serve our students; foster innovation and economic development; ensure civic and social advancement; and spur new creations that will impact our region, our state and beyond." — CMU President Bob Davies
Additional priorities also were presented to and approved by trustees, including enrollment, student success and retention. These also will form the basis for a three-year tactical plan to begin our 2030 strategic envisioning process.
Board approvals and actions
A.T. Miller, vice president and chief diversity officer, shared updates on campuswide efforts to promote diversity, equity and inclusion.
Miller highlighted a number of changes and developments in Central's approach to diversity, equity, and inclusion since the creation of his position and subsequent arrival on campus 16 months ago. This includes a website upgrade; development of faculty diversity and inclusion fellowships; and creation of the Diversity, Equity and Inclusion Council, which led to 60 new universitywide initiatives that launched July 1.
Plante Moran, the university's external audit firm, also presented the trustees with a clean, unmodified audit opinion — with the highest level of assurance.
In other action, the board approved:
A $1.15 million plan to create the Allen Foundation Culinary Nutrition Center.
Emeritus rank for nine CMU faculty and staff members.
More than 1,000 August graduates including 481 bachelor's, 448 master's and 24 doctoral degrees, as well as seven specialist degrees and 42 graduate certificates.
Trustees also congratulated students and staff from CMU's student news organization, Central Michigan Life, for a century of dedication to preparing students for careers in communications. Dylan Goetz, editor-in-chief, was presented with a proclamation to honor this achievement.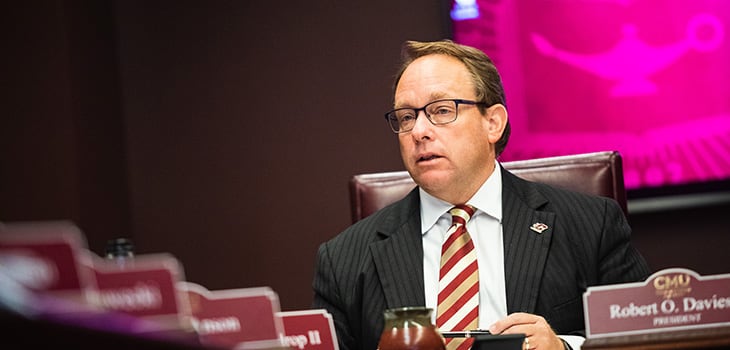 Davies' opening report
In his opening remarks, President Davies welcomed new Vice President for Advancement Heidi Tracy, who begins her role Oct. 1.
Davies welcomed the more than 3,400 new CMU students and nearly 100 new faculty members. He also recognized the extensive progress made to facilities and infrastructure that happened over the summer. This includes the Center for Integrated Health Studies, decommissioning of Barnes Hall, signage upgrades and new sidewalks, and the new videoboard at Kelly/Shorts Stadium.
In addition, Davies recognized the following students and faculty members: