Empowered to take the lead
Annual Multicultural Student Leadership Conference provides tools, resources for leaders
Great leaders know there's always something new to learn about leadership.
Lexi Del Toro, a therapeutic recreation major at Central Michigan University, always felt like a leader, but often felt she was missing out on tools and resources that could make her more effective. That's why she joined dozens of other students at this year's Multicultural Student Leadership Conference.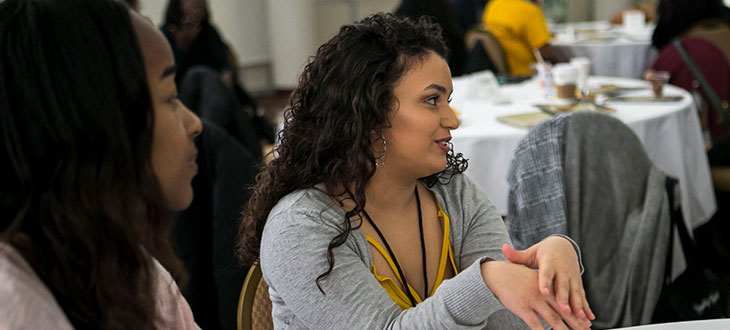 Raising a hand to help
Del Toro came to CMU from a small, tight-knit Puerto Rican community in urban Chicago, where she attended a small, newly opened school for the arts. Opportunities for extracurricular activities were limited, so her only chance to explore leadership came during summer at a Boy's and Girl's Club camp.
"Most of my experience came from realizing that something needed to be done, and someone needed to do it. Taking charge seemed to come naturally to me," Del Toro said.
She helped plan activities for younger participants, including the annual awards ceremony, and eventually became a counselor-in-training and the director of waterfront activities. She felt called to help others and to serve as a role model for younger campers. To pursue that calling, she applied to CMU.
A cultural community at CMU
Del Toro is a first-generation college student and the first in her family to attend school out of state. She worried she'd never find a community on campus.
"I was very shy, and I didn't know how to get involved," she said. It wasn't until a pair of older students invited her to attend a meeting of the Empowered Latino Union that she began to feel at home on campus. Soon, she found herself plugging in with other registered student organizations and campus activities, such as the Women's Initiative for Strength and Hope, and attending a conference hosted by the Hispanic Association of Colleges and Universities.
The experiences inspired her to seek out opportunities for leadership within her cultural heritage community.
"Innovate, Integrate, Motivate"
CMU's 2019 Multicultural Student Leadership Conference was Del Toro's first opportunity to sit down with and learn from other student leaders at CMU.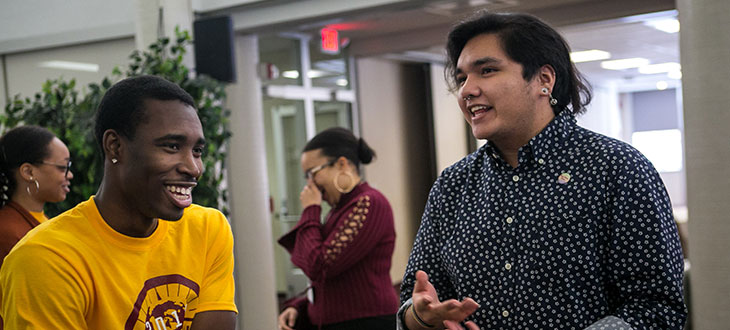 "I'd never had a formal, structured conversation about leadership and what it takes to be a leader, and this conference was very helpful. There was this incredible energy — a willingness of students to improve themselves as leaders and a willingness of everyone in the room to support each other," she said.
Sydney Reed, a senior integrative public relations major, and Cyrus Stewart, a graduate student in the educational leadership program, served on the conference planning committee. Their goal was to give students more than advice on how to lead — they wanted to provide actionable steps.
"The theme — 'innovate, integrate, motivate — challenge accepted' — is all about sparking new ideas, finding ways to use those ideas effectively on campus, making a plan and taking action, and influencing others to do the same," Reed said.
Since everyone comes to CMU with different levels of leadership exposure, Stewart said the planning committee developed several pathways within the conference to ensure everyone walked away with something.
"Everyone has the ability to grow as a leader, whether they've been leaders on campus for several years or they're having their first conversation about leadership," he said.
A purpose-driven path
Del Toro said she left the conference with several tools, such as goal worksheets and charts, and also a sense of purpose.
"The first workshop I attended sparked the question: Why should I lead? For me, the answer is to pave the way for the students who will come after us. I want to bring people together and show them they belong at CMU," she said.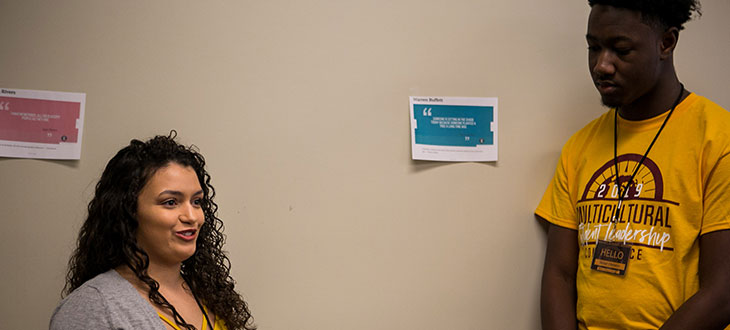 She plans to use what she has learned in her new roles as an IMPACT mentor and an ambassador for the College of Education and Human Services. She's also working with CMU's TRIO Upward Bound LatinX Conexion project to do outreach in Detroit-area high schools.
"When this new generation of students sees me — someone who looks like them and who has the same kind of story — I hope they'll know it's feasible for them to be in college, succeed and make a difference," she said.