Gaining experience through volunteer opportunities
CMU students and faculty build on classroom learnings through action
Hands-on learning is a crucial step in the education process, and it can come in many forms throughout a student's journey. For many Central Michigan University students, these opportunities come from organizations that need helping hands and through connections faculty have within their communities.

Some students from the nonprofit leadership, social work and physician assistant programs are finding this real-world experience at the Isabella County Restoration House, a self-care center and rotating shelter for homeless families.

Laura Cochrane, a faculty member in CMU's Department of Sociology, Anthropology and Social Work, works with students through ICRH in her role as site coordinator. She said students need experience to begin preparing for the careers they want to pursue after graduation.

Cochrane and many other faculty members recommend their students get involved with community organizations and even help to coordinate these opportunities for students.

"Central's students are some of the best volunteers because they get classroom training and experience, which they bring into their work," she said.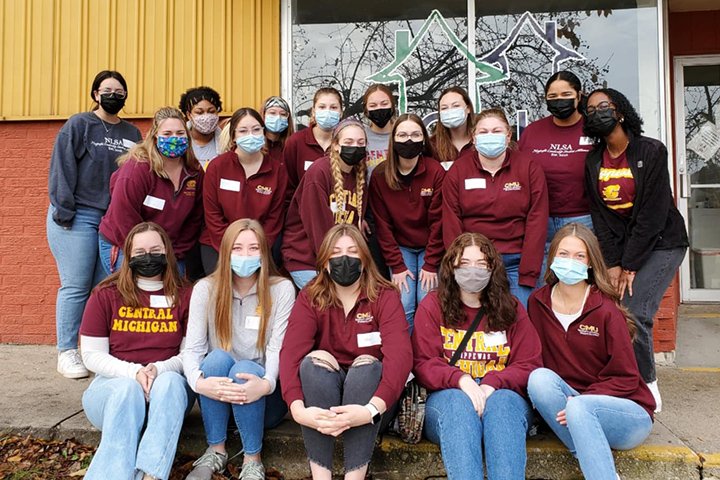 Reann Nelson, Central Michigan University sophomore and an ICRH volunteer, said her experience was overwhelmingly positive and that the real-world experience she gained has been a crucial aspect of her college journey. Through volunteering, she was able to apply what she was learning in her social work classes to first-hand experiences.

"By talking to new people, I pushed myself to learn how to interact with guests in a positive way and I learned more about homelessness as an overarching issue in society that I hadn't been familiar with before," said Nelson. "It's important to give back and do what you can to ensure you're making your community a better place."

For Cochrane, giving back is the definition of community.

"Some faculty, including myself, are also volunteers with the shelter," she said. "We volunteer with the shelter because it's a way to be engaged with the community."
Exception occured while executing the controller. Check error logs for details.