Saving lives by fighting sepsis
Undergraduates take part in biology research funded by national grants
Central Michigan University biology faculty member Mallary Wacker and her laboratory students are battling the No. 1 killer in U.S. hospitals: sepsis.
With a $491,000 grant from the National Institutes of Health and U.S. Department of Health and Human Services, the team is targeting the role of inflammation in the deadly response to infection that claims 11 million lives worldwide each year.
"If we can eliminate the inflammation part of sepsis while enhancing the body's ability to fight infection, then we can eliminate a broad number of sepsis infections and deaths," Wacker said.
How does a person get sepsis?
Sepsis usually starts when a bacterial or other infection gets out of hand.
Normally, disease-causing bacteria cause inflammation so that white blood cells are released to the infected area. The white blood cells then attack and kill the bacteria, and the inflammation goes down.
But if the infection is not eliminated, it can cause such a spike in inflammatory molecules that the body can't handle it and the molecules begin to damage the body.
Soon, a person's blood pressure can begin to fall or blood clots form and prevent oxygen from reaching important organs.
"Your immune system is now destroying you," Wacker said.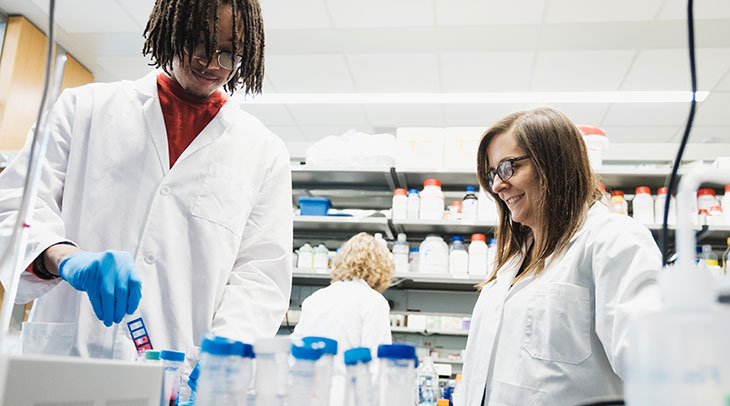 Biology faculty member Mallary Wacker watches over the work of seniors Kingston Thomas and Casey Estes.
Extracellular vesicles
Research has shown that when white blood cells "eat" bacteria they release particles called extracellular vesicles (EVs), which carry information to other cells as they float away.
Wacker's team wants to learn how the EVs are produced, how they communicate with other cells, and whether they carry different messages when released from a cell that has destroyed bacteria.
"If the EVs are carrying bad cargo, the challenge is to change it to be good and reduce inflammation," she said.
Students learn research and more
Seniors Kingston Thomas and Casey Estes, both biomedical sciences majors, are two of the eight undergraduates and three graduate students in Wacker's lab. They said they have learned as much about themselves as they have about doing research.
Thomas, from Detroit, is a McNair Scholar, which requires that recipients seriously consider attaining a research doctorate.
"At CMU, you get more opportunities." ­– Casey Estes, senior biomedical sciences major
Wacker's teaching skills in a cell biology class made an early impression on Thomas, and he asked her to be his research mentor.
"Things took off from there with research," he said. "That solidified my decision to go after a Ph.D."
He appreciates that Wacker motivates her students to do their best.
"She will see that you can do more and will try to pull that out of you," he said. "A meaningful relationship with a faculty member is unbeatable."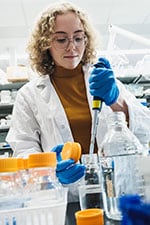 Estes, in CMU's Honors Program, has been in Wacker's lab since her freshman year.
Wacker's influence moved her to seek and be awarded a grant to do research, which led to conference presentations at CMU and in Chicago.
"The research taught me more than I expected," Estes said. "Mallary pushes you to stay on top of your work. She helped me be involved in something beyond a surface level."
Estes said her friends at other universities have a tough time getting involved in research and labs.
"At CMU, you get more opportunities."