Biochemistry, Cell and Molecular Biology
The Biochemistry, Cellular and Molecular Biology Ph.D. and M.S. graduate programs at Central Michigan University provide research-based multidisciplinary training in diverse aspects of biological, biochemical, and biomedical sciences.
Biochemistry, cell and molecular biology at Central Michigan University

Our Biochemistry, Cell and Molecular Biology program is an individually tailored program emphasizing professional skills and career development. Work closely with your advisor and committee, cultivating individual development as you progress through foundational coursework and research. Our Biochemistry, Cell and Molecular Biology researchers and labs participate from several departments in the College of Science and Engineering and from the College of Medicine. Researchers use a wide array of techniques and model systems to pursue basic and translational research on topics ranging from cancer and infectious diseases to neuroscience and developmental biology.
The diversity of expertise and research interests in our Biochemistry, Cell and Molecular Biology programs provide you with opportunities to explore a wide spectrum of important biological questions through innovative, collaborative, and interdisciplinary approaches.
Students complete the M.S. program in approximately 2 years. The combination of advanced course work and research experience prepares students for Ph.D. programs, schools in the health professions (e.g., medical school), or jobs in biotechnology.
The Ph.D. program provides an in-depth research experience over approximately 5 years. Student graduating with a Ph.D. may go onto careers in academia, industry, or other fields that draw on the knowledge and skills acquired during their graduate work.
How to apply
Admission requirements
Minimum requirements for applicants for the BCMB Ph.D. and M.S. programs are listed below. In some cases, a deficit in a single area may be compensated for by a clear superiority in another area.
Bachelor's degree in Biology, Chemistry, Biochemistry, or a related discipline
Overall GPA of 3.0 and major GPA of 3.0
A strong background in basic sciences including biology, chemistry, and mathematics
International students must demonstrate English proficiency
Research experience is required for the BCMB Ph.D. program
Applicants must "match" with an advisor in order to be admitted to either program. Follow the application guidelines below to contact potential advisors as part of the application process.

Applications
The application process is the same for both the Biochemistry, Cell and Molecular Biology Ph.D. and M.S. programs. Students with a bachelor's degree may apply to either the M.S. or Ph.D. program; however, students with limited research experience should consider the M.S. program first.
Contact potential advisors before applying: During the fall semester before you apply, review the faculty profiles on the Biochemistry, Cell and Molecular Biology website and contact faculty with whom you would like to work. Because of the intentional mentoring process provided by the Biochemistry, Cell and Molecular Biology program, admission is dependent on faculty commitment to mentor a student in their lab from the start. Your communication with faculty should indicate your knowledge of your field of interest, your dedication to extending your education, your maturity in communicating your ideas, and, importantly, reasons for your interest in the specific lab you are applying to. Include your cv and unofficial transcripts to provide evidence of your training and experiences that have prepared you for graduate or doctoral work.

Deadlines
Complete applications received by January 10 will be considered for admission into the program the following fall semester.
In some cases, applications may be considered after the January 10 deadline provided that: (1) the prospective student has matched with a mentor, and (2) the mentor has requested an exception to the standard admissions timeline.
Only applications with all required documents and forms completed will be reviewed. Students need to email prospective Biochemistry, Cell and Molecular Biology faculty advisors to inquire about openings in labs and be offered a place in a faculty member's lab. Only students who have successfully matched to a faculty advisor will be considered for admission.
For applications received by January 10, letters recommending admission will be sent by March 15 each year. The deadline for accepting offers of admission is April 15.

Required materials
Applications are submitted in two parts. Both parts must be submitted by the deadline for an application to be considered.
Part I: Upload as part of the standard graduate application: CMU graduate application, official transcripts for all Bachelor's degrees and any MS degrees, letters of recommendation & the application fee. International students will be required to submit proof of English language proficiency. Three (3) letters of recommendation must be requested through the application portal. Letters should be written by people who know the applicant in an academic and/or research setting. Letters should include the applicant's name and which program they are applying for (Biochemistry, Cell and Molecular Biology MS or Biochemistry, Cell and Molecular Biology PhD). Letters should address the applicant's research ability, academic ability, communication skills, and ability to work with other people.
Part II: Upload required materials specific to the BCMB application: Download the Biochemistry, Cell and Molecular Biology supplemental application here, complete it, and upload along with a CV/resume into the application portal.
Optional: GRE, MCAT, or other similar test scores may be submitted. Send your scores to CMU (Institution Code: 1106; Department Code: 0203).
Financial support
Graduate students in the Biology, Cellular and Molecular Biology programs are typically supported through a combination of teaching and research assistantships. Graduate teaching assistantships (GTAs) and graduate research assistantships (GRAs) are service-related appointments that require teaching or research, respectively. Through an assistantship, you will receive a stipend, a tuition waiver, travel accident insurance, and special library privileges. During the application process, your faculty sponsor will develop a funding plan that outlines how you will be supported for each semester of the program.
Biochemistry, Cell and Molecular Biology Program
Central Michigan University
Brooks 217
Mount Pleasant, MI 48859
989-774-4401
BCMB@cmich.edu
Office of International Affairs
Central Michigan University
Ronan Hall 330
Mount Pleasant, MI 48859
989-774-4308
oiainfo@cmich.edu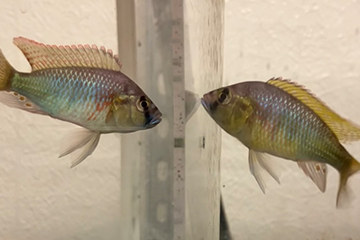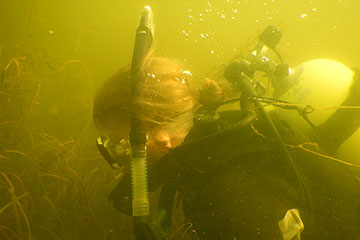 What's the matter with mussels?
A CMU student led a team to survey the freshwater mussels of the upper reaches of the Tittabawassee River watershed for the first time in 40 years.