Simulated business, real jobs
Students participating in CMU's ERPsim competition find a path to great careers
​Less than one year after her graduation from Central Michigan University, Lexi Lang is returning to McGuirk Arena. Only this time, instead of a cap and gown, she'll be wearing a Blue Cross Blue Shield of Michigan polo shirt. And instead of accepting a diploma, she's hoping to walk away with a trophy – and possibly a new colleague or two.
​Lang is one of dozens of professional mentors coming to coach, encourage and cheer for CMU students participating in the annual ERPsim Invitational Competition Feb. 13. She has been working with a team of students for several weeks in preparation, offering them advice and tools for success.
​She feels well-prepared for the job: Not long ago, she was sitting in the same seats they will soon occupy.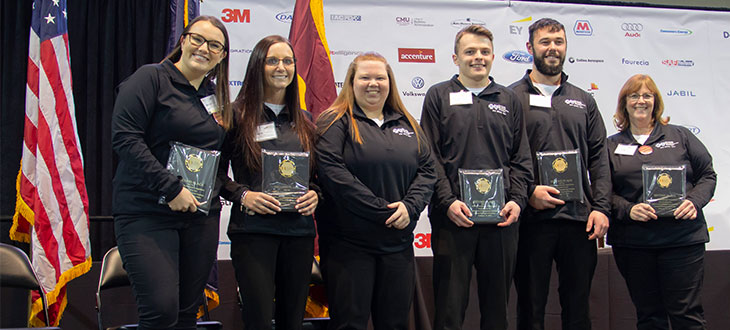 Practice for the future
As a student, Lang competed twice in the daylong business simulation, working with teammates and mentors to run a mock business in real time using SAP business software.
"The ERPsim is one of the closest things you can get to a real-life situation," she said.
She and her teammates practiced in class and during sessions with their professional mentors, and she participated in the Student User Group and joined Women in Technology.
All of the activities helped her develop a wide range of professional skills she uses on the job every day as a systems analyst in BCBSM's IT Corporate Services: communication, critical thinking, problem-solving and teamwork.
Get to know employers
Lang says her current job is a direct result of participating in the ERPsim. In her second year competing, Lang served as the communications liaison for a team from BCBSM.
Following weeks of practice with her team mentors, Lang submitted an application for employment.
"On competition day, before I even opened my laptop, the talent acquisition manager approached me and offered me a full-time position," Lang said.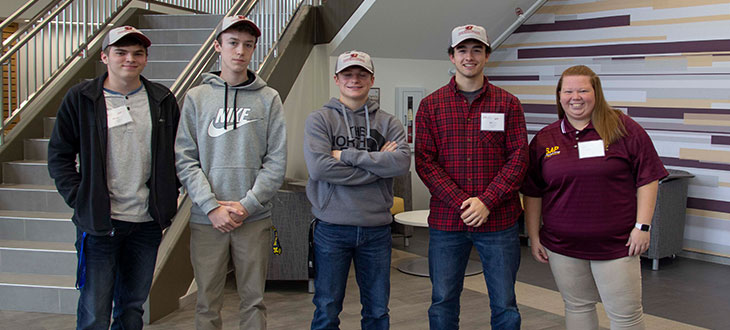 Bill Fandrich, senior vice president and chief information officer at Blue Cross Blue Shield of Michigan, said the competition is an annual highlight for the company.
"For the past seven years, the event has provided us with the opportunity to observe students as they work together to navigate tough scenarios and uncover creative solutions in a fast-paced and forward-thinking environment, much like our corporate day to day," he said.
Career-ready competitors
Lang was one of several students who received an internship or job offer from BCBSM that day; dozens of others received similar offers from other participating companies.
Steve Tracy, director of CMU's SAP University Alliance and business information systems faculty member, said it's a common occurrence during competition week.
"Some companies come in the night before the competition, some stay to attend professional networking nights after the ERPsim, and many more attend the Alpha Kappa Psi career fair the following day," Tracy said.
"Many of them come with the intent to hire a CMU student for a job or an internship. They come to recruit."