ERPsim Competition
Central Michigan University's ERPsim Competition is an SAP-based business simulation that gives you the opportunity to build professional skills, develop professional networks, and have a little fun!
2023 ERPsim Competition
March 23, 2023 | McGuirk Arena | 11:00 AM - 8:00 PM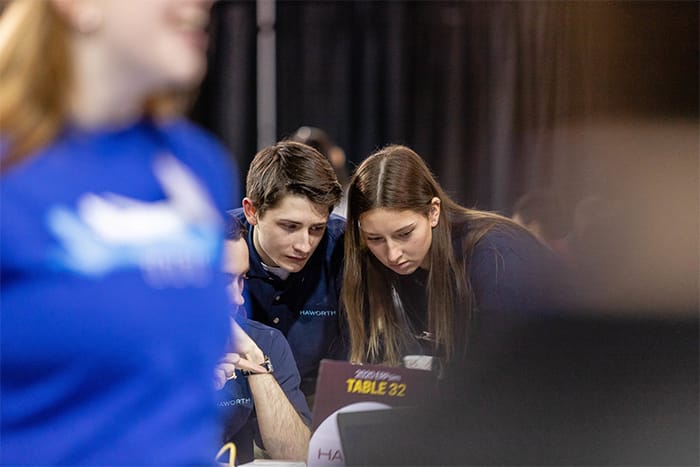 Join the competition
Students
CMU undergraduate and graduate students of all majors are welcome to join an ERPsim team. You must meet one of the following requirements:
Undergrads must have completed or currently be enrolled in BUS 301.
Graduates must have completed or currently be enrolled in BIS 647.
Have attended SAP Student User Group's additional training sessions.
Companies
We are always looking for new companies to join in this hands-on recruiting experience.
If you or your company is interested in sponsoring an ERPsim team please contact Stephen Tracy at tracy1sl@cmich.edu.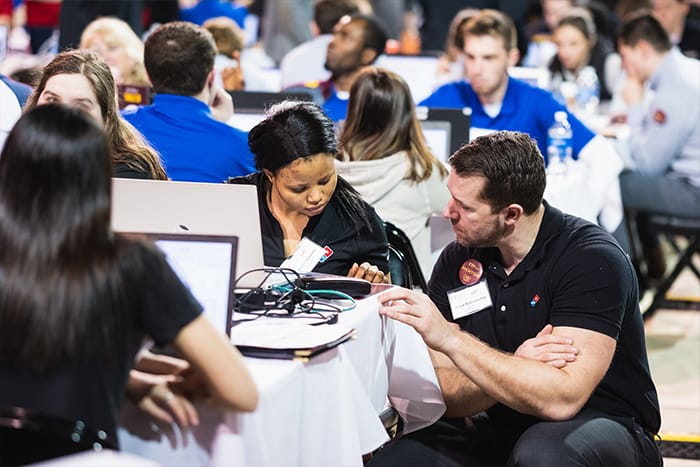 Past competing companies
3M
Abat
Accenture
A.O. Smith
Audi
Auto-Owners Insurance
Blue Cross Blue Shield of Michigan
Boeing
Caterpillar
Collins Aerospace
Consumers Energy
Cooper Tire
Dart
Deloitte
Dominos
Dow
EY
Faurecia
Ford
Harley-Davidson
Haworth
Intelligence
Jabil
Johnsonville
Kimberly-Clark
KPMG
Lilly
Louisiana-Pacific
Marathon
Miracle Software Systems
Puget Sound Energy
PWC
SAF Holland
Sage Group
Steelcase
Stryker
Textron
TDS
Volkswagen
Whirlpool
Prizes and scholarships
There is $14,250 in scholarships* to give away at each annual ERPsim Competition. You could be one of the 40+ students that take home scholarship money at the end of the game.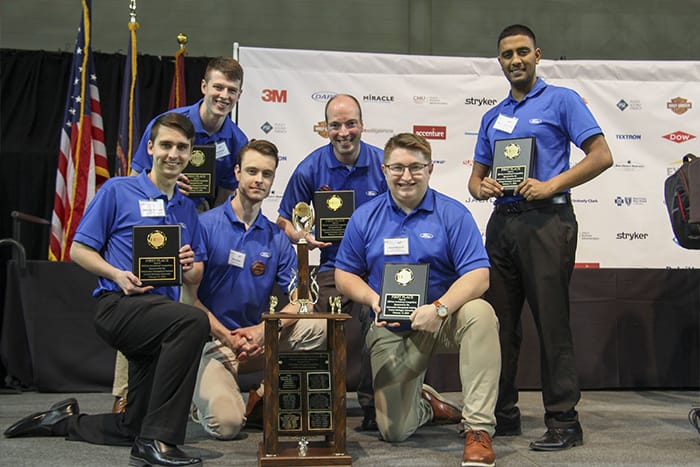 *The scholarship amount for each placing team will be based on the overall number of students in the winning teams. The first-place team in Flight One will be given the highest scholarship. The scholarships will reduce from there.
Flight one
First Place
Second Place
Third Place
Fourth Place
Fifth Place
Flight two
First Place
Second Place
Third Place
What are flights?
Similar to golf, the ERPsim Competition uses the flight system. After game one is complete, teams are broken into two different groups. The best-performing teams will be placed in Flight One. They will compete in the second game for the overall first to fifth place. The rest of the teams will be placed in Flight Two to compete for first to third place.
ERPsim Student Spirit Awards
Two students who embrace and embody the game will be given the ERPsim Student Spirit Award. These students have shown support for their fellow teammates and competitors. They demonstrate excellent teamwork and enthusiastically help others who are struggling. The recipients of this award are selected by the faculty who participate in the training sessions.
International ERPSIm Competition
The winners of CMU's ERPsim Invitational Competition are invited to compete against universities from all over the world in the International ERPism Competition.
CMU has a strong history in the event with our team winning in 2013 and coming in second place in 2018 and 2019. Unfortunately, the 2020 competition was canceled due to COVID-19. We look forward to performing even better in the next competition.