Students help find autism gene mutation
Undergraduates get hands-on lab experience seeking answers to real-world issues
As a high school sophomore in Muskegon, Michigan, Jazmin Wright-Zornes set a goal to do "something in medicine."
She brought that goal to the College of Science and Engineering at Central Michigan University, where she felt that its size and academic reputation would give her more opportunities for hands-on experiences and scholarships than other universities.
She was correct.
"The smaller classes allowed me to make connections with faculty and have research opportunities that I probably wouldn't have had at larger schools," said Wright-Zornes.
Today, as a senior in biomedical, cellular and molecular biology, she can include in her medical school applications that she was among the student co-authors of a report on biology faculty member Shasta Sabo's autism research that recently was highlighted in the Journal of Cell Science and other autism-focused publications.
'A sad, wimpy tree'
Sabo's work has pinpointed a gene mutation that causes abnormal development of brain cells called neurons. Healthy neurons are important because they make arbors (tree-like structures) called dendrites, which receive and integrate information. Malformed dendrites impact the amount and quality of information received and passed to the next neuron in the chain.
Her team found that dendrite arbors don't grow normally when there is a mutation in the gene GRIN2B.
"They kind of look like a sad, wimpy tree instead of a big, beautiful tree," Sabo said.
"We know that the dendrite structure grows around the time when you start to observe symptoms of autism, so there is the potential that if we could find a treatment that would promote the growth into more normal dendrites, then you could treat autism when you start to see symptoms. Potentially, all you would have to do is encourage that normal growth to proceed."
Sabo's lab team now is working to find ways to screen a large number of compounds for their ability to promote normal growth.
The larger challenge in fighting autism is that people experience it in various ways because it affects other genes. That is why it is called autism spectrum disorder, Sabo said.
"The interesting thing is the protein that the gene is producing, which we are studying, has links to a large number of the things that go wrong in those other genes. So it may be, for at least a significant number of people with autism, that this might be a common mechanism leading to the disorder."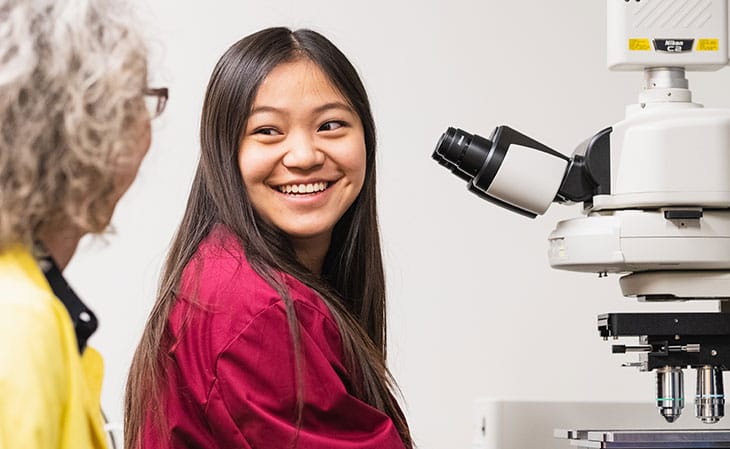 Jazmin Wright-Zornes' path to accomplishing her goal to do "something in medicine" ran through the lab of biology faculty member Shasta Sabo.
Finding her life's purpose
While the autism research was important and exciting to Wright-Zornes, she didn't spend all of her time in the lab. She took advantage of CMU's many extracurricular opportunities that she said made her a more well-rounded person.
She played intramural sports, took Spanish and leadership classes and went to Honduras for a week as part of Central's Global Medical Brigades, a registered student organization whose participants travel to underserved areas around the globe.
The volunteers have the opportunity to take vitals and patient histories, shadow licensed doctors in medical consultations, and assist in a pharmacy under the direction of licensed practitioners. This March, Central's team is scheduled to go to Panama.
Wright-Zornes said the time spent working in Honduras was a defining moment for her.
"Since high school, I've dreamed about being a doctor in an area with a high population of Spanish-speaking people" she said. "Seeing it play out in real life has solidified the future for me."