Students seek education in a storm
CMU becomes Michigan's only university with a weather research vehicle
This summer, it will be impossible not to notice the CMU meteorology students and new earth and atmospheric sciences faculty member Jason Keeler driving along the southwest coast of Lake Michigan.
They'll be inside a silver Ford Explorer with whirling gadgets attached to a metal frame on the front bumper.
Officially, it is the department's first mobile weather observation vehicle, also known as a mobile mesonet. It is outfitted with computers and meteorological instruments to measure temperature, wind speed and direction, humidity, and more.
CMU is the only Michigan university to have such a vehicle, and one of only a handful in the country, said Keeler, who recently finished his first academic year at Central.
The department also expects to add drones this summer or fall.
"This is the beginning of a new era in our meteorological research and education at CMU," said Larry Lemke, chair of the department in the College of Science and Engineering.
"As a department, it allows us to continue to be a leader in the field of meteorology and severe weather prediction. It's going to be a very visible sign to the community of our range of opportunities."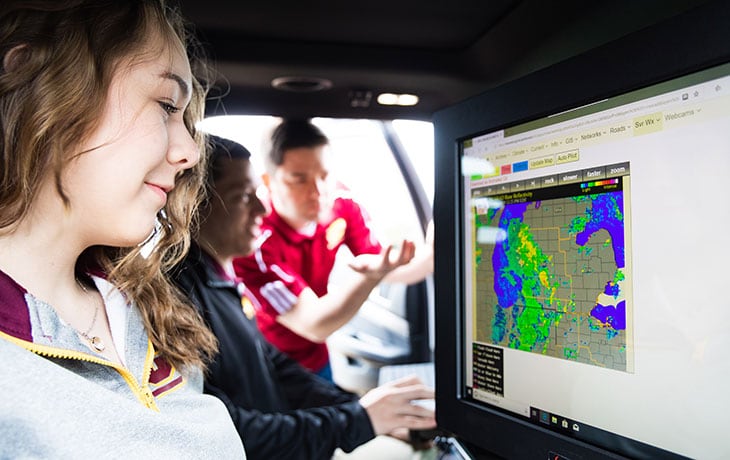 New era, new opportunities
The new era of research starts in early July when Keeler and students will drive along the southwest Michigan coast for several weeks, gathering data on the cool afternoon breezes you feel near the shore. They are associated with cold fronts that can develop into thunderstorms.
Knowing the data on how storms form or fall apart will allow forecasters to give residents earlier and more accurate predictions, Keeler said.
The team is made up of meteorology juniors Haley Scott, from Westland, Michigan, and Alec Kownacki, from Armada, Michigan; Nick Bogen, a geography and environmental studies graduate student from Dowagiac, Michigan; and Christian Boyer, an incoming doctoral student finishing his master's at Texas Tech University.
"I am calling this project CMU STORM (Student Training for Observational Research in Meteorology)," Keeler said. "You have to have an acronym."
Keeler also envisions future work with National Weather Service offices to learn more about Lake Michigan's impact on clusters of thunderstorms known as mesoscale convective systems (MCS) as they move across the water.
Separately, Keeler has sent two soon-to-be seniors to join TORUS (Targeted Observation by Radars and Unmanned aircraft systems of Supercells), a National Science Foundation-funded project in the Great Plains states. They will be part of a group trying to answer the question of why some storms trigger tornadoes and others don't.
These are examples of the kind of student-focused research that Keeler came to CMU to do.
Keeler envisions planning a weather-related campaign each year that will include undergraduates working side by side with graduate and doctoral students.
His goal is for all students who are interested in learning the equipment to have the opportunities to do so.
"I don't want this to be some elite club that has access to the equipment at the expense of others' knowledge," he said. "And that includes outreach, either on campus or at local schools."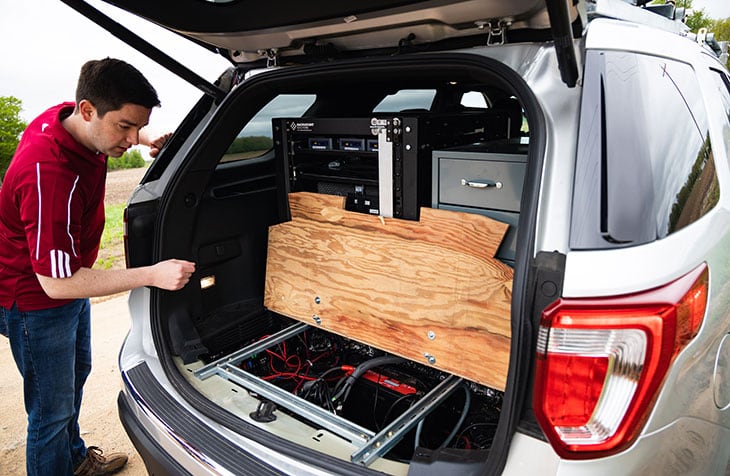 Experience and accuracy
The benefit of having your own equipment is knowing the data is scientific and accurate, and you get the experience of gathering it, Keeler said.
"You can learn things from a lecture, but when you can go outside and watch, say, a thunderstorm evolve and do the things you've learned about but haven't observed, you see the lightbulbs go on. It's a much more rich understanding of weather. That's what we are after."
He plans to use the student-gathered data in the classes he teaches and in related courses.
Lemke sees the mobile weather station "becoming part of the core of what we do and how we educate our students."
It also will make CMU more competitive in receiving grants to study weather and attaining more cutting-edge technology, he said.
Proud to be part of the growth
One of the first students to benefit from the mobile weather station is Bogen. He has his undergraduate degree from CMU in meteorology and is a first-year geography and environmental studies graduate student.
Bogan and the other students involved in STORM will help Keeler write an operations manual for the vehicle and help him train more students on how to use the equipment.
His excitement over being part of the summer project is eclipsed only by his pride in CMU becoming part of the small group of universities nationwide with a mobile weather station.
"You never would expect a university the size of CMU to have something like this, compared to a university like Oklahoma. But we are growing the program.
"It's all about having the resources needed to do better research and to collect quality data with your own tools," he said.