Team-taught class changes lives
Interdisciplinary faculty challenge students to solve real-world water problems
If Sarah Alm hadn't taken the course Water as Life, Death and Power as a Central Michigan University undergraduate in 2013, she might not be in her final semester of becoming a physician assistant.
"The course was my wake-up call," she said.
Alm said the topics of public health and health equality in the water course started her down a path that led to medicine.
The elective is designed to be a group learning experience taught by a trio of biology, chemistry and anthropology faculty members and offered through all three departments. Students form interdisciplinary teams and are told to solve a problem involving water, such as lack of access to clean water, how to clean dirty water or how to preserve vanishing sources.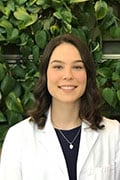 Alm, a Mount Pleasant, Michigan, native who majored in music and minored in anthropology, was teamed with a chemistry major and a biology major. It changed her life.
"I heard ideas that I might never have thought of," she said. "That's the power of interdisciplinary learning."
Moving from awareness to activism
Learning new perspectives is one of the main reasons the course was created, said Cathy Willermet, a faculty member in the School of Politics, Society, Justice and Public Service in the College of Liberal Arts and Social Sciences.
Instead of approaching education concepts and issues from the point of view of a certain field, Willermet and co-instructor Anja Mueller, a chemistry and biochemistry faculty member, have students consider a wicked problem — such as access to clean water — from several points of view.
The instructors have two main goals:
Teach students that in order to solve big problems, it is best to form a team of multiple disciplines offering different points of view and filling different pieces of the puzzle.
Move the students from knowing of a problem to wanting to do something about it.
"We have to move them from awareness to activism," Willermet said.
That's what impressed Alm.
"We rose to the challenge because it was exciting."
Current class member Abbey Van Allsburg, a junior from Holland, Michigan, studying psychology, likes the intellectual discussions among students with different points of view and the interactions between the professors.
"We talk about so many points in every class," she said. "We may start talking about chemistry, but by the end of the day it will morph into politics.
"I also like how the professors are able to bounce ideas off each other. Seeing that in action is really cool."
Selecting a challenge
Alm's group chose to focus on the freshwater parasitic disease schistosomiasis, a problem in many tropical areas of the world and in underdeveloped countries. They zeroed in on a small lake community in Uganda.
The challenge was to devise a public health campaign that could reach people who may not read or write or have access to technology.
Each student took on a different part of the challenge.
The biology student studied the life cycle of the parasite, how it makes people sick, and how it gets into the water and infects people.
The chemistry student studied what drugs were available to treat the people and why they were not available in poorer areas.
Alm concentrated on coming up with a culturally acceptable way to help people understand the disease and the need for treatment.
She created a song for schoolchildren that would teach them about the water parasite and to be careful about the water they drink.
She tried it out on students at a local Montessori school with success. The group then pitched its idea to a CMU arm of Universities Allied for Essential Medicines, a student-led group that works to improve access to affordable medicines around the world.
Their idea didn't get that far, but the course served its purpose of exposing students to critical thinking, the consideration of alternative viewpoints, and group problem-solving, Willermet said.
Advantages of interdisciplinary teaching
Those were the goals of Mueller, Willermet and biology faculty member Steve Juris — the three faculty members who started the interdisciplinary course in 2013.
They tweaked the usual practice of having each instructor teach a section of the class alone, Willermet said.
While it's more time-consuming for the instructors, and lesson plans have to be developed together, the trio decidedthat interdisciplinary teaching works best when all instructors are present and involved.
The lesson is richer because of the collective knowledge of the instructors and the give-and-take in preparation and delivery, she said.
For the students, questions for certain instructors don't have to wait to be answered. And when the instructors would sometimes disagree, the students got to see how they resolved their disagreements.
The course is offered every other spring semester.