Driving digital disruption at CMU
Global business software leader looks to CMU to help speed innovation
​Innovation. Digital disruption. To some people, they're little more than business buzzwords.
But for faculty and students in a new project that crosses department lines at Central Michigan University, they represent a new mission: to lead thinking for business worldwide.
Earlier this year, enterprise resource planning software company SAP selected Central and 10 other universities to serve as a Next-Gen Chapter. Additionally, CMU was designated as an SAP Next-Gen Lab.
As an industry leader, SAP's name often is used as a synonym for the ERP software that integrates an organization's accounting, purchasing, production, human resources and other business functions. CMU and other universities use SAP to teach business processes.
That may sound very technical. What it means is that CMU faculty and students from three departments — business information systems, computer science and engineering and technology — will share best practices for teaching SAP skills, developing curricula other universities can use and building partnerships with businesses.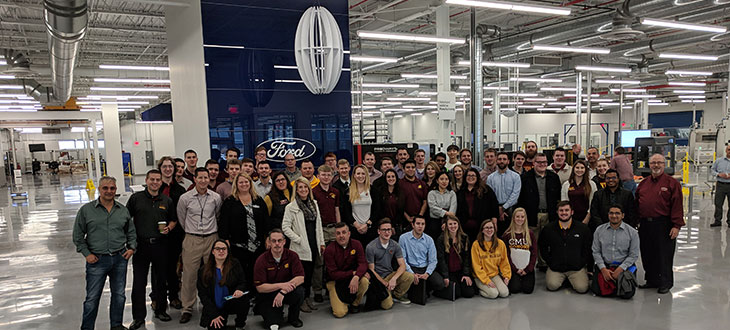 CMU also will partner with business and industry leaders to work on projects that address United Nations Sustainable Development Goals. CMU will focus specifically on the goals for quality education; gender equality; and industry, innovation and infrastructure. The project will connect CMU with thousands of educational institutions in more than 100 countries, as well as with SAP's own innovation centers and thousands of its partner companies.
Stephen Tracy, director of the SAP University Alliance and faculty member in business information systems, said CMU is working on projects with companies such as Dow, Ford, General Motors and Consumers Energy. Interdisciplinary teams also have made site visits to companies such as Ford and Steelcase for innovation inspiration, brainstorming and project planning.
"The Next-Gen project is all about community outreach and engagement. We're involving our students in projects that matter," Tracy said. "The projects they complete will have real, lasting impact for our partner companies."
Things to know about SAP at CMU
CMU has been a SAP partner for more than 20 years: In 1997, CMU was one of the first five SAP University Alliance programs to sign a partnership agreement with SAP. Dozens of CMU faculty have received SAP training, and more than 10,000 students have participated in SAP-related courses and activities.
CMU leads the nation in SAP TERP10 certifications: The SAP certificate is called TERP10, integrated business processes in ERP. Students from every department of the College of Business Administration have studied for and earned the certification, which often leads to higher initial salaries for graduates, Tracy said.
CMU students with SAP training are recruited for great jobs before they graduate: Dozens of employers send representatives to mentor and coach students in CMU's annual ERPsim Invitational Competition. The mentors work closely with students for months during training, and they come to the competition prepared to recruit students for jobs. Many students receive offers for internships or even full-time jobs on the floor during the competition or at the job fair the night before the event.
CMU students are global champions: A team of CMU students placed second in the world in the international ERPsim competition, beating previous international champions from countries such as China and Indonesia. CMU was the only U.S. team in the final round of competition.
CMU is educating new leaders: In addition to offering SAP-based courses, facilitating a student user group and hosting a two-week SAP certification academy, CMU is opening its doors to engage new learners. CMU hosts an annual ERPsim competition for high school students and is implementing new programs to encourage young women to get involved in information systems and computer science activities.
About SAP
SAP is the world's largest enterprise application software provider and the third-largest independent software manufacturer.
SAP stands for Systems, Applications and Products in data processing.
SAP serves more than 400,000 customers in more than 180 countries. The company, based in Germany, has offices in 130 countries including the U.S.