Gaming levels up at CMU
University moves forward with plans to establish official esports program
Gamers, get ready. A new esports gaming center is coming to Central Michigan University.
Stan Shingles, assistant vice president for university recreation, said the university is moving forward with plans to join the National Association of Collegiate Esports and will begin construction on a temporary location dedicated to esports and gaming this spring.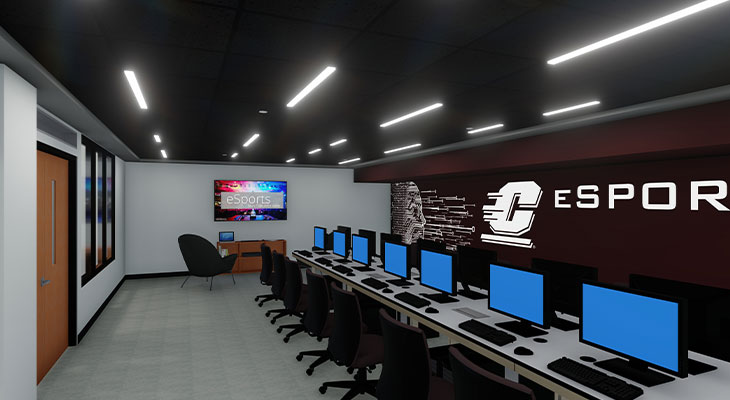 he temporary facility will be located in the Student Activity Center in the space previously occupied by the Trackside snack bar. Shingles said the space is scheduled to open in the latter half of the spring semester.
The University Space Committee will begin looking for options for a permanent location soon, Shingles said.
Hang on to your headsets
Damon Brown, director of student activities and involvement and managing director for competitive gaming, said more than 100 CMU students have been gathering on campus to play games such as League of Legends, Super Smash Bros. Ultimate, Overwatch and Rocket League for many years. They have organized competitive tournaments that include players from other colleges around the region and have sent several teams to national competitions.
They also give back to the community. Working with faculty and staff in the Center for Excellence in STEM Education, the College of Science and Engineering, and the College of Education and Human Services, CMU gamers have hosted esports events for area middle and high school students and have raised thousands of dollars for nonprofit organizations.
Games for the greater good
Organizing and leading large events, fundraising for nonprofit organizations and working with schoolchildren helps CMU esports players develop important professional skills, such as leadership, communication and problem-solving, Brown said.
And Brown noted gaming can be highly inclusive: There are games for almost every skill level and interest, engaging students representing many social identities.
A pipeline of future players
Popularity of esports is on a meteoric rise: More than 250 million people watch esports each year. It's the fastest-growing fandom in professional sports and generates billions of dollars in revenue each year.
More than 1,200 high schools around the country participate in the High School Esports League, and more than 150 colleges and universities are members of the National Association of Collegiate Esports, the organization CMU seeks to join. Even middle schools are beginning to develop esports programs, Shingles said.
And just as some students consider athletics when choosing where to attend school, some students may look for esports programs.
"It could be a powerful recruitment tool for CMU. The growing popularity of gaming means future students are considering the availability of esports when they choose a college or university," Shingles said.