Interns from CMU find a way
Despite the pandemic, students forge ahead into professional experiences
Hawra Ahmad didn't expect a global pandemic when she started her spring 2020 internship at Prevention Network in her hometown of Lansing, Michigan.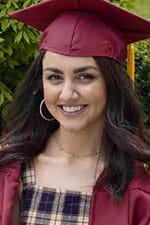 But the public health education major, who graduated from Central Michigan University this month, rose to the challenges of remote work, tracking her team's progress and rallying them to stay on schedule.
"These were unprecedented times," she said, "but I am so happy I was able to finish my internship successfully and become a remote worker overnight."
That's not all she became: In mid-April, Prevention Network hired her as its coordinator for Michigan's Overdose Data to Action program.
"Hawra was able to adapt and continue meeting the needs of our programs and organization," said Louise Harder, Prevention Network's Michigan higher education network coordinator. "Her hard work, professionalism and dependability, along with the knowledge and skills acquired through CMU coursework and demonstrated through the internship, proved her the top candidate."
As another round of professional internships begins this summer amid the largest economic upheaval in decades, CMU students continue to find ways to succeed.
Beating the odds
CMU's Career Development Center surveyed employers this month and found that about 25% of students' summer internship positions have been postponed, 25% shifted virtually and 35% canceled — numbers similar to national averages, according to Shelby Stine, the center's assistant director of employer relations.
Mount Pleasant senior Gina Machuta saw her initial internship offer revoked and had to find another. Now she'll work online this summer as a customer information systems intern for Puget Sound Energy in Washington.
Machuta, a business information systems major, reached out for help to Steve Tracy, director of the CMU SAP University Alliance Program and coordinator of the annual ERPsim competition. Tracy connected her with PSE, which needed an intern familiar with SAP, a business resource software.
"I think I'm most looking forward to some real-world SAP experience," Machuta said. "I'm really excited to be able to put my new skills to work."
From coast to coast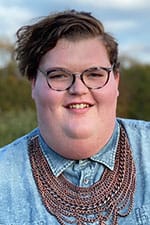 So is Joshua Golden. The fashion merchandising and design senior from Lansing secured a highly competitive internship at Oregon-based Nike. He'll work remotely in global apparel technical development and present the findings of a departmental project to a panel of vice presidents.
His experience in a CMU learning lab prepared him for the challenge.
"Working at the Center for Merchandising and Design Technology has helped me gain real-world experience using state-of-the-art textile testing machinery," he said.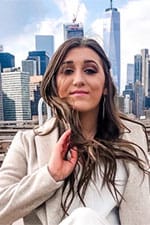 Meanwhile, fashion merchandising and design senior Mollie Wiltzius, from Gladstone, Michigan, will intern — virtually — on the other side of the country, at New York City-based luxury bridal showcase Wedding Salon.
The company normally hosts events in New York; Chicago; Miami; Los Angeles; and Washington, D.C. Wiltzius' official title is event production and marketing intern.
"With everything going on right now, we obviously are unable to host these large trade shows," she said. Instead, she's helping to revamp the company's website, social media platforms and newly introduced webinars.
"I'm extremely excited to be completely redoing Wedding Salon's virtual presentations," she said. "I am very lucky to be given the opportunity of a virtual internship, as many were not able to do so."
Surprising her supervisors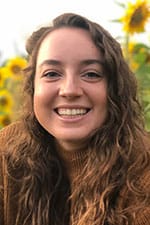 Katrina Gallego, a recreation, parks and leisure services administration major with a concentration in recreation and event management, is an event services, constituent engagement and social media marketing intern at USA Triathlon in her hometown of Colorado Springs, Colorado. She hopes to return to working in the office June 1, but virtual experience will still be central.
"They've given me opportunities like working with the social media team, researching how to do virtual events and coming up with some of my own ideas for projects," she said. "I'm also researching ways to create a virtual conference that will happen in January of next year."
She brings to the job a key lesson from her event management studies.
"We learned 'anything that can go wrong, will go wrong,' and we learn to adapt," she said. "With all the different classes and skills I learned in the program, I am able to surprise my supervisors with my ideas and what I can do to help."
Virtual success strategies
CMU Career Development Center's Shelby Stine often refers to these tips from CMU partner Handshake when advising students embarking on virtual internships:
Set boundaries. "Office hours" and an established workspace can be important, even if your hours and location are flexible.
Connect with mentors. Consider requesting a standing video meeting with your manager or short "walk-and-talk" phone calls to get to know people in different functions.
Practice overcommunication. Chat with your manager about how best they'd like updates about your work, and make sure to follow through via those channels.
Ask for feedback. Think of critique as a favor, because it will help you improve your work.
Document your achievements. If you keep a record of major focus areas and accomplishments, you can look back and reflect on your growth at the conclusion of your internship — and update your resume.
Ask for a letter of recommendation. A persuasive, professional endorsement from an internship can prove extremely useful when applying for full-time work after graduation.