Leading in many directions
Students in CMU's Leader Advancement Scholarship program forge their own paths
What makes someone a great leader? Do a certain set of personality traits or a special set of experiences enable some to lead and others to simply follow?
Students competing to join the Leader Advancement Scholars program at Central Michigan University know there's no simple answer.
Portraits of leadership
The program seeks to identify and train ethical leaders who will serve their communities for years to come.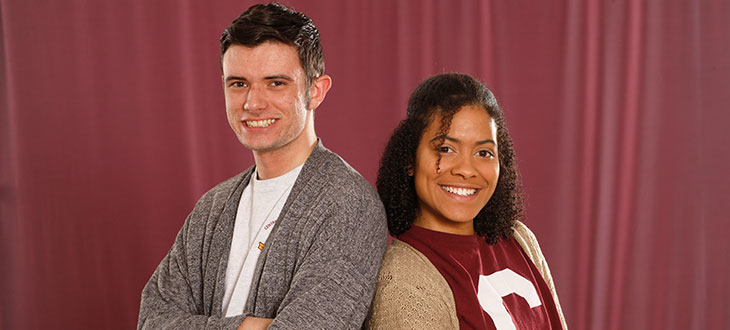 Awarded annually to incoming students, the scholarship provides a minimum of $2,000 each year for four years and can include an additional $6,000 Residence Life grant each year the student chooses to live on campus. The overall value is $20,000-$32,000 over four years.
Jesi Ekonen, associate director of the Sarah R. Opperman Leadership Institute, said applicants must be incoming first-year students with a GPA of at least 3.0 — and those are the only hard and fast requirements. The scholarship is unusual in that test scores and class standings don't play a role in selection.
Students enter with varying types of leadership experience — student government, music, sports, part-time jobs, summer camps and community service, for example — and build their own leadership path through required courses in the leadership protocol, peer mentoring, voluntary campus involvements and LeadCMU programs.
The self-directed approach is intentional, Ekonen said.
"We aim to model leadership as a process, not a position. Diverse ideas and approaches to leadership allow us to examine better possibilities and reach better solutions."
Here's how two students in the program are creating their own leadership paths.
Leading for inclusion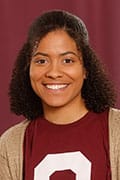 Kerisa Rascoe is on a mission: to create an inclusive environment for others at CMU and in the world at large.
The neuroscience major from Essexville, Michigan, invests her time in organizations focused on social change — such as the David Garcia Project, which invites students to experience the challenges of life with disabilities — and is completing minors in leadership, communication sciences and disorders, and American Sign Language.
"The organizations I'm involved in push me to step up and be a role model for others. They pave the path for me to gain knowledge, grow and lean on healthy, collaborative support systems."
Rascoe describes herself as a bold, extroverted leader, perhaps a little bit goofy, who doesn't shy away from challenges. She's putting her leadership to work in many campus organizations, including the CMU Marching Band and Alpha Sigma Tau sorority. Through her involvement, Rascoe hopes to inspire others to make CMU more inclusive and welcoming for all.
"Having a leadership position doesn't make you a leader. You define your own leadership abilities," she said. "Step out of your room, challenge yourself, say hello to people, ask questions, and don't be afraid."
Leading through service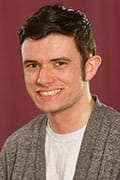 Josh Geary, a Waterford Township, Michigan, senior majoring in integrative public relations, found his leadership niche in community service. He said being a Leader Advancement Scholar has helped him understand leadership as a platform to serve and educate for the greater good.
"Everyone is a leader to someone. All it takes is having one person look up to you. We're so much more influential than we realize," Geary said.
Geary's experiences at CMU have centered around the Mary Ellen Brandell Volunteer Center and the Alternative Breaks program.
As student coordinator of marketing and public relations in the volunteer center, Geary manages social media channels, communicates with community partners and coordinates with other campus offices. As a site leader for Alternative Breaks, he coaches students through service experiences and facilitates education and reflection on social justice issues.
"I cherish my role in alternative breaks, because it allows me to lead, educate and push others to want to learn and volunteer more. And my role in the volunteer center allows me to showcase the work that CMU students do in the community," Geary said.
Welcoming the next generation
Nearly 3,000 high school students applied for the 2019 cohort of Leader Advancement Scholars. Screeners narrowed the choice down to 110 students who were invited to campus Feb. 17 for a scholarship interview unlike any other.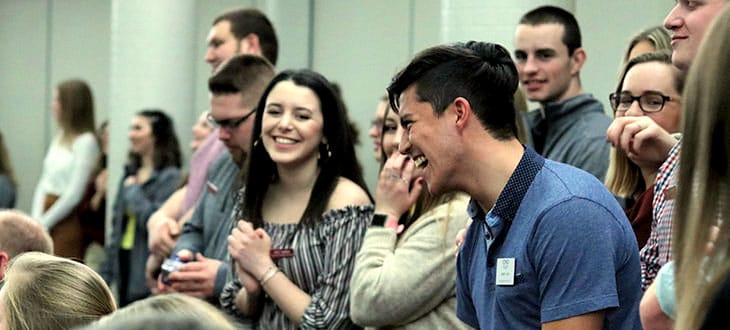 As with many scholarship events, the competition included a welcome from CMU President Bob Davies and a campus tour. Unlike other scholarship competitions, applicants found themselves laughing in ice-breaker games and working through challenges as a team.
The relaxed atmosphere encouraged authentic engagement, said Sarah Fiorillo, office manager for the Leadership Institute and member of the selection committee.
"We are looking for students who genuinely want to work together to make the world a better place. This competition allowed them to show us how they will put their experiences, knowledge, talents and passion to work at CMU."
University Communications interns Anna Kendall and Sophie Bates contributed to this story.